Canada wins gold in freestyle relay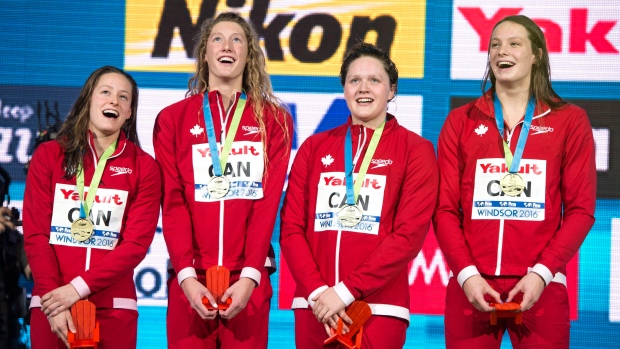 WINDSOR, Ont. — Canada won gold in the women's 4x200-metre relay in commanding fashion on Saturday night at the FINA short-course world swimming championships.
The Canadian women's team of Katerine Savard of Pont-Rouge, Que., Taylor Ruck of Kelowna, B.C., Kennedy Goss of Toronto and breakout Olympic star Penny Oleksiak, also of Toronto, finished first in a Canadian record seven minutes 33.89 seconds — more than ten seconds under the previous national record set in 2009.
The United States finished second, 4.76 seconds off the Canadians. Russia was third in 7:39.93.
"We knew the other teams would be strong, but we're not really surprised we went as fast as we did," said the 16-year-old Oleksiak, who was on the 4x200 freestyle relay that won bronze this summer at the Rio Games in 7:45.39.
"We're trying to show people that we didn't just go fast at the Olympics, we're continuing to do it at the world stage."
Ruck had the fastest 200 split of the race, completing her portion in a blazing 1:51.69.
"It was amazing to share this experience with this amazing relay team," the 16-year-old said.
"To be world champions it's incredible," Savard added.
It's the second medal of the short-course meet for both Oleksiak and Ruck.
Oleksiak won bronze in the 100 freestyle on Thursday — the same distance in which she won gold in Rio — while Ruck took bronze in the 200 freestyle on Tuesday.
Earlier Saturday, Sarah Darcel of Victoria finished sixth in the 200 individual medley final, Rachel Nicol of Lethbridge, Alta., was eighth in the 100 breaststroke and Kylie Masse of Windsor, Ont., who took a silver medal in the 100 backstroke earlier this week, placed eighth in the 50 backstroke.
Darcel swam a personal best 2:08.59 in her first senior international final.
"It's amazing being here on home soil. My first big senior team international meet happens to be in Canada, which is pretty amazing," said the 17-year-old. "Everything is pretty familiar and it's cool to have so many fans in the stands cheering 'Go Darcel!'"
Also Saturday, Savard advanced to the final of the women's 100 butterfly. Her time of 56.93 was good for fifth position heading into Sunday's final.
Calgary's Yuri Kisil finished 11th in the men's 100 freestyle with a time of 47.42 in his semifinal.
Canada has five medals heading into the final day of the world short-course championships, its most at this competition since Athens 2000.
Canada's best ever medal total was eight in Hong Kong in 1999, where the team set nine national records.