Canadiens snap skid with shootout win
Paul Byron scored in the fifth round of a shootout as the Montreal Canadiens ended a three-game losing run with a 3-2 victory over the Philadelphia Flyers on Friday night.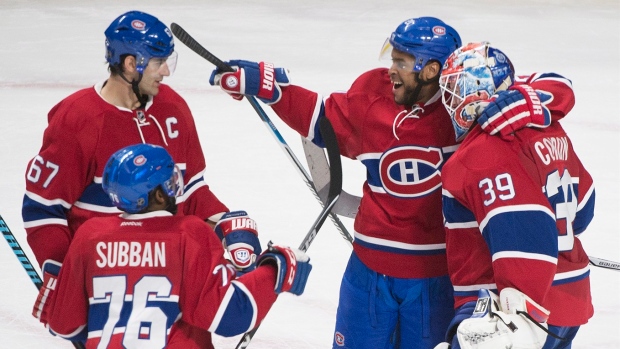 MONTREAL - P.K. Subban hopes he silenced some critics with a two-assist effort that helped end the Montreal Canadiens' three-game losing run.
The gifted defenceman, at the centre of the struggling team's latest controversy after he was blamed for loss in Colorado by coach Michel Therrien this week, responded with a solid game at both ends of the ice as the Canadiens topped the Philadelphia Flyers 3-2 in a shootout on Friday night.
While fans chanted his name in support as the game began, Subban was aware that he had taken criticism from some quarters in both the social and regular media. One report said the 2013 Norris Trophy winner was the cause of an alleged rift in the dressing room.
"Our fans have always been here for us, but as for critics and people who want to pick apart what goes on in this dressing room, I expect to hear that," said Subban. "I've been here long enough to know that the best thing to do is go out and perform and produce and that's the best way to shut people up.
"There are a lot of people that are going to shut up after today."
Subban assisted on goals by Dale Weise and Max Pacioretty for Montreal (28-27-4). He led his team with 30:55 of ice time, much of it in the third period after rearguard Tom Gilbert left with a lower-body injury. He was plus-1 for the game.
"I always feel I play my best hockey when people want to pick me apart, both my character and on the ice," Subban added. "I just want to be better every day for my team and teammates.
"I want them to have the trust in me that when I go on the ice that I can get the job done."
Pacioretty's goal on a third-period power play sent the game into overtime, but the Canadiens captain topped that with a game-saving goal in the shootout. After Nick Cousins scored on the Flyers' first shot, Pacioretty had to score to keep Montreal's hopes alive.
Paul Byron won it in the fifth round.
"I went with a move that maybe the scouting report didn't have on me," said Byron.
Cousins and Michael Raffl scored in regulation time for the Flyers (25-21-11), who outshot Montreal 37-31. Philadelphia is 2-6 in shootouts for the season.
"It's definitely frustrating," said defenceman Shayne Gostisbehere. "It's not like we don't practice them or anything.
"Our goalies give us all the opportunities in the world to win games. We lean on them a little too much."
Gostisbehere fed Raffl at the edge of the crease for a goal 3:15 into the third period.
It extended his points streak to 14 games, an NHL record for a rookie defenceman. The league's longest active streak makes the Margate, Fla. native the first blue liner since Brian Leetch from Oct. 30 to Dec. 1, 1996 with points in 14 straight games.
"I just saw an opportunity to jump up and I screamed (Scott) Laughton's name about 10 times," he said. "I was just happy he heard.
"I was actually going to shoot it first but then I saw (Raffl) there on the back door."
Montreal got the first goal when Weise passed in front and the puck went off defenceman Nick Schultz and past goalie Michal Neuvirth at 2:56.
Only 20 seconds later, Cousins' long wrist shot from the left boards handcuffed Mike Condon to tie the game. The rookie goaltender responded with a strong game and was particularly solid in overtime.