Canadiens welcome 'DSP' in Columbus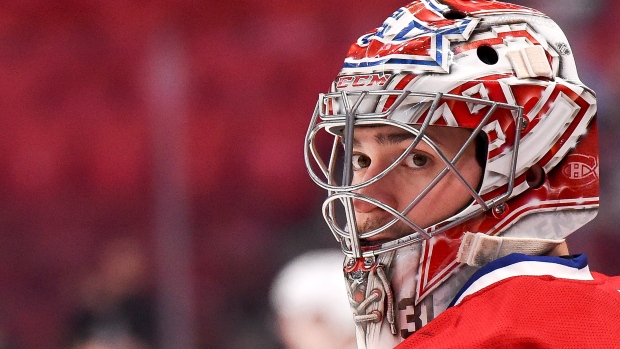 The slumping Columbus Blue Jackets can't be looking forward to seeing Carey Price again.
Price goes for his 10th consecutive road win Thursday night when the Atlantic Division-leading Montreal Canadiens face the Blue Jackets for the second time in six days.
Follow all the action on TSN Radio 690 with coverage starting at 5:30pm et.
Nobody in the NHL has a lower goals-against average than Price's mark of 1.91, and he ranks second in the league with 34 wins. The Olympic gold medalist has proven nearly unbeatable over the last six weeks, going 12-1-1 with a 1.26 GAA and three shutouts.
Price turned away 31 shots in Saturday's 3-1 victory over Columbus before making 27 saves in a 5-2 win at St. Louis on Tuesday, passing Rogie Vachon for the team record with his ninth straight win away from home.
"It's pretty neat," he told the league's official website. "I think that speaks volumes of the character of our team and the way that we compete on the road. We're a very confident team when we go into an opposing team's building and we wind up playing the right way, and we've been rewarded for it."
Price has allowed two goals or fewer in each of his nine straight road victories. He's trying to become the first goaltender to win 10 consecutive road starts since Evgeni Nabokov reeled off 11 with San Jose from Nov. 21, 2009 to Feb. 11, 2010.
"It's just amazing the way he's played this year," said center Alex Galchenyuk, who had two goals and a career high-tying three points against the Blues. "In my mind, he's the best goalie in the league. We're so confident to play for him."
Price is seeking a third win in a row over the Blue Jackets (26-29-4), who have surrendered 10 goals during a three-game losing streak. They have dropped six of their last nine on home ice after falling 4-2 to league-worst Buffalo on Tuesday.
Columbus gave up the game's first two goals and went 0 for 4 on the power play, extending their struggles to 2 for 40 over the last 15 games.
"It's not winning hockey," said forward Nick Foligno, whose team outshot the Sabres 47-31, including 18-4 in the third period. "Falling behind by that many goals, it's not easy to come back from in this league. We've got to find a way to make our starts better. We have to give ourselves a chance to win and we haven't done that the last couple of games."
Rookie Anton Forsberg was assigned to Columbus' AHL affiliate after dropping to 0-4-0. Though Sergei Bobrovsky (groin) is nearing a return, Curtis McElhinney is expected to be between the pipes Thursday.
McElhinney is 4-1-0 with a 2.60 GAA in his last five home starts, but he's 0-1-1 against Montreal after stopping 21 of 23 shots Saturday. He'll try to do a better job against Max Pacioretty, who scored both those goals and has seven points over the last six games in the series.
The Canadiens have taken four of five from the Blue Jackets, and they're 4-1-1 all-time in Columbus.
P.K. Subban has 11 assists over the last 10 games despite coming up empty Saturday. Montreal is 24-4-4 when he records at least one point.
The Canadiens acquired forward Devante Smith-Pelly from Anaheim in exchange for rookie Jiri Sekac on Tuesday. Smith-Pelly had just five goals and 17 points in 54 games with the Ducks, but he gives Montreal a more physical presence.
The Canadiens have limited opponents to 1.6 goals per game in winning 10 of 12 on the road.
Projected Canadiens Lines
Pacioretty - Desharnais - Gallagher
Eller - Plekanec - Galchenyuk
Prust - de la Rose - Smith-Pelly
Bournival - Malhotra - Weise
Markov - Subban
Beaulieu - Gilbert
Tinordi - Pateryn
Price (starting)
Tokarski