Capitals a prime candidate to take a step backwards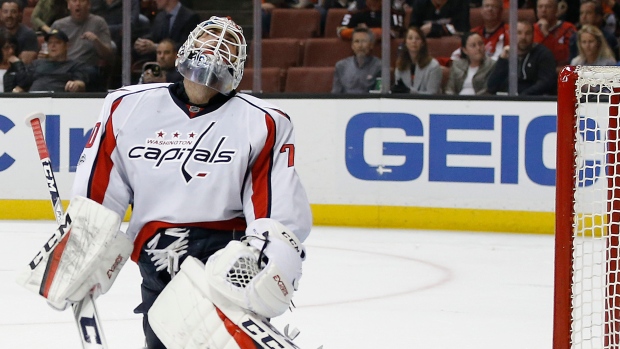 One of the things that I've been thinking about this off-season is how the Washington Capitals will follow up last year's incredible season.
Incredible at least until the playoffs began. Which, of course, is the story of the Capitals in the modern era. There's no better way to illustrate their dominance (and postseason futility) then reminding everyone that Washington owns the three best regular seasons by points accumulated in the modern era.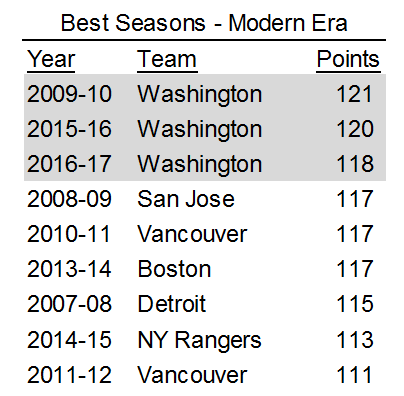 Last year was particularly noteworthy for Barry Trotz's team. Prior Washington teams were, at least in part, plagued by some inconsistency – usually shaky goaltending. But with all-world goaltender Braden Holtby complementing a lineup that ran most teams out of the building in the regular season, it was reasonable to assume they would push further than the second round of the Eastern Conference playoffs. Ultimately, they ran into another strong team in Pittsburgh, and the rest is history.
The interesting question is where Washington ends up next season. On the positive side of the ledger, their goaltending situation is still firmly squared away and a number of key pieces – T.J Oshie, Dmitri Orlov, and Evgeny Kuznetsov – have all been extended long-term. But the team did incur a few notable cap casualties. Marcus Johansson was traded to New Jersey, Justin Williams signed down in Carolina, and defenders Nate Schmidt, Kevin Shattenkirk and Karl Alzner departed for other organizations.
I think Washington genuinely believes they can replace a majority of the players they lost this off-season internally, and that preserving their core would mean another legitimate run at the Stanley Cup. On its face, it's hard to dispute that claim. The Capitals have gone through plenty of turnover through the years and it hasn't mattered much. In the modern era, they've averaged about 106 points per season – comfortably making the playoffs and, in most instances, winning the division.
But there are still a couple of reasons for concern. One of which is the fact that Washington's vaunted power play – which has absolutely dominated the modern era – took a small step backwards last season. Another? At even strength, it's difficult to discern just how great they really were.
One of the things people (myself included) pointed to with last year's Capitals team was how they dominated goal differential at 5-on-5. Washington was +66 (61 per cent of all goals in their favour), which is extraordinarily high. Their goaltending was a big reason, with Holtby and Philipp Grubauer stopping 93.7 per cent of shots – the highest number of the last three years. They also converted on 9.2 per cent of their shots, which ended up being the third-highest number in all of hockey in the last three years. Combine elite shooting with elite stopping power, and you have a virtually untouchable 5-on-5 team.
With such wild goal variance, you would expect Washington to have dominated games territorially – much like those great Detroit Red Wings and Chicago Blackhawks teams of yesteryear. But that's not exactly the case. Washington only had 52 per cent of the scoring chances last year – a playoff-worthy number, but not nearly as dominant as the goals would suggest. Five teams – Boston, Los Angeles, Minnesota, Pittsburgh, and Montreal – all finished better on this front.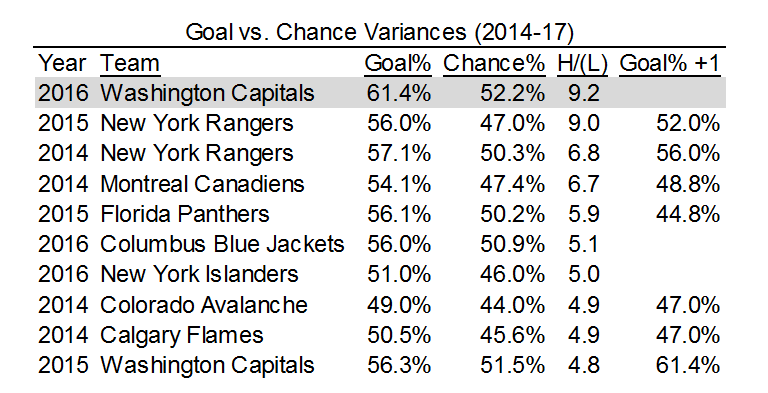 How big of a spread is that? To give you an idea of magnitude, I pulled out the biggest variances we have seen between goal and scoring chance differential over the last three seasons. Outside of the 2015 New York Rangers, there isn't really a comparable:
The interesting thing to me is where the goal percentages went for these teams in the following year. Outside of 2015-16 Capitals, every team saw their goal dominance drop year-over-year – and in some cases, substantially so. I do think part of this has to do with the difficulty of sustained success, but I also think part of it is the reality of scoring chance (or, alternatively, Corsi rates) data being more indicative of true talent than goal numbers because of sample size.
The next logical question: Was there a specific group of skaters on the Capitals that greatly benefited from some white-hot shooting and goaltending, or was this a consistent theme across the board? Below, you have the same type of variance analysis, but at the individual level: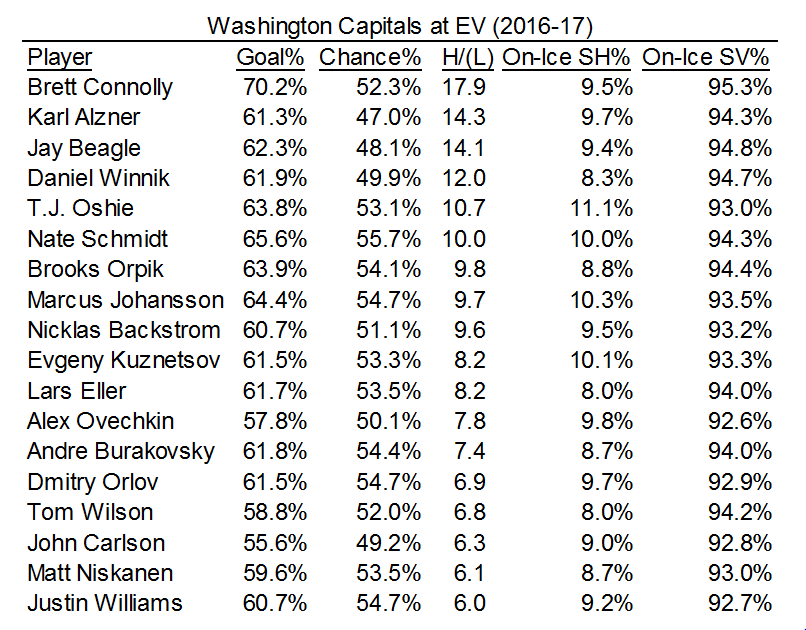 It probably says something when the bottom guy here – Williams – was still six percentage points better in goal differential than scoring chance differential.
On the individual scoring chance data, there are a couple of other interesting takeaways. Two of the guys who were floating around break-even in Alzner and Daniel Winnik have moved on, which seems like a good thing if you are a Capitals fan. However, look at some of the other names there – namely Nicklas Backstrom and Alex Ovechkin. Here are two forwards who have absolutely dominated competition for close to a decade. Surely Backstrom and Ovechkin are still fantastic players, but I do think it's fair to wonder just how effective they are at 5-on-5.
I'm certain that the Washington Capitals are a good team – they're probably a very good team. But last year's team has the look and feel of a group that benefited from everything breaking in their favour. And although the Capitals have been able to sustain lofty goal differentials for close to a decade, we haven't really seen many seasons like last one. Can we reasonably expect a team to continue scoring on one of every 11 shots? And can we, at the same time, reasonably expect a team to hold their opponents to about 6 per cent shooting?
Historically, the answer to that question is no. So while I think it's reasonable to expect Washington to still push around most of the Eastern Conference next year, I do think it's possible (and perhaps likely) that they take a step backwards next year.
Capitals fans, you have been warned.