Caps' Kuznetsov cashed in on KHL interest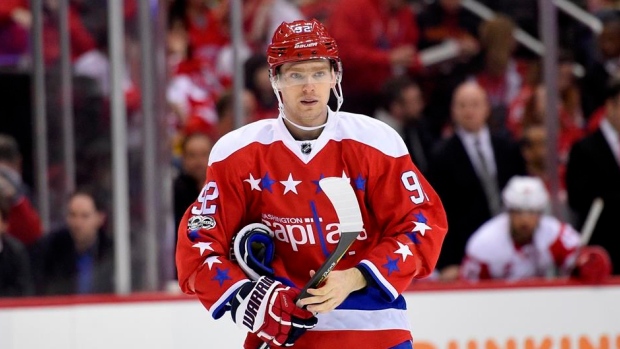 Evgeny Kuznetsov cashed on an eight-year, $62.4 million contract as a restricted free agent earlier this month and Washington Capitals general manager Brian MacLennan admitted KHL interest led to the team paying extra to keep the Russian centre.
Kuznetsov will carry an annual $7.8 million cap hit throughout the deal and is now the second-highest paid Capital, behind only Alexander Ovechkin. MacLennan said, however, he still believes Kuznetsov's contract should still be considered a fair value for the player.
"We went a little above where we thought we were going to be," MacLellan said of the contract, per the Boston Globe, "initially because of the situation Kuznetsov was in - his ability to go play in Russia for two years, earn as much money or more than he was making here, then come back as a UFA. He had the leverage. We lost our arbitration leverage with his ability to do that. We had to comply with his demands.
"If you look at it in the total scope, I think he's going to be a top-end center in the league. Next year and going forward, it's going to be a good contract."
Kuznetsov had 19 goals and 40 assists for 59 points last season, down from his 20 goals and 57 points the previous year. The 25-year-old had a strong playoffs though, with five goals and 10 points in 13 games. He owned six goals and nine points in 26 playoff games previously.
Shortly after Kuznetsov was re-signed, the Capitals traded fellow restricted free agent Marcus Johansson to the New Jersey Devils for draft picks. That trade, MacLellan said, was forced by the cost of Kuznetsov's contract.
"I like Marcus," MacLellan told the Globe. "He's a good player. He's done a great job here. He's a second-line left winger and a real good power-play guy. But he was making the money we needed to shed to sign Kuznetsov. The decision at the end was, 'Do we let Kuznetsov walk to Russia and be a UFA in two years? Or trade Marcus?' The priority was to have the best center ice we could have and do our best to fill in with the left-wing spot."
Johansson scored 24 goals and posted 58 points last season while averaging three seconds more time on ice per night than Kuznetsov. He finished with two goals and six assists in the playoffs.
Last season, Dallas Stars restricted free agent Valeri Nichushkin, who like Kuznetsov was a first round pick in his draft class, left for the KHL and is not expected to return to North America until at least next season.