Capitals F Richards not taking second chance for granted
Mike Richards is glad to be back in the NHL and believes his biggest adjustment after missing the first half of the season will be the speed of the game.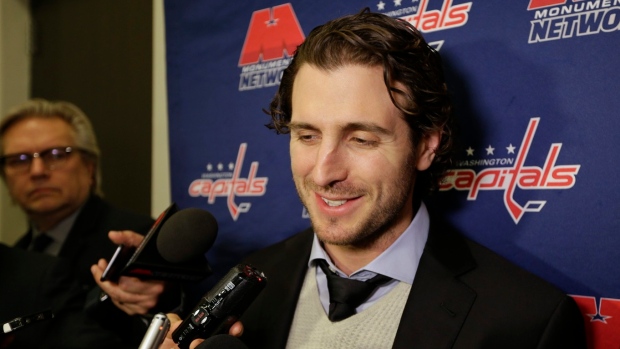 NEW YORK, N.Y. - Mike Richards is glad to be back in the NHL and believes his biggest adjustment after missing the first half of the season will be the speed of the game.
"Watching hockey at home and being away from it I think you just take for granted playing and being in the NHL," the 30-year-old centre said Thursday, a day after agreeing to a one-year, $1 million deal with the Washington Capitals.
"I played for 10 years and you almost take it for granted going to the rink every day, but when you don't have that opportunity, it weighs on you. So, it's nice to be back."
Richards was a free agent after the Los Angeles Kings bought out the remaining five years of his contract last summer following his arrest at a Canadian border crossing in June on charges of possession of a controlled substance.
He met with the NHL on Wednesday and was cleared to resume his career immediately. His legal case in Canada will continue with a hearing scheduled for Jan. 28.
"It's a privilege to play in the NHL and not everyone gets to do it," Richards said. "It's no fun being 30 years old and sitting on the couch and not having much to do. It's exciting to be back here. Fortunate and thank the Capitals for taking a chance on me and hopefully I can do some good things."
Capitals Senior Vice-President and General Manager Brian MacLellan said with his team looking for depth, he had been eyeing Richards' situation since the summer and kept in touch with his agent.
MacLellan said he was aware of the critical comments Kings GM Dean Lombardi had for Richards last summer. MacLellan and coach Barry Trotz met with Richards in Toronto in November gauge his mindset.
"Felt a good comfort level from there," MacLellan said. "There's always two sides to a story. We listened to (Mike's) side and .... we were comfortable with what Mike expressed to us about the situation."
Richards, who had been skating with his former junior team in Kitchener, Ontario, to stay in shape, knows there will be challenges in jumping into play midseason.
"I think the biggest thing will be adjusting to the speed," he said. "It will be a little bit different than jumping in in October. Obviously, January is quicker than it is in the beginning of the season."
Richards, who began his career with Philadelphia and won Stanley Cups with the Kings in 2012 and 2014, joins a Capitals team that began the day leading the NHL with 61 points. While other teams also expressed interest in signing him, Richards acknowledged he appreciated the opportunity a winning team.
"At the end of the day, the Washington Capitals and their place in the standings speak for themselves," he said.
Richards also has a familiar face on the ice in former Kings teammate Justin Williams, who signed with Washington in the off-season.
"It's nice to have a familiar face," Richards said. "Justin and I have gone through a lot together and have had success, became pretty good friends over the last couple of years, too. We've talked a lot the last month. I kept him in the loop and he's kept me in the loop."
Overall, Richards has 179 goals and 303 assists in 710 regular-season games. He also won a gold medal with Canada at the 2010 Vancouver Olympics.
"He's got over 120 games playoff experience," MacLellan said. "He's been on a lot of championship teams from junior to American Hockey League to NHL to Olympics. That doesn't happen by accident. You don't just fall into all of those. There's a quality person, teammate there that we were interested in. I think we can get a lot of that back out of him."
Trotz wouldn't put a timetable on Richards being ready for games, but said the centre was open to going down to the AHL for a couple of games if needed.
With an injury to Jay Beagle, the Capitals have some need for depth at centre and Trotz said he planned to start Richards on the fourth line when he is ready and go from there.