Caps' Wilson 'a bit confused' on suspension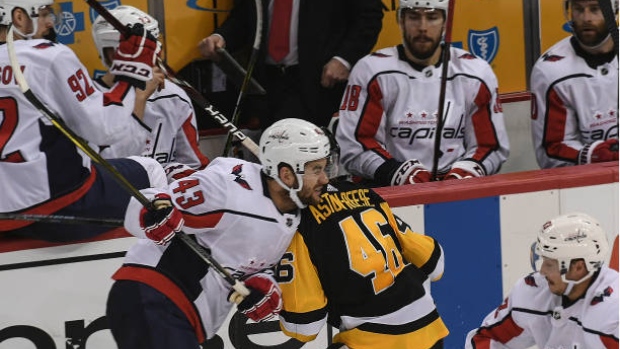 Washington Capitals forward Tom Wilson returned to the top line in practice on Wednesday ahead of the Eastern Conference Final, but said he's still not sure why he was suspended three games for his hit in Game 3 that left Pittsburgh forward Zach Aston-Reese with a broken jaw and a concussion.
"I couldn't see where they came up with the ruling on that one," Wilson told The Washington Post. "I'm just a little bit confused. From what I've heard, if you're picking the head, the head's snapping independent from the body.
"In that body check, our bodies are met, his head snaps down with his body, goes back in the same motion as his body, which indicates a full body hit. It means I didn't pick his head. If I picked his head, it would snap differently from the body and that would be the primary point of contact. You know what, it's tough. Obviously, I'm a repeat offender. I've got to be adapting. I've got to be changing kind of with the times here. I've got to make sure that I'm finishing checks low, through the core. That's what I heard from the video. Talking to [forward Devante Smith-Pelly and defenseman Brooks Orpik], how many guys finish through the core? You're looking for that shoulder. It's a body check."
Wilson, who served his suspension and will return for Game 1 of the conference final, was not penalized for the hit and said he heard from players and general managers across the league who believed the hit was clean.
"That hit is blown out of proportion just because of the result," teammate Matt Niskanen said. "Tom has done a good job of trying to adapt to what the league wants him to do. The explanation in that video is almost comical. If I'm him, I go out and do my thing: play the game hard, try to keep your elbows tucked and your feet on the ice, and don't worry about it."
Aston-Reese was unable to play in the remainder of the series and said Wednesday he believed the hit "was a bit high." He added Wilson has not reached out to him since the hit.
Capitals head coach Barry Trotz said Wilson will need to be more careful to make sure he avoids league discipline moving forward. He noted that may be easier said than done with the league's standards changing.
"Just stay on the right side of the line," Trotz said. "Obviously, the line moves a little bit for him, and so just recognizing there is a line. I'm not sure I know the line, and I'm not sure he knows the line. But obviously, the line is a little less than it was before.
"Just a little safer, yeah. That doesn't mean he can't be physical, he can't play his game."