Caps' Wilson aims to think more before hits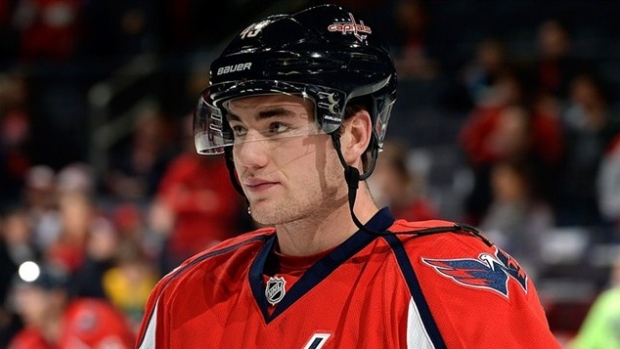 Tom Wilson picked up two suspensions in the preseason, with the latter forcing him to miss the first four games of the regular season.
The 23-year-old will make his 2017-18 debut on Friday night and, while he's not going to remove the physical aspect from his game, Wilson will try to ensure his hits are clean.
"For the majority of the past four seasons, you watch pretty much every one of my hits in frame by frame, tenth by tenth seconds, and you can't find one thing that's wrong with it," Wilson told the Washington Post on Thursday. "They're textbook body checks broken down even slow. You have to trust yourself. It's such a fast game.
"That being said, you know what, [being out of the lineup] wasn't a good feeling. Maybe when I'm approaching a hit, think about it a little more and make sure, 100 per cent, that the outcome is going to be clean and make sure the guy's going to be in a good spot after I hit him and take into account all of those things."
Wilson picked up a two-game preseason suspension for interference on St. Louis Blues forward Robert Thomas. In his second game back from that suspension, the team's preseason finale, Wilson picked up a four-game suspension for boarding Blues forward Sam Blais.
He said after the first suspension he had no plans to change his physical style, which he described as "very clean, hard hits."
The Capitals winger is set to skate on the third line Friday night against the Devils, teaming with Lars Eller and Brett Connolly. Head coach Barry Trotz said Wilson. and other physical players, are at a disadvantage with the changing style of the NHL but will have to adjust.
"Just recognize if someone is vulnerable," Trotz said of what Wilson could change. "A lot of guys turn their numbers now, which is unfair to the physical players. It's a weak way to - you know, guys actually expose themselves. Back in the old days, there was not a chance that would happen because you'd get run through the end boards, so you protected yourself and got yourself turned sideways a bit so you could absorb a hit. … It's lessened, so the players that are more physical or get on the forecheck and want to hit, they've just got to be more cautious with those type of guys that will expose their numbers the whole time."
Wilson scored seven goals and posted 19 points last season while leading the Capitals with 133 penalty minutes in 82 games. He scored three goals in 13 postseason games and is aiming to prove he can be an offensive threat this season.
"That just makes me more motivated to get out there and show everyone that I can play and show everyone that I can play multiple aspects of the game," Wilson said. "Enough people call you a goon, you want to get out there and prove to them that you can score some goals."
The Capitals are 2-1-1 to start the season.