Carey looking to add second Scotties title to mantle after impressive week
Alberta's Chelsea Carey will look to capture her second Canadian championship Sunday after beating Saskatchewan's Robyn Silvernagle 11-7 in Saturday's Page Playoff 1 vs. 2 game.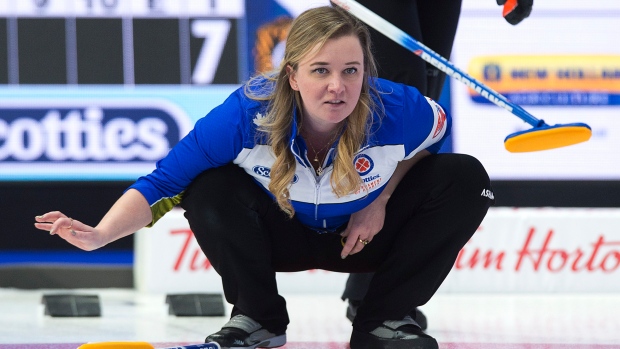 SYDNEY, NOVA SCOTIA – Chelsea Carey made the shots that mattered the most Saturday night and has her Alberta foursome in the Canadian championship final.
Carey shot just 64 per cent against Saskatchewan's Robyn Silvernagle in the page playoff 1 vs. 2 game, but it was enough for the win, earning Carey the opportunity to capture her second career Scotties Tournament of Hearts title Sunday afternoon at Center 200.
The critical moment in the game came in the seventh end when Carey made a soft tap to score a massive four points, propelling her rink to an 11-7 victory.
"That was my worse game of the event, so when she [Silvernagle] gave me one chance at a big event I knew I had to make it," said Carey. "I made the big ones when they counted which is, I guess, all the matters."
Team Carey will play the winner of tomorrow's semi-final clash between Saskatchewan and Ontario's Team Rachel Homan. Game time for the championship tilt is 5p.m. ET/2p.m. PT across the TSN Network and streaming on TSN Direct.
The rink from the Glencoe Club in Calgary has been the best team all week in Sydney at the Scotties, finishing atop the preliminary round with a perfect 7-0 record. They would go .500 in the championship pool but were still good enough to qualify for the all-important page playoff 1 vs. 2.
Alberta's only losses came to Canada and Prince Edward Island on Thursday.
The Winnipeg native says her team have been battling for every inch this season and know Sunday won't be any different.
"We had to grind through the whole season to get here. We've had to grind through the whole week. I'm sure the final will be more of the same," said Carey. "You throw them up and down and see what happens. I'm a big believer in destiny in finals. It's just our job to go through the motions and see if it's our turn."
Carey won her first Canadian champion in 2016 when her squad of third Amy Nixon, second Jocelyn Peterman and lead Laine Peters beat Northern Ontario's Krista McCarville in the gold medal contest. They would lose to Russia's Anna Sidorova in the bronze medal game at the world championships.
The Winnipeg native skipped a different team to an 8-0 round robin record at the 2017 Roar of the Rings Olympic Trials before losing to Team Homan in the final.
The skip says heartbreaking losses at the trials and worlds are hard to heal but will also cherish standing atop the podium at nationals every time.
"Nothing expect going to the Olympics is ever going to make that one [trials loss] hurt any less, but winning a Scotties is phenomenal," said Carey. "It's a little bit of once you get a taste of it you want it a little more."
Carey's current foursome of third Sarah Wilkes, second Dana Ferguson and lead Rachelle Brown was formed last spring during the season of change, a hallmark on the curling calendar when teams from across the country make lineups changes after the competition of another Olympic cycle.
This will be the third Scotties final in three appearances for Ferguson and Brown as both were apart of Val Sweeting's squad that settled for silver in 2014 and 2015.
The new lineup has had its peaks and valleys this season. Overall, Team Carey is 41-29, having won the Canad Inns Women's Classic in October, but have also had some disappointing finishes at major events like the Canada Cup and a few Grand Slam events where they were unable to qualify for the playoffs.
However, it appears Carey and company are hitting their stride at the perfect time.
Another difference about this year's team is who's behind the scoreboard. Charley Thomas coached the 2016 version of Team Carey, but are now led by Dan Carey, Chelsea's father.
The 64-year-old won a Brier in 1992 as a third for Manitoba's Vic Peters.
Her Dad was there all week during their 2016 championship run in Grande Prairie and says it's extra special to have him play such an integral role this time around.
"Having him on the bench is just a little extra comfort for me too," explained Carey. "I think he's been a good calming influence on the team and he's very decisive and in synced when (he) comes out for timeouts. He's given us his opinion and it's worked out really well."
Sunday night in Sydney should be an interesting one to say the very least.