Carrick faces "make-or-break" moment as blue line battle heats up
The battle on Toronto's blue line is heating up as the Leafs get set to play their fourth of eight preseason games Saturday night in Buffalo. Time is of the essence for the bubble boys on the blue line, TSN's Mark Masters writes.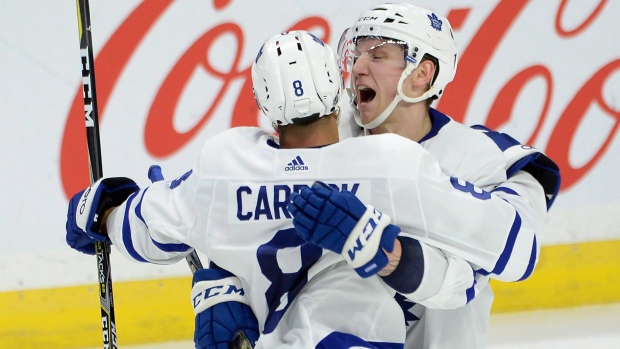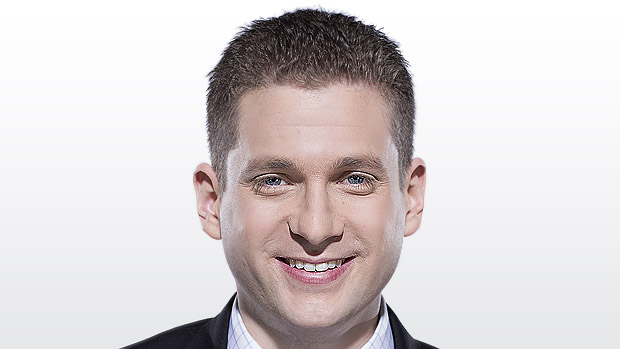 The battle on Toronto's blue line is heating up as the Leafs get set to play their fourth of eight preseason games Saturday night in Buffalo. The Sabres will be icing a strong lineup featuring Jack Eichel, Jeff Skinner and Rasmus Dahlin among others.
"When we saw their lineup two days ago, what we tried to do is put our defence in as tough a situation as we could so we can evaluate them," Babcock said.
Time is of the essence for the bubble boys on the blue line. On the right side there's Justin Holl (26-years-old), Igor Ozhiganov (25) and Connor Carrick (24). On the left is Travis Dermott (21), Calle Rosen (24) and Andreas Borgman (23).
So while Jake Gardiner and Nikita Zaitsev will be making the trip down the highway tonight, the biggest focus for the coaching staff may be on the other two pairs.
Rosen, who played four games for the Leafs last season, will partner with Ozhiganov, a KHL import who has made a positive first impression on Babcock.
"He's a real good player," the coach said. "He's long, he can shoot the puck, his head's up all the time, he passes it really good."
Ozhiganov is still learning English, but Babcock has only noticed it become an issue for the Russian once in practice.
"He didn't understand what I was saying and I said to him after, 'I don't know why you'd be frustrated. Just do the best you can. You're a good, good player.'"
Babcock's workouts move fast and the coach rarely stops to diagram drills on the white board. For someone with zero NHL experience, who's learning a new system, it can't be easy to adapt on the fly. ​
"If you speak English and you've been in the organization, you should be ahead of the guys who don't speak English and haven't been in the organization, I would think," Babcock noted.
So, the pressure is on Holl, who's coming off a Calder Cup win with the Marlies, and Carrick, who played 47 games with the Leafs last season.
"I got a taste last year and I think playing in this preseason and all of that just reinforces that I know that I can play here," said Holl, who had a two-game audition in the NHL last season. "I feel like I'm ready to go and I just want an opportunity. And that's the same as everyone here. Everyone wants an opportunity so it's definitely a fierce competition, but I think I'm ready to go."
Holl will partner with Borgman tonight. The Swede started last season with the Leafs playing 48 games before being sent down to the Marlies.
Carrick isn't making the trip to Buffalo after playing last night. He's well aware of his tenuous position.
"You get a couple make-or-break moments in your career and I want to have a strong camp and a strong start to our season and be able to build my role minutes-wise and consistency-wise for this team and flat-out make a really good team better," Carrick said.
Carrick, who has played 167 NHL games over the last five seasons, believes he's improved significantly after a hard summer of training. In what ways, specifically, does he hope to be better this season?
"Making more plays offensively, trying to have more motion with the puck so the guy who receives it has a better rink to deal with when I give it to him. Defensively, being more aggressive with my gap and my feet and really try to take away time and space. And, probably hashmarks down deciding quicker when to go and then not overcompensating when you don't have a good read to go get the guy, you know, waiting a second, waiting until he gets a bad spot and then put him against the wall and get the puck back and go play offence."
Where Carrick and the other defencemen stand in the pecking order will become clearer on Monday when Babcock plans to ice an NHL-heavy lineup against the Canadiens. So far in camp the roster has been split with two groups both featuring NHL regulars.
"What I find in training camp is they start to get tired, the more they travel and the more you put them through, and then you got to bring your energy every day and every day and every day and the more duress they go through the more you find out about people so that's why training camp is this long," Babcock said. "I haven't made up my mind on anything. I just keep watching."
Dermott participated in the morning skate while wearing a regular sweater, but is expected to miss Saturday's game as he continues to nurse a minor shoulder injury. He played the last 37 regular season games with the Leafs and all seven playoff games a year ago and is favoured to retain a roster spot.
—
Much like Carrick, goalie Garret Sparks is feeling a sense of urgency at training camp.
"I'm 25-years-old now, I've put in five years in the AHL and I've always wanted to play in the NHL, that's always been the goal," Sparks said. "Maybe I put little bit of pressure on myself, I'm my own biggest critic, but at the end of the day I just have to enjoy the process and have fun.
"If you would've told me at 25-years-old I had an opportunity to make the Leafs out of camp I would've told you you were lying so I'm just excited to be here and put my best foot forward every day that I can."
Sparks was the AHL's goalie of the year last season helping the Marlies win the Calder Cup, but unseating 35-year-old veteran Curtis McElhinney, who went 11-5-1 with a .934 save percentage as Frederik Andersen's backup last season, won't be easy.
Sparks is emboldened by the early feedback in camp, especially from Dr. Jeremy Bettle, Toronto's Director of Sports Science and Performance.
"I just think I have a lot more energy," said Sparks, who's listed at 6-foot-2, 201 pounds. "Last year, I was a little bit frail and the first thing Jeremy said to me when I came into camp was, 'Last year you were skinny and this year you're an athlete,' so that's the highest compliment I could've received from him."
What changed?
"Last year, I guess I would say I kind of punished myself in the summer. I just withheld a lot. I didn't eat as much as I probably should've and I was concerned about getting down in weight and being feather light. But after playing 96 games last year and feeling how that ultimately starts to affect your body throughout the year, I didn't feel that was very sustainable so this summer was definitely more based on just being strong in certain ranges and maintaining that light weight, but adding a little bit of stability to it."
Sparks was solid in his preseason opener on Tuesday in Lucan, Ont., stopping all 22 shots he faced from the Ottawa Senators. On Friday, however, he didn't feel like himself in allowing three goals on 12 shots against the Sabres.
"It's really about how you respond to stuff like that," said Sparks, noting he's still shaking off the summer rust. "You have to have a short memory."
—
Mitch Marner and John Tavares got their first look on the Leafs penalty kill Friday night against the Sabres.
"It's an adjustment for sure," said Tavares, who killed penalties with the Islanders the last couple of seasons. "I don't want to say it's a lot different, but there are certain keys and certain areas and certain trigger points that are crucial, I think, for our penalty kill that's made the team successful in the past and some of it is new to me so it's really just finding that rhythm and making some of those things you're thinking about instinctive."
"Obviously, it's a new task," noted Marner, who last killed penalties in the OHL, "so just trying to ask as many questions as I can, just trying to get as many details as I can so when I get out there I know exactly what I'm doing."
Toronto's penalty kill finished tied for 10th in the NHL last season, but faltered at times down the stretch.
"I think Mitch can be an elite penalty killer for sure," Babcock said on Friday night. "We'll see as time goes on. We haven't used them in practice. We're going to have to start using them every day in practice as well so we'll get a rotation on that going and I think that will give them a better chance."
True to his word, Babcock had Marner and Tavares doing penalty kill drills in Saturday's practice.
—
As expected, Zach Hyman missed Saturday's practice after leaving Friday night's game with a bone bruise.
"He's got, I think they call it a hip pointer or something like that," Babcock revealed post-game. "He got cross-checked in the hip. He's fine. He'll be off ... for a few days, but you get better quick."
In the past, Babcock and the Leafs have used "upper body" or "lower body" to describe most injuries, but so far in training camp the updates have been more specific.
—-
Frederik Gauthier (shoulder) practised on Saturday, but was wearing a red non-contact sweater.
—-
*Lines at Leafs morning skate:
Marleau-Matthews-Ennis
Johnsson-Lindholm-Kapanen
Grundstrom-Cracknell-T.Moore
Clark-Brooks-Bracco
Gardiner-Zaitsev
Rosen-Ozhiganov
Borgman-Holl
Dermott-LoVerde
Andersen, Pickard
*Power play units at Leafs morning skate:
Gardiner
Matthews-Johnsson-Bracco
Marleau
Rosen
Ennis-T.Moore-Brooks
Grundstrom
*Lines at Leafs practice:
Timashov-Tavares-Marner
Leivo-Kadri-Brown
Engvall-Jooris-Greening
Mueller-DerArguchintsev-Clune
Rielly-Hainsey
Marincin-Carrick
Sandin-Liljegren
Nielsen-Subban
McElhinney, Sparks