New deal adds to Der-Arguchintsev's confidence in Leafs camp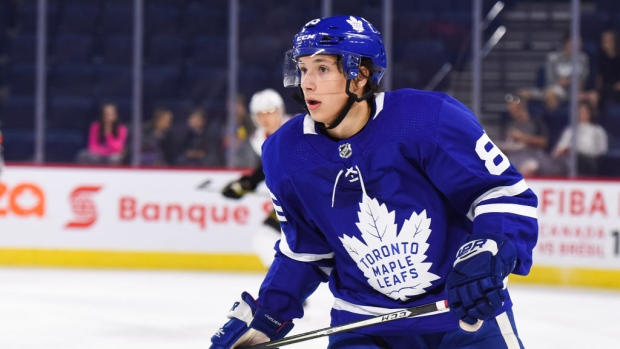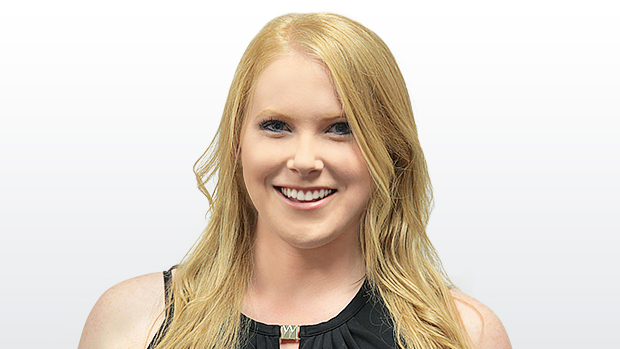 TORONTO -- Minutes after skating in his first NHL preseason game on Friday, Maple Leafs' forward prospect Semyon Der-Arguchintsev barely had time to ditch his gear before he was putting pen to paper on a three-year, entry-level contract with Toronto.
Some might find such a chain of events overwhelming, but Der-Arguchintsev isn't the average up-and-comer. Only a week removed from his 18th birthday, the Leafs' third-round selection (76th overall) in the 2018 NHL Entry Draft already carries himself with the confidence of a seasoned veteran.
"I was laughing today during a four-on-four drill [because] he was out second. Who decided he was coming out second? He decided," head coach Mike Babcock said after practice on Saturday at MasterCard Centre. "That's how he feels about himself. He didn't wait for his turn until someone said he could go. He thinks he should be out there. That's a good sign."
Make no mistake: Der-Arguchintsev is a long way from landing in the NHL. But still the Leafs opted to keep the Peterborough Petes centreman in camp even after sending most junior players back to their respective teams last weekend.
After watching the intensity and enthusiasm Der-Arguchintsev brought to practice all week, management let it be known there may be a contract forthcoming, and that he was also likely to be getting in an exhibition game.
That both firsts happened in rapid succession was everything Der-Arguchintsev could have hoped for.
"That was a special moment for me. It was a big day," he said. "I had an idea [about the contract] the day before but I didn't really think about it. My first couple of shifts I was a little nervous, but I had a good chance in the first period and after that I was like 'okay, you can play.' The contract was a nice bonus after."
Play with or against Der-Arguchintsev though, and the idea he dealt with any nerves at all seems preposterous. The Moscow native (who goes by "Sam") moved to Ontario with his family at 13. At the time he was unable to speak English, but came armed with ample hockey sense. Generously listed now at 5-foot-10 and 159 pounds, Der-Arguchintsev is small, but has grown into a big-time playmaker for the Petes. In his second junior season last year, Der-Arguchintsev exploded for 51 points (12 goals, 39 assists) in 68 games, nearly doubling his total from the season before.
The goal on Friday was for the teen to keep things simple against the Sabres, and any doubts he had about being able to succeed as that were well hidden.
"When you told me 11 years ago I was playing my first preseason game, I was nervous. He wasn't at all," chuckled Chris Mueller, one of Der-Arguchintsev's linemates. "He plays with a lot of confidence and a lot of skill. [The Leafs] want him to learn the defensive side most of all now because it's obvious how skilled he is."
"The small plays he makes are fun to see," added defenceman Rasmus Sandin, who has played against Der-Arguchintsev in the OHL and skated in Friday's game. "He's a confident player and that makes him fun to watch. He's not the biggest guy, but he can play a big game."
Der-Arguchintsev played 11:48 against Buffalo, finishing plus-1 with two shots on goal and 2-for-7 in the faceoff circle. More than any stats (or dollar figures) that showed up on the page though, Der-Arguchintsev was emboldened by the experience itself, and the players he shared it with.
"The contract isn't giving you confidence, right?" he said. "It's not about the contract, it's about being around the guys and learning from the coaches, that's what you get confidence from and that's what my main goal is, to just get better."
With no timeline set on when Der-Arguchintsev will be sent back to the OHL – although Babcock hinted cuts may be coming by Sunday – he's gathering information now to take with him to Peterborough when the time comes.
"I have to work on my legs, and I've talked to trainers about that here and I have to work on my conditioning," he said. "My shot should be better, too. I've learned how you have to eat, how you have to work out. On the ice, have to practice a lot at 100%, and be intense every day."
Having handed Der-Arguchintsev one of the team's 50 available contracts, the Leafs believe he'll successfully turn teachings into progress over the coming seasons.
"He's a good kid, smile on his face all the time," Babcock said. "Right now he's faster when he has the puck than without it, so he's got to learn to work hard without it, but that's all part of it. I think he's learned a lot here, but he's got good skill and good feel."