Carroll performs as advertised in Raptors opener
A nervous hush filled the Air Canada Centre early in Wednesday's season opener. The Raptors were down by 10, their offence looking all kinds of awful, but that had nothing to do with it. The concern was for injured forward DeMarre Carroll. You were right to be worried.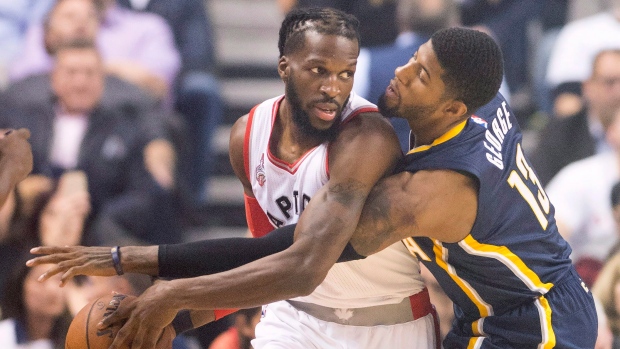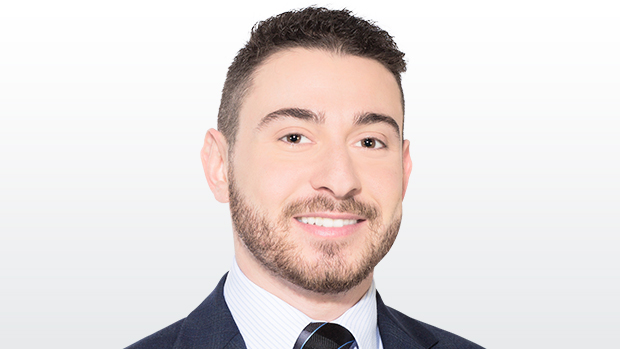 TORONTO - A nervous hush filled the Air Canada Centre early in Wednesday's season opener.
The Raptors were down by 10, their offence looking all kinds of awful, but that had nothing to do with it. The concern was for injured forward DeMarre Carroll. You were right to be worried.
Barely 10 minutes into the new campaign, Carroll - the Raptors' prized $60-million off-season investment - was sprawled out on the court after taking a hard fall underneath the rim. He was down for a couple minutes before being helped to the locker room. It did not look good.
This was a nightmare scenario coming to fruition before a quarter was even in the books.
But Toronto fans are still getting acquainted with the self-proclaimed "junk yard dog" and, as he explained after the game, it's going to take a lot more than what turned out to be an elbow contusion to knock him out of the lineup.
"Man, I thought I broke my elbow," said Carroll, who returned to the game early in the second quarter and went on to log a team-high 41 minutes, playing a crucial role in Toronto's 106-99 victory over the Indiana Pacers.
"I lay there for a minute, but it was good. I got a contusion; it's one of those things where I've [just] got to get ice on it. I can't let one little elbow keep me out, when I was playing on one leg in the Eastern Conference Final."
Carroll is coming over from Atlanta, where he helped lead the Hawks to an unexpected 60-win season. He was their unsung hero, the only one of their starters to get snubbed from the all-star game. In the post-season, he was their best player before going down with a scary knee injury. He was on crutches that night, yet played in the next game. But he took it easy, right? If guarding LeBron James is taking it easy.
Those who know the 29-year-old journeyman were not surprised to see him re-enter Wednesday's game and they should not have been surprised by how he played once he got back in there.
Toronto overcame a 16-point first-half deficit to win its opener. Most who watched will remember the third-quarter run, spurred by the relentless play of Kyle Lowry. They might recall DeMar DeRozan, who couldn't hit a shot to save his life early on, knock down a couple daggers to seal it in the fourth. Not to be outdone, Jonas Valanciunas was excellent, scoring 21 points on an efficient 8-of-11 shooting to go along with 15 rebounds. But none of this is made possible without the work of Carroll, who came as advertised.
"[That's] exactly why he's here," said DeRozan, who finished with a game-high 25 points. "Bring that toughness, that defensive mindset and the things that he's able to do offensively. But his mindset is always going out there and guarding the best players and he did a helluva job tonight."
Carroll spent almost the entire game defending Pacers superstar Paul George. Returning from a serious leg injury, George - a pretty remarkable story himself - was held to just 17 points on 4-of-17 shooting. He missed 10 of his first 12 attempts.
You can go ahead and ignore Carroll's shooting percentage - he was 5-for-14, by the way. His impact extends way beyond his 14 points, eight rebounds, four assists and two steals.
"I think he's an elite defender," said Lowry, who had 23 points and six assists in the win. "I think he's an all-defence calibre player. I think he takes so much pride in it that he'll continue to do it all season."
It didn't take Carroll long to make his presence felt. You cringe each time he dives for a loose ball and hits the deck. What if he doesn't get up next time? But that's the type of player he is, that's the type of player the Raptors desperately needed last season and that's exactly what they brought him here to do.
The Raptors intend to ride him hard this season. When Dwane Casey handed role cards out to each player last week, something he's done in training camp for over 30 years, Carroll's was the longest.
As Casey presented them in the locker room, he read each one aloud so everybody would be clear on their teammates' responsibilities. When he came to DeMarre's card he misread the name, he thought it said 'DeMar'. You can see the confusion. So he read "DeMar: defensive stopper..."
The players laughed. Sure, DeRozan is an improved defender, the laughter shouldn't be taken as a slight to him, but they knew exactly who's card coach was reading.
"Coach, he thinks very highly of me and he understands that I want to be one of the top two-way players in the game," Carroll said. "I want to do it on the defensive end and then do it on the offensive end. I've just got to go out there and do whatever it takes for my team to win. Some nights it might be for me to score. Most nights it will be for me to lock down the best [scorer]. Some nights it might be for me to go out there and get 20 rebounds."
"I'm still the junk yard dog, nitty gritty, blue-collar type player. I always say you can tell a blue-collar guy when he walks into the gym. Nothing was given to him. He's going to work for everything. That's what I try to do every day. Nothing has been given to me. A lot of people say I play like I've got a chip on my shoulder. But I play like I got a log on my shoulder. Everyday I'm trying to prove [something] and be better and better."
So, did he reach his nightly quota of face plants in his Raptors debut?
"Yeah, it was about the right number," Carroll joked. "Yeah. I could've dove in the crowd a little bit more, but I didn't. I didn't see no opportunities. Maybe next game."