'Christmas Miracle' for Cunningham family
It's been dubbed the "Christmas Miracle." On Wednesday, in Tucson, Ariz., Heather Cunningham and her son Craig, along with the doctors who saved his life, will meet with the media for the first time since the 26-year-old Tucson Roadrunner captain collapsed on the ice with acute cardiac arrest on Nov. 19 and almost died.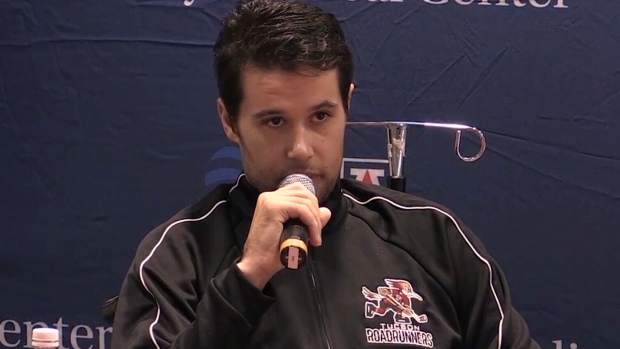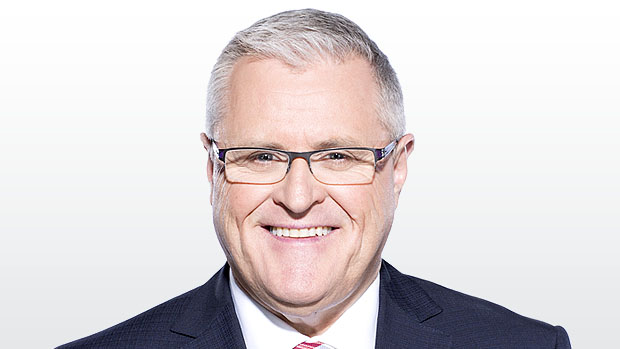 It's been dubbed the "Christmas Miracle."
Heather Cunningham, though, has another word to describe it.
"Absolute miracle," she said, "that's what it is. It's an absolute miracle. A month ago, we never thought we'd be where we are today."
On Wednesday, in Tucson, Ariz., Heather Cunningham and her son Craig, along with the doctors who saved his life, will meet with the media for the first time since the 26-year-old Tucson Roadrunner captain collapsed on the ice with acute cardiac arrest on Nov. 19 and almost died.
In the ensuing days, Cunningham literally fought for his life while on a state-of-the-art, life-support system with a team of medical experts working around the clock to keep the Trail, B.C., native alive.
His storybook career as a professional hockey player is now over -- his left foot and leg have been severely damaged and it remains to be seen how much, if any, functionality he regains -- but he and his family are so very thankful he beat the odds to survive.
"I do feel lucky to be alive," Craig Cunningham said in a telephone interview Tuesday night from his hospital bed in Tucson. "It's taken me awhile to realize what I've been through. They explained to me what happened; the doctors showed me video of when I went down on the ice. I, uh, I didn't know (it was that bad). Now I realize why I'm in such rough shape.
"I do feel lucky. I know that. But at night, I think about it, and it bugs me I can't play (hockey) again. Hockey is the only thing I've ever known. Since I was four years old, the only thing I've ever wanted to be was a hockey player. Now I have to move on, focus on something else.
"To be honest, though, I'm just so happy to be alive...I'm alright, man. I'm okay. I'm grinding away."
Anyone who knows Craig Cunningham would expect nothing less.
***
Nov. 19, 2016 was, Heather Cunningham said, the worst night of her life.
Which is saying something.
No woman should have to endure the tragedy that has befallen her and the Cunningham family. In 1996, Heather's husband Alvin was killed in an automobile accident in Trail, leaving her to raise three children between the ages of four and seven -- Mitchel, Craig and Ryan -- as a single parent who had to hold down multiple jobs to make ends meet. (ESPN'S John Buccigross wrote a touching piece on espn.com about Craig's journey and Heather Cunningham's story).
"I can't close my eyes now without seeing it," Heather said of being in Tucson Arena that Saturday night when Craig suddenly, for no apparent reason, collapsed at centre ice.
A firefighters' pipe band just performed the national anthem and those firefighters and in-arena paramedics began working feverishly to try to save Craig's life, cutting off his equipment and performing chest compression-only CPR.
"It's the most horrific night of my life," Heather said. "I was escorted down (to ice level). By the time they took him off the ice, I thought he was gone. To see that, it was absolutely gut wrenching. When I think about it now, I get nauseated. There was so much yelling, screaming and shrieking (from all over the arena). It was just awful."
It would get worse.
Day after day in the intensive care unit of the Banner University Medical Center Tucson, Craig Cunningham fought for his life. His mother, his girlfriend Sarina and his brothers Ryan and Mitchel could only maintain a vigil and hope he would beat odds maybe even longer than the ones he obliterated to become the scrappy, undersized kid who made it to the NHL.
"If you had seen him in the hospital, for days after, on the life support machine, with the tubes and wires all over the place," Heather said. "Dr. (Zain) Khalpey, every day he would come to me and say, 'He's more alive today than yesterday.' That's all we could hold onto. For those first five days, that was it: He was a 'little more alive' than the day before."
Slowly but surely, though, with the help of cutting edge medical technology, Craig Cunningham willed himself to live.
***
Dr. Khalpey will no doubt provide details of Cunningham's medical diagnosis and prognosis at Wednesday's news conference, but here's the layman's, Reader's Digest rundown, as explained by his mother.
"Craig did not have a heart attack," she said. "We wish it was a heart attack."
Heather said Craig's acute cardiac arrest was caused by ventricular fibrillation, or V-fib as it is commonly known.
According to the American Heart Association, V-fib is "the most serious cardiac rhythm disturbance. The lower chambers quiver and the heart can't pump any blood, causing cardiac arrest."
By all accounts, the medical team at Banner took aggressive, cutting-edge medical initiatives to save Craig's life. But as so often happens, one problem begets another and/or the efforts to address those problems create others.
On top of his cardiac issues, Craig lost some kidney function. In order to take advantage of the ECMO (Extracorporeal Membrane Oxygenation) life-support system that kept him alive at the most critical stage, the doctors had to get invasive tubes into Craig's left foot/leg.
"The ECMO tubes are quite large," Heather said, "and there was a circulation problem (in the leg). As the doctor told us, you have to pick your battles and he was right. Craig's heart looks strong now, his kidney's have come back to almost 100 per cent a lot more quickly than anyone thought they would. The leg is the only thing holding him back now."
As for why his heart went into V-fib that fateful night, it is, according to Heather, still largely a mystery.
"If there was a specific reason for it, no one has told us and I'm sure they would have," she said. "The doctors have said (Ryan and Mitchel) should get their hearts checked out to make sure they're okay, but Craig's heart, aside from some damage done (during cardiac arrest), appears to be fine now."
***
The end of a hockey career is traumatic for any player.
It doesn't matter when it happens or how it happens; it's never easy.
And given this set of circumstances, it's going to take time for Craig Cunningham to accept his new reality. There will be tough days, for sure, like Tuesday, for example.
"It was a hard day," Heather said with a sigh. "There were a few tears. He won't play again. He knows that, but we also know that's the (next) battle. He's mad about it. He said, 'I was in the best shape of my life; I was in better shape than anyone else.' But there is no reason. It just happened, so he's still coming to terms with it."
That, of course, is to be expected.
But Craig Cunningham has already decided he'll just have to make his mark in hockey in another way.
"One hundred per cent, I love this game," he said. "It's all I've ever known. I'll find a different way to stay involved."
There will be no shortage of people in the hockey community willing to give him that opportunity. So many doors will swing open for a young man who has been universally viewed as the "best teammate, best friend, best guy" by virtually every hockey person he's ever come into contact with. Those opportunities will be there for Craig Cunningham when he's ready for them.
In the meantime...
"The biggest thing now is for me to just focus on getting my health back," he said. "I'm still pretty weak. I've had a lot of surgeries. I have to have another one."
"He has come such a long way," his mother added, "but he still has a long way to go."
Craig was supposed to have a defibrillator surgically implanted this week, but has to deal with some infection before that can happen. That has delayed his discharge from hospital. The Cunninghams were hoping to be out of the hospital before Christmas -- Craig's next move is to a Tucson rehab centre where he can get stronger and learn to get by with the use of one leg and then maybe an out-of-state sports rehab facility after that -- but they could well be spending Christmas in Banner.
"Craig keeps telling me, 'We need to get out of here,' which is how you can tell he's feeling better," his mother said.
***
For all that Craig and Heather Cunningham have had to process since Nov. 19, and it's been traumatic in so many ways, they're overwhelmed in a good way by the treatment and support they've received from all corners.
Heather said that by noon the day after Craig had collapsed, the Tucson hospital was filled with family and friends from Trail. Craig can't believe what a rock his mother has been, but also acknowledged his girlfriend Sarina and his brothers have been there for him every step of the way. Craig's brothers have had to travel back and forth -- Ryan is an engineer in Trail; Mitchell a law student at Dalhousie University in Halifax and had to write exams. By mid-January, Heather has to return to her job in Trail. Between them, as well as other family members, friends and myriad people in the hockey community, they're all supporting each other, finding a way to get through it.
I asked Craig if there's anything he'd like to say, this was his response:
"I'm just so thankful to so many people, starting with the firefighters on the ice who probably saved my life. If not for them and the doctors and nurses here, I wouldn't be here today. Dr. Khalpey, Dr. Hughes, Dr. Yanquez, it's incredible what they've done for me.
"My Mom, I honestly don't know how she handles it all. She lost her husband and raised our family and made so many sacrifices. She lost her own father and she almost lost me. I don't know how much more she can take. My girlfriend, my brothers, family and friends, my teammates, guys I've played with or know, I really feel lucky to be that well liked by so many people.
"Please thank everyone for the wishes and support. It means so much to me. I'm lucky to be alive, thankful to be alive. I'm not sure what I'll be doing (in hockey), but I'll be back."
The final word goes to Heather Cunningham:
"Craig will get through this. He'll find himself another goal and he'll accomplish it, there's no doubt in my mind about that."
None in our's either.
Special kid that Craig Cunningham; special woman that Heather Cunningham; special family those Cunninghams.
Merry Christmas to them all.