Cirkunov will battle Krylov at UFC 206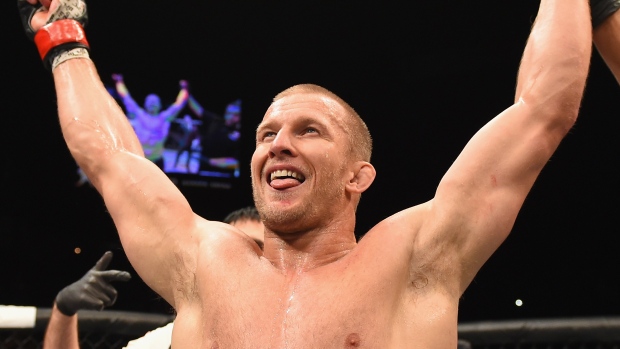 With three finishes in three UFC fights, Toronto's Misha Cirkunov has already opened up a lot of eyes. Now he'll get the chance to defend home turf when he faces Nikita Krylov at UFC 206 at the Air Canada Centre in Toronto, in a bout officially announced by the promotion on Thursday.
The 29-year-old's most recent finish was a third-round, arm-triangle submission victory over Ion Cutelaba at UFC Fight Night Ottawa in June. He felt the lift of the partisan Canadian crowd that night and is expecting more of the same from the fans in Toronto.
"Ottawa was insane, I have never experienced anything like that in my life, the entire crowd chanting my name and that energy," Cirkunov told TSN.ca. "I know in my hometown people will get that going and that energy will give me the horsepower for a really great fight."
Across from him on December 10th he will find a very skilled opponent in Krylov. The 24-year-old is on a five-fight winning streak, most recently earning a victory over Ed Herman at UFC 201 with a KO finish.
"People know Nikita is a great finisher and a wild fighter, I have a similar style so when we fight, it's going to be very exciting," said Cirkunov. "It's going to be just as important for him to win as it is for me, it's definitely going to be one of the most exciting fights on the card."
"He was on the same card when I fought Daniel Jolly and we met, he looks like a very straight forward guy, serious guy, a very good fighter. He's a very tough fighter and I'm expecting to have my toughest fight ever."
If the Torontonian gets his arm raised in front of the home crowd, it will be his eighth straight MMA win and he feels it's about time for him to make some more noise as he moves up in the light heavyweight division.
"Right now I'm riding a seven fight winning streak and every fight with a finish, so if I'm able to stop Nikita and win that fight, if I actually can pull it off, I'll fight anyone they give me," said Cirkunov. "But after this fight, once I win, you'll definitely hear me speak up in the cage and call some people out, I've never done that before but now I'm ready to call out certain people and I'll be looking to do that on December 10th."
Six bouts were announced for UFC 206 on Wednesday, including a light heavyweight title fight between Daniel Cormier and Anthony Johnson and four more fights including Canadian fighters.
Tickets for UFC 206 go on sale on October 20th at 10 am et/7am pt.