Class is in session for Maple Leafs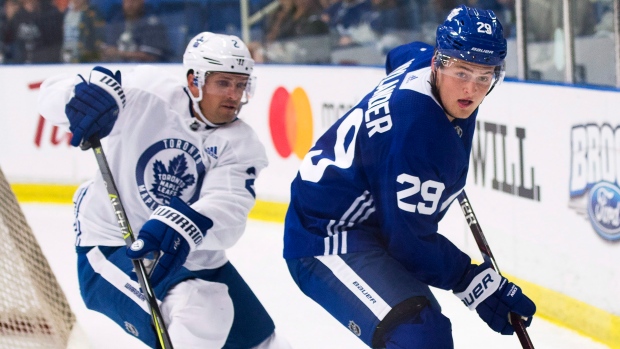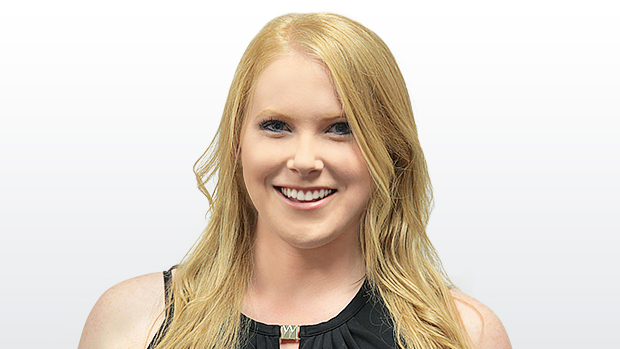 NIAGARA FALLS, ON. — It was hockey's version of the first day of school Friday, and the Toronto Maple Leafs were already test-driving some new looks for the season ahead.
The 73 players invited to this training camp, one of the largest preseason rosters in the league, were separated into three groups that practised and scrimmaged over four hours. After months away from anything that resembles game speed, players use that initial day on the schedule to get their legs under them and begin digesting the systems various coaches are beginning to impart.
It's a process that will take Toronto all the way up to their Oct. 4th season opener. Friday offered a first glimpse at what the 2017-18 Leafs could eventually morph into, from new line combinations to the players fighting their way back from injury – or just to stay in the NHL.
Nazem Kadri sat out Friday's sessions due to what head coach Mike Babcock deemed "an upper-body [injury]… it's nothing," so Miro Aaltonen, who signed with the team in March, slotted in to centre Connor Brown and Matt Martin, while Patrick Marleau skated to the left of Frederik Gauthier and Leo Komarov.
Where Babcock didn't defer from last season, though, was with his two most potent lines, centred by Auston Matthews and Tyler Bozak. Matthews remained between Zach Hyman and William Nylander, and Bozak continued on with James van Riemsdyk and Mitch Marner.
To this point, through summer skates and into training camp, Matthews and Marleau have never shared a sheet of ice for any extended time and Bozak has mostly remained with his same linemates. But that's not necessarily revealing of Marleau's future. While curiosity is rampant over where the 38-year-old winger lands in the lineup, it won't be revealed overnight.
"It's basically about getting [Marleau] in here and getting him going and not worrying about [who he plays with] too much," Babcock said. "We have all of September to get that figured out."
The Leafs have too many forwards in their midst; that's been obvious for months. At Thursday's Media Day, Babcock noted that the right players always end up on the team, they just don't always end up there right away, a potentially telling statement about players like Nikita Soshnikov and Kasperi Kapanen who are NHL-ready but able to return to the AHL without waivers, and thus could be victims of a numbers game. And they might not be the only ones.
"I think we're just going to figure it out," Babcock surmised of his forward group. "[Brown] played real good for us last year, today we had him with Aaltonen. I thought Matthews' line was really good for us in the playoffs last year. Bozak's group had a good year, so we'll see. Naz had a big jump in his game last year. Those 10 guys are in the mix that I just talked about with Komarov [and Marleau]. We only have nine spots for the 10 of them, that's the problem, but that's a good thing to have."
Brown and Komarov both said they're embracing the challenge of winning a top-nine spot again, with Brown saying it's up to each individual to "force their hand by playing as good as you can." Komarov's versatility is also an advantage for him in a crowded field – he's comfortable on left or right wing, where he was utilized on Friday.
Gauthier is on his way back
When Frederik Gauthier took a late hit and went sliding into the boards with a sickening thud during an AHL playoff game on May 6th, it didn't take long to see that the injury was bad. The 6-foot-5, 235-pound centre had to be assisted off the ice by two trainers, his wooziness apparent from 50 feet away. Gauthier's left hamstring had detached from his leg, and it took a summer of physical therapy and rehab to get back to where he is now – a full participant at training camp.
"At first you're frustrated because you didn't want it to happen, it ruins your summer a little bit and your off-season and how you work out," Gauthier said of the injury on Friday. "But after a couple weeks it's just like, you do what you have to do. I feel great; they tell me everything is fine. Today I did a full practice, which was nice, felt good out there."
Gauthier, 22, had been working closely the last few weeks with the Leafs development and coaching staff while he waited for the all-clear to scrimmage and eventually practise at a high pace. The original timetable for his recovery had been set at six months, placing a return somewhere around November, but Babcock is at least hoping that window opens a little sooner.
"The Goat's (Gauthier) got to be ready. Let's get going," Babcock said with a smile. "That's why we have therapy people, so I don't have to make those decisions."
After losing so much of his summer to the rehab process, Gauthier is now focused on his conditioning, continuing to get stronger and being in the best shape possible. With the signing of Aaltonen last winter and Dominic Moore in July, Gauthier faces steep competition for centre spots, and despite a 21-game stint for the Leafs last season, nothing will be guaranteed to him when he's ready to play.
"I feel like every year they bring in new guys, new guys are drafted, so it's always a hard competition for whatever spot you're fighting for," he reasoned. "There's a ton of guys here fighting for a few spots so it'll be an intense camp."
Polak proving himself all over again
Like Gauthier, Roman Polak is also fighting his way back from an injury sustained in the playoffs. His injury came in Game 2 of Toronto's first-round series against the Washington Capitals, a gruesome broken fibula that halted not only the defenceman's postseason plans but severely impacted his options as an unrestricted free agent. After he rehabbed throughout the summer, Polak and his agent reached out to the Leafs about getting an opportunity in their camp on a professional tryout contract, which they were happy to offer.
"Roman worked hard all summer to get prepared. [He] earned that [PTO] over playing hard for us the last two years," Babcock said. "We'll see where that takes us. You do good things for us, you work hard for us, we'll bend over backwards for you."
Polak opted to just participate in drills and not scrimmage with the other groups on Friday, but Babcock said they'd see how ice time would be allotted to him – and everyone else – over the rest of the weekend and into the eight preseason games ahead.
The 31-year-old said he's experiencing no limitations right now in terms of what he can do, but wants to be smart about getting back into game shape.
"I knew I was going to recover, it was just a matter of the time," he said. "Now it's all about practising. I'm thankful for the opportunity that Lou [Lamoriello] gave me and all the coaching staff and I'm just glad to be here and will take it step by step."
The biggest thing Polak has to prove now? "That I'm healthy, and will be ready for the start of the season."
Barring injury, the Leafs have their top-four defencemen picked out, and a fierce competition going for however many spots remain on a 23-man roster. Word of Polak performing well in camp and the preseason for the Leafs would spread around the league, though, and potentially open doors elsewhere. Injuries for Toronto could even make Polak a valuable asset to keep around – if he hasn't lost a step.​
Marincin in need of a confidence boost
Arguably one of the most polarizing figures on the Leafs' roster, Martin Marincin is fast approaching a crossroads in his NHL career.
With nearly four seasons of NHL experience to his credit, Marincin has never been able to solidify himself as a reliable defender the Leafs can count on. Babcock gave him a number of chances last season to do that and Marincin never found any sustainable success, and was eventually scratched in favour of other blueliners.
Now 25 years old, this is when Marincin should be coming into his own as a player, but difficulties he may have sustaining any confidence that he builds up is still holding his game back.
"Marty's, I think, an elite defender, can really skate, can pass the puck, does a lot of things, but has never really grabbed hold of it yet," Babcock said. "What happens in the league is if you don't eventually grab hold of it, you're not in the league anymore. That's a tough spot. You can have to decide to feel good about yourself. I can't do it; [players] have to find their way. We can give them all the opportunities. Marty is in a situation now with [Calle] Rosen here, with [Andreas] Borgman here, [Connor] Carrick here, he's battling for a job, he knows it. He's knows the position he's in and he's got to have a good training camp."
Marincin skated over the summer on a pairing with Rosen but with Nikita Zaitsev missing the first day of training camp with a "middle" body issue (it's not serious and he'll return in a day or two), Marincin spent Friday with prospect Andrew Nielsen.