Birthday boy Marleau adjusts to new environment
Veteran winger's talent and pedigree make him a good fit up and down the Leafs lineup, so where will he slot in on a stacked forward depth chart? TSN's Mark Masters reports from training camp.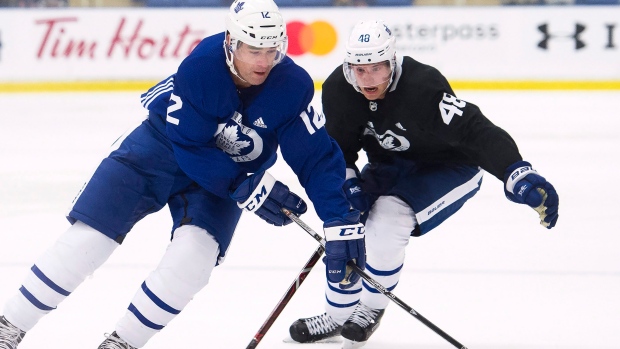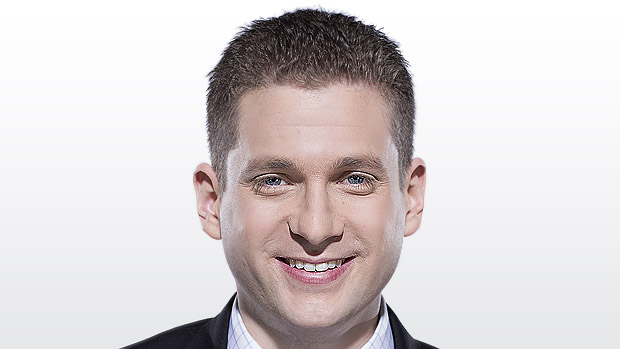 After two decades in San Jose, Patrick Marleau practised with a new team on Friday as the Maple Leafs held their first practices of training camp at the Gale Centre in Niagara Falls.
"Definitely paying a little more attention to things put up on the (white) board, you know, doing two and three looks, asking a lot of questions to see what they expect in certain situations," he said after his first on-ice session with the Leafs. Biggest adjustment so far? "Probably just turning the brain off and playing and not overthinking system-wise," he said.
Despite turning 38 on Friday, Marleau can still jet up and down the ice, which has caught some of his new teammates off guard. "Even skating with him last week, I couldn't believe how fast he still is," said defenceman Jake Gardiner, no slouch in the skating department himself. "It's crazy. And it's sneaky fast, too. All the sudden he'll just be flying up the ice and there he goes. It's good to add more speed to our team and a veteran presence."
Marleau's talent and pedigree make him a good fit up and down the lineup, so where will he slot in on a stacked forward depth chart?
Babcock sticking with old lines for now
* A couple lines that finished last season together started training camp together as Auston Matthews skated with William Nylander and Zach Hyman while Tyler Bozak centred James van Riemsdyk and Mitch Marner. Meanwhile, Marleau skated on left wing with Frederik "The Goat" Gauthier and Leo Komarov.
Nazem Kadri, who slotted in beside Komarov most of last season, missed the practice with a minor upper-body injury. On Thursday, the centre was asked if he had thought about the prospect of playing with Marleau. "After the signing, yeah, that's the first thing I thought about," Kadri admitted with a chuckle. "Just watching him in the (informal) summer skates he's a very responsible type of forward. He can play that offensive or defensive role, so he'll fit with anyone he plays with."
What does Marleau think of Kadri? "He's really talented. His compete level's high and that's something you can't really teach. It's something that has to come from within and a lot of highly-skilled players around the league really have that."
As for head coach Mike Babcock, he didn't really want to get too much into line combinations after one practice.
"We'll work it out over time," the coach noted.
Zaitsev doesn't skate (minor injuries)
* Nikita Zaitsev also missed Friday's practice with what Babcock termed a "middle" body injury. He could be out a couple more days, but the coach said it's not a serious issue.
Hard-nosed Polak proves his toughness again
* Invited to camp on a pro tryout, Roman Polak joined the Leafs after flying in from Europe on Thursday. He skated on Friday, but told Babcock he preferred not to take part in the scrimmage. What's the burly defenceman looking to prove at this camp? "That I'm healthy and I'm going to be ready for the start of the season," he said. "That's the biggest issue probably."
Polak calls the broken fibula, suffered in Game 2 against the Washington Capitals last spring, the most painful injury of his career. He was asked what went through his mind when he got hurt​. "Lots of pain was going through my mind ... I still watch the video once in a while." Really? "Yeah, yeah, sometimes I do, you know, when I feel sad and I want to feel more sad (laughs). It's what I do."
While Polak takes a bit of a low profile in the media, he has become a popular figure in the dressing room. "Everyone who saw him today had a big smile on their face and so did he," said Marner. "He was a big part of our team last year not just in the room, but on the ice as a guy other teams hated playing against so it's great having him back."
That hard-nosed approach endeared Polak to his teammates and coach Babcock. "I tipped a shot right in his face one time," Bozak recalled when asked for his favourite Polak toughness moment. "I felt really bad, but he said, 'Don't worry about it. It's fine.' He was cut terrible and I still get nervous that he's a little mad at me, but I think we're OK."
Well, Roman? "He's right. I'm still mad at him," Polak said with a straight face before breaking into a grin. "Yeah, yeah, yeah."
Komarov uses humour to deflect from contract question
* Komarov and van Riemsdyk are among the high-profile Leafs entering the final year of their current contracts. On Friday, the soft-spoken Finn was asked if he feels any more urgency to play well, because of the situation. "I mean, it's Toronto so there's a lot of talk about that, but I just want to play and we'll see how long it's going to take me (to get a new deal)." After a couple moments of silence from reporters, Komarov smiled and added, "Good answer, right?"
While Komarov used humour to deflect, van Riemsdyk was all business when asked about his situation on Thursday. "This is the first time in my career that I've gone through something like this," the left winger admitted before turning the focus back to the group. "We got a bigger goal here as a team and all the individual ​stuff kind of takes a backseat to that."
Notable lines/pairings on Friday
Forward Lines:
Hyman-Matthews-Nylander
van Riemsdyk-Bozak-Marner
Marleau-Gauthier-Komarov
Martin-Aaltonen-Brown
Soshnikov-Moore-Kapanen
Fehr-Smith-Leivo
Rychel-Greening-Bracco
D pairings:
Rielly-Hainsey
Gardiner-Rosen
Borgman-Carrick
Dermott-Liljegren
Valiev-Rasanen
Marincin-Nielsen