Clippard joins Jays' evolving bullpen picture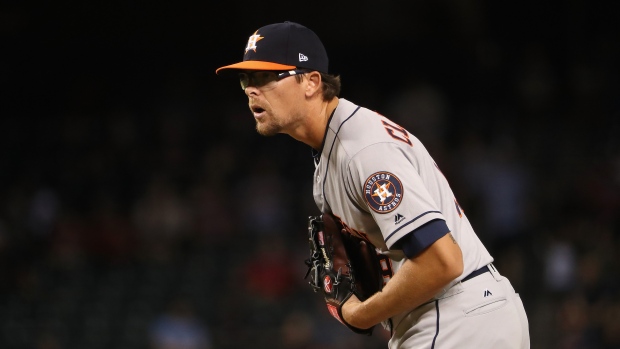 The bullpen Blue Jays general manager Ross Atkins is building continues to evolve as opening day inches closer.
First, it was Seung-hwan Oh entering the setup mix a couple weeks into camp. Now it's Tyler Clippard being added to the group of veteran arms hoping to claim one of the two spots up for grabs in manager John Gibbons' bullpen.
Roberto Osuna, Ryan Tepera, Danny Barnes, Oh, and left-hander Aaron Loup are locks ­– health permitting, of course.
The fact Gibbons isn't married to the idea of having two lefties makes the situation even more fluid, which is where Clippard enters the conversation.
One would think the 33-year-old owner of a 3.11 career ERA would be battling a group of fellow veteran right-handers on minor-league deals, a mix that realistically includes John Axford and Al Alburquerque, while a trio of southpaws – Craig Breslow, Tim Mayza, and Matt Dermody – try to convince Gibbons that carrying two lefties is the way to go.
But Clippard's reverse platoon splits throw an interesting wrinkle into the mix in that he can serve as a piece Gibbons could call on to combat left-handed hitters.
In his career, Clippard has used his changeup to hold lefties to a .187/.272/.325 slash line, numbers that didn't change much last season, even as he struggled to a career-worst 4.77 ERA across 60.1 innings with the Yankees, White Sox and Astros.
Walks and an increased home-run rate were the problems that led to Clippard eventually being left off the Astros' World Series roster.
Atkins' favourite line during the off-season was "opportunities and alternatives" when assessing where his roster building could go.
Now, the GM is giving his manager alternatives when it comes to deploying his bullpen if everyone is pitching like they envision.
Osuna and Tepera can be used in any situation, whereas Oh has been tough on right-handed hitters in his brief career on this side of the pond.
Barnes, similar to Clippard, has been able to use his changeup to get lefties out, giving Gibbons another quietly unconventional way to thwart lineups in the late innings.
The bullpen evolution will have to continue, too.
Attrition will take hold at some point this season, and the reason the veteran arms have the inside track on roster spots to start the season is the fact names like Mayza, Dermody, Luis Santos, Andrew Case, and Carlos Ramirez, who's struggled with his shoulder this spring after a terrific 2017 season, can be shuttled back and forth from Triple-A Buffalo when fresh arms are needed and the roster manipulation begins.
Right now, though, the Jays are worried about the immediate future and finding the right group to start the season with, while also preserving their organizational depth.
"You would like to have that second lefty, for sure," Jays pitching coach Pete Walker explained. "That makes, I think, our job easier, but you also want to break with the best arms that you have. Maybe some versatility, some different looks, different angles, different arsenals from those relief pitchers is important. It gives you some different ways to attack certain lineups late in a game."