Coach Rowley leaves Toronto Wolfpack, saying time is right for change
Coach Paul Rowley, who brought the Toronto Wolfpack to within one win of promotion to the elite Super League, is leaving the transatlantic rugby league team.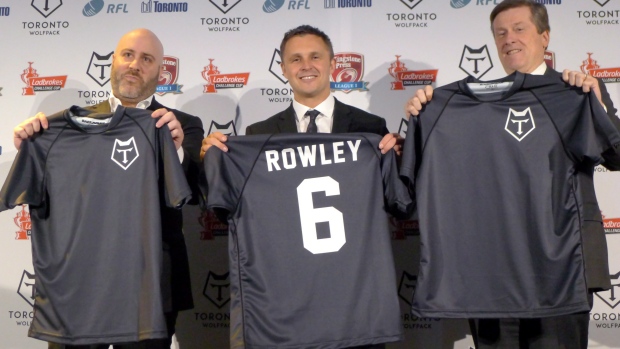 TORONTO — A winning percentage of 83 per cent. Two first-place finishes. One win away from back-to-back promotions.
Paul Rowley's record as coach of the Toronto Wolfpack was excellent. And yet the former England hooker is no longer with the transatlantic rugby league team despite taking a blank piece of paper and turning it into a team with a 49-8-2 competitive record.
In a statement Saturday, the team maintained the split was mutual.
Brian Noble, Toronto's director of rugby, said Rowley had asked to "review his position" at the end of the 2018 season when his contract was up.
"This role is one of the most challenging jobs in sport not only due to the on-field pressures, where Paul has been hugely successful, but also in leading a transatlantic team treading new ground in the world of sport," Noble said in a statement.
The 43-year-old Rowley, thanking Wolfpack fans on both sides of the Atlantic, wished the team well.
"I have thoroughly enjoyed my time at the Wolfpack," he said in the team statement. "It has been a unique experience for me and I feel the club has been a breath of fresh air for our game as a whole.
"I have been considering my position throughout the season as this is not just any coaching job, and I feel now is the right time for myself and the club to make a change."
Given the success of the team and the fact it has just strengthened its roster with six signings including star back Ricky Leutele from Australia's Cronulla Sharks, Rowley's departure seems odd.
Rowley, who like most of the team makes his home near Manchester, England, is married with twin boys. Splitting time in two countries is not easy on a young family, even though Rowley's wife and kids had visited him while the team was in Canada.
The Wolfpack were recently linked in a British report to former Leeds Rhinos coach Brian McDermott, fired in July midway through a season that saw the reigning Super League champions have to fight for their place in the top-flight. McDermott won four Grand Finals, two Challenge Cups and a World Club Challenge in eight years with Leeds.
Asked about the report, Wolfpack co-owner David Argyle said in October that the team had had "no discussions with any other coaches."
"I'm not sure where those rumours come from,'' he added.
As for Rowley, he had hoped that assistant coach Simon Finnigan would be his successor. Rowley stepped back from his media duties at times this season, putting Finnigan in front of the microphones to prepare him.
Perhaps Rowley has a better offer. Or Argyle believed he had had his chance and it was time for someone else to try to lift his team into Super League. McDermott's credentials are impressive.
Rowley's departure as coach of Leigh Centurions in January 2016 was messy. At the time, he said the reasons for leaving a club that both he and his father had played for were personal. He later said he left "to keep my integrity intact," suggesting a fallout with the club.
Leigh owner Derek Beaumont lambasted Rowley after he quit, accusing him of illegally trying to recruit Centurion players. Rowley, who denied the charge, joined Toronto three months later.
While Cory Paterson and Richard Whiting — both ex-Leigh players — recently announced their retirement and reinforcements have already been announced, the Wolfpack roster still has Rowley's touch all over it.
Former Leigh Centurions wearing Wolfpack colours included Bob Beswick, Ryan Brierley, Andrew Dixon, Jake Emmitt, Adam Higson, Sam Hopkins, Kay, Paterson, Nick Rawsthorne, Richard Whiting and Greg Worthington.
Whatever happened with the Wolfpack, it seems Rowley wants to take the high road out of Toronto.
Rowley usually speaks his mind, however. And he always had a way with words, explaining to a Canadian reporter in May 2017 that his sport requires "bravery and somewhat psychotic behaviour."
"They're players with aggressive and nasty nature but they're gentleman as well," he added.
He was loyal to his players but they stepped out of line at their peril. Prior to the 2018 season, Rowley released star forwards Fuifuoi Moimoi, Dave Taylor and Ryan Bailey for an undisclosed training camp transgression.
Rowley's squad won England's third-tier League 1 in the club's inaugural 2017 season and topped the second-tier Championship in 2018. Toronto missed automatic promotion to the Super League on points difference before losing a promotion playoff dubbed the Million Pound Game 4-2 to London Broncos on Oct. 7.
The Wolfpack are slated to open training camp later this month in England.
Follow @NeilMDavidson on Twitter