Leafs sign Tavares to seven-year, $77M deal
The Toronto Maple Leafs have won the John Tavares sweepstakes. Tavares has agreed to terms on a seven-year, $77 million contract with Toronto.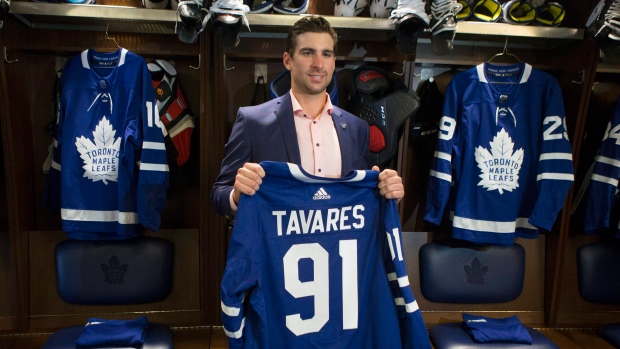 TORONTO – Long before John Tavares was ever a first-overall pick in the National Hockey League, or an Olympic gold medalist and world champion, or the long-time star captain of an NHL team, he was just a kid from Mississauga, Ont., who loved hockey and dreamt of playing for the Toronto Maple Leafs.
Tavares decided to make that childhood aspiration a reality on Sunday by signing a seven-year, $77 million contract with the Leafs as an unrestricted free agent.
Tavares said he was overwrought for the better part of a week with the weight of a choice that boiled down to two options – stay with the New York Islanders, where he was drafted to in 2009 and grown into the man he is today, or go with the "uncomfortable" alternative in the Leafs, the hometown team whose logo once adorned his bed sheets.
It was as personal a business decision as Tavares will ever make, and the 27-year-old followed his instincts accordingly.
"Just as time goes on you start to get a feeling of kind of where your heart is, and kind of what your gut's telling you," Tavares said at a press conference on Sunday afternoon. "There were some excellent opportunities from a lot of teams, and I definitely recognized those. But then you just start to get the feel of where your heart is and kind of what you're feeling. It was just a once-in-a-lifetime opportunity. I felt like I had to take it, and do the best I can to make it work, and have some fun, and achieve [my] dreams."
Tavares met with the six teams he'd chosen as potential landing spots last week in Los Angeles, entertaining pitches from Dallas, Boston, San Jose, Tampa, Toronto and the Islanders. He left California with all six still in the running, but by Friday the two front-runners had emerged.
For hours afterward, Tavares paced the length of a pool deck at his Toronto-area home, hemming and hawing. He took a break to get some advice from Patrick Marleau, who famously bore holes in his own carpet deciding whether to come to Toronto after 19 seasons in San Jose last July.
In the end, Tavares had to make the right decision for him. And it was home, sweet home.
"You get so connected and your roots get so deep in one place where I'd been," Tavares said. "You go in there [to Long Island] as a 19-year-old and it becomes a part of you, such a big part of your life, that it was really going to take something special, I felt like, to pull me out. [Toronto] tried to show the uniqueness of the opportunity and why the timing was right. And in our conversations it always just felt right. There was a comfort level, and then some of those feelings as a kid growing up, and how much you enjoy being from here. It felt like it was the right thing to do."
In deference to the teams he invited to pitch him in L.A. (and a clear sign of how important the entire operation was to him), Tavares went into the courting period open-minded.
The Leafs were up first on Monday afternoon, bringing in a three-man delegation of general manager Kyle Dubas, head coach Mike Babcock and president Brendan Shanahan. Dubas shared his vision of where he thought the Leafs were headed, allowed Shanahan to talk about the franchise at large and left the tactical talk to Babcock, but as ready as Toronto was for their shot to woo the NHL's biggest free-agent prize in 15 years, Dubas was equally impressed with Tavares' readiness.
"It was very methodical," Dubas said. "You go and talk to various free agents and he was by far the most prepared I've ever seen. He walked in, had a very detailed list of questions he wanted answered about our style of play, how Mike was going to use him about my visions for the team and how we were going to move it ahead, how we were going to keep the core of the team together, what our strategy was. So he was very, very detailed and direct and I thought that was outstanding."
When Toronto left the CAA buildings after a couple hours of face time, Dubas said he had no idea whether the meeting went well or poorly and spent an anxious few days in the dark just like the rest of the hockey world.
He did note, though, that contrary to reports, the Leafs did not present Tavares with any jersey at the meeting, nor have they offered him their vacant captaincy. That decision will come later.
Babcock has coached Tavares twice before, at the 2014 Sochi Olympics and the 2016 World Cup, and said that if he was icing a team today, he'd have Tavares centering Mitch Marner and Zach Hyman, with Auston Matthews between William Nylander and Patrick Marleau.
"[Tavares] is a real good player. And the other thing about Johnny is he is real serious about his craft," said Babcock. "And when you're bringing in a pro to your room who is as good as he is, but is as serious about his craft, I think it's great for the other guys. Does not have to say much, just do what he does and he is going to make the people around him better. There is no question his game suits perfectly what we want to do."
At the top of the Leafs' to-do list is to become Stanley Cup contenders, a mantle the young club is still working towards.
Toronto was bounced in the first round in each of the last two seasons, a scenario not unfamiliar to Tavares. He was in the playoffs three times over a nine-year career with the Islanders, never advancing past the second round.
Given Toronto's young core and complimentary stable of veterans, Tavares has high hopes this team is ready to win big sooner than later.
"You realize how hard it is to win in this league," said Tavares. "You need good players and talent around you, and certainly with how young this group is here, you like to think that the trajectory that the team and organization is on is a really good one, and will give you a lot of opportunities to be able to do that. I don't have to come in and try to do everything. I just want to be myself, work as hard as I can, commit myself every day, and be the best player and person I can be."
By allowing his heart to guide him to the Leafs, Tavares knows he left a trail of broken ones behind among the Islanders' faithful. Tavares became choked up near the end of his introductory press conference as he tried to verbalize what the nine years in New York had meant to him.
But the fit in Toronto was simply too good to ignore. Tavares is unfazed by the brighter media spotlight, or the bigger stage to sink or swim.
He's certainly not planning on the former.
"As a kid, it doesn't get more pure than being on a backyard rink with your buddies, playing minor hockey, dreaming about playing in the NHL," he said. "I'm very fortunate to have that come true today. I felt very strongly that this was the path I wanted to do and go outside my comfort zone a little bit, and my instincts were telling me that this was right. I've got a lot of work ahead of me; I'm very fortunate, [and I] don't take anything for granted."​