Communication key as Matthews seeks to be 'more dominant'
Maple Leafs centre looking to take his game to the next level after breaking through with a goal and an assist in Game 3, Mark Masters writes.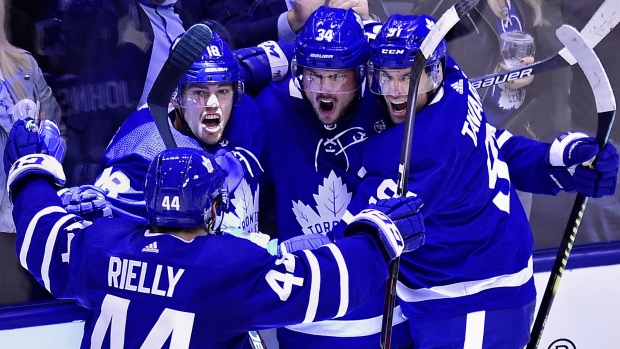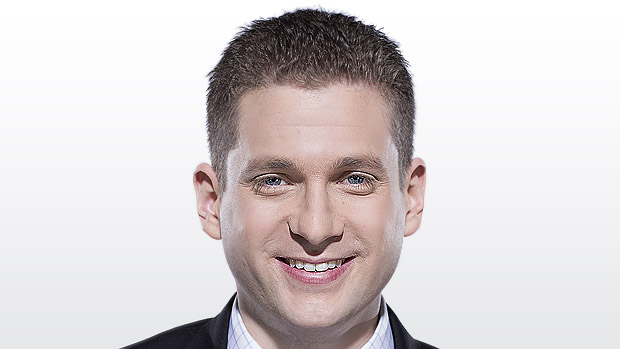 TSN Toronto reporter Mark Masters checks in daily with news and notes on the Maple Leafs. The Leafs and Bruins held optional skates at Scotiabank Arena Wednesday morning ahead of Game 4.
---
Auston Matthews broke through with a goal and an assist in Game 3, but both came on the power play. At even strength, his line was actually outscored by the David Krejci line 1-0 despite owning an edge in possession. Matthews described it as a "stepping stone" for his group.
So, what's the next level look like for him and linemates Kasperi Kapanen and Andreas Johnsson?
"Just more dominant," Matthews explained, "having the puck even more, creating more offence, being good in our own zone and communicating. I think that's been a big key for us is just communicating in all three zones not just as a line but as a five-man unit and even with Freddie [Andersen], make sure we're talking and being there for each other and having outlets all over the ice."
Mike Babcock believes the Matthews line is trending up.
"He was real good last game," the Leafs coach said of Matthews. "He was real good defensively and then ended up with the puck more. I thought Kappy had his best game in a long time and then Johnny on the power play, but, just in general, was physical so when you go through all three of their games I thought they were a lot stronger and that's important, obviously, for us."
But the Bruins are also pleased to have limited Toronto's superstar centre to zero points in five-on-five play.
"If it starts in his own end we can force him to defend there and expend energy there," said coach Bruce Cassidy. "I think we've done a good job of that, Krejci and [Jake] DeBrusk for the most part. They're a line-rush line that can really hurt you in that area if you don't have numbers or reloading and some level of back pressure and keep him to the outside. He's had a couple good looks even with his one-on-one, two-on-twos. He's rung one off the post in our building. We had numbers back, so he's always going to be dangerous there."
There's also a chess match playing out with Cassidy trying to limit the time and space Matthews gets in the neutral zone.
"He had some in our building a little bit," Boston's bench boss noted, "they made an adjustment where they stretched our D out and he got underneath, but for the most part we've tried to identify those situations and keep it tight."
On Tuesday, Babcock noted that Matthews isn't as bothered by the pressure to produce this year and the kid from Arizona truly does seem more at ease as we hit the business end of the series.
"You just kind of get more comfortable with it," Matthews said, "and you got so many people around you that can help – teammates, staff, family, friends, you know, when you go about the process and everything that kind of goes with playing in a market like this. I've enjoyed every minute of it. It comes with expectations, but that's something you enjoy and you definitely go with."
----
Matthews made an unusual adjustment on Monday night, changing from his trusty Bauer stick to a Warrior one, but he wasn't interested in providing too many details on his thought process.
"Just switching it up," he said, "that's about it."
Surprising to see such a move at this time of year?
"A little bit," Johnsson said with a smile. "Personally, I probably wouldn't change."
Before scoring on Monday, Matthews had gone six games without a goal, dating back to the regular season.
----
You could argue Boston's top line is facing more pressure than the Matthews line at the moment. After dominating the Leafs in last year's series, Brad Marchand, Patrice Bergeron and David Pastrnak have combined for just one even-strength marker and all three are minus players.
The trio held a line meeting on Tuesday.
​"Marshy is the will, Pasta the creativity and Bergy's the all-around," Cassidy said, "so they get together, they've done it all year a little more than some other lines, they want to see, 'What are they doing? How can we counter it?' At the end of the day, once they get a few cues on that, well, 'Now we've got to be better than them, harder on the puck here, beat them to the net there. Willing to shoot it here and get to the second chances.' I think that's what that line has failed to do, to be honest. I don't think they've shot the puck enough. So when they recover it, they're really hard to play against, because they have a really good sense where each other are going."
Did they learn a lot from meeting?
"Yeah, yeah, obviously," Pastrnak said with a toothy grin. "Will keep it to myself ... in this day of hockey you have all these videos and every shift you can watch back so it's good, you know, you can learn and see what's open there."
"Toronto's a little more determined with numbers getting back, so those lateral passes are not happening," Cassidy said. "That's a credit to the way Toronto's played, and we have to make the necessary adjustment to find ways to score, and I believe they will."​
----
The addition of Jake Muzzin has changed the dynamic of Toronto's defence adding a physical edge that wasn't there before.
"He played West hockey for a long time," noted Pastrnak. "It's good for them, but we're going to focus on ourselves and we know we have a good team."
​Just in general, Toronto's defensive play has impressed the Bruins, who completed their season series with the Leafs back in January.
"We've seen Toronto play a tighter defensive game and we didn't see that as much during the season, little bit more committed to that," Cassidy observed. "So the line rush game has been little each way. So it's up to us to find ways to generate offence with O-zone puck possession. So is that an X's and O's, or is that a motivation to get pucks behind them and have the will to win it and get to the front of the net? I think it's both."
----
The Leafs aren't just holding their own physically with the big, bad Bruins, they are actually out-hitting them in the series (114-108). Toronto has even levelled Boston captain Zdeno Chara with a couple bodychecks. Six-foot-one winger Zach Hyman brought the 6-foot-9 defenceman to the ice in Game 3.
What's the key to cutting down Chara?
"Make sure you got your balance and your grounding and then go for the hit," Hyman said. "I think I caught him off guard a little bit, but it's playoff hockey and you can't be scared. You got to go face up against anybody and play your game."
----
Bruins winger Marcus Johansson practised Tuesday and skated again this morning after missing the last two games due to illness.
"I'm gonna talk to Butchy and discuss it, but I felt good out there now," he told reporters after the morning workout. "I'll prepare as if I'm playing and we'll see what happens."
"He has to have his energy level to be able to help us," Cassidy noted.
Meanwhile, defenceman John Moore is set to return from an upper-body injury sustained on March 25.
"If they feel good, they'll go in," Cassidy said. "They are trending well."
Johansson would likely replace Karson Kuhlman while Moore would take the spot of Steven Kampfer.
----
While Boston's defensive depth is getting a boost, the Leafs are hoping their third pair can round into form. Travis Dermott (shoulder) and Jake Gardiner (back) missed significant time down the stretch. Dermott only suited up for four games before the playoffs while Gardiner only got into the last two in the regular season.
"Obviously, health is an issue," Babcock admitted. "Now, they're still good players. Are they playing at the level they're both capable of when they're healthy? Probably not. But, they're still good players. We'll take whatever they've got to offer."
Gardiner is averaging 15:48 of ice time in the playoffs, which is down from 21:13 in the regular season. Dermott is averaging 13:30 per game against the Bruins after logging 17:18 per game in the regular season.
----
Projected Leafs lineup for Game 4:
Hyman-Tavares-Marner
Johnsson-Matthews-Kapanen
Marleau-Nylander-Brown
Ennis-Gauthier-Moore
Rielly-Hainsey
Muzzin-Zaitsev
Gardiner-Dermott
Andersen starts
Hutchinson