Condon shines as Sens blank Blue Jackets
Kyle Turris and Ryan Dzingel scored goals and Mike Condon made 42 saves to lead the Ottawa Senators past the Columbus Blue Jackets 2-0 on Thursday night.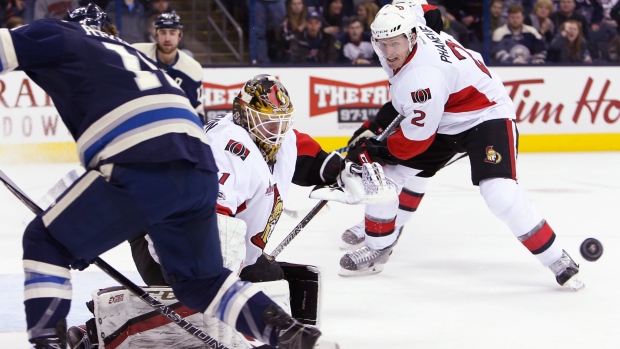 COLUMBUS, Ohio — The Columbus Blue Jackets, trailing 2-0 with the clock winding down Thursday night, got a full minute of a 5-on-3 power-play chance. But the NHL's best power-play unit couldn't capitalize, bouncing one of the shots off the post.
That was emblematic of the Blue Jackets' night as they lost to the Ottawa Senators 2-0 behind goaltender Mike Condon, who stopped a career-high 42 shots.
Kyle Turris and Ryan Dzingel scored goals, and Condon was always where he needed to be for the Senators, who have won four of their last five and handed Columbus its fifth loss in the last eight games.
The Blue Jackets got their looks, but shot the puck right at Condon or off target time after time. Eleven Columbus players took multiple shots with nothing to show for it.
"They're a team that loves to throw the puck at the net, and I love those types of games," Condon said. "You don't have time to think, you're just reacting the whole game. You shut your brain off and just play, and that's when I'm at my best."
Sergei Bobrovsky had 26 saves for the Blue Jackets, who were shut out for the first time since a 5-0 loss at Washington on Jan. 5 to end a franchise-record 16-game winning streak.
Turris got a breakaway on a long pass from Erik Karlsson and buried a backhander for his team-leading 16th goal and a 1-0 lead for Ottawa with 3:43 left in the first period.
"It was a gorgeous pass, and I just tried to take it and change it up a little bit on the breakaway," Turris said.
The Senators got their second goal with 3:48 left in the second period when Dzingel redirected a shot by Chris Wideman from the top of the right circle. Foligno was in the penalty box at the time with a minor for catching Dion Phaneuf in the chops with a high stick.
In the third, Columbus' Zach Werenski set up Cam Atkinson with a perfect feed on a breakaway, but the shot from the doorstep was swallowed up by Condon, who then killed the Jackets' 5-on-3 chance.
"I think we had a good feeling all night that we were going to score one. We didn't have lack of chances," Columbus defender Jack Johnson said. "We had a lot of guys with some really good looks at the net, and (Condon) played well."
Columbus coach John Tortorella said he was frustrated that his team squandered so many chances to climb back into the game on their home ice.
"I don't think we played at the level we need to play at in our building," he said. "I don't think we were awful, but I think when you're in you're in your building, you need to be harder."
NOTES: Ottawa D Mark Borowiecki was scratched because of the flu going through the locker room. The Senators recalled F Casey Bailey from Binghamton of the AHL in case other players weren't available. Werenski also was fighting the flu, but played. ... D Markus Nutivaara missed his second straight game because of an unspecified injury. He's out indefinitely. ... Ottawa has 19 goals in the past five games.
UP NEXT:
Ottawa: At Toronto on Saturday.
Columbus: Plays Carolina at home on Saturday.
___
Follow Mitch Stacy at http://twitter.com/mitchstacy