Countdown to TradeCentre: A Broadway Blockbuster?
Check out some updated trade rumours and speculation from around the NHL beat, including the latest on the Edmonton Oilers, the Habs and Max Pacioretty, the Maple Leafs' pursuit of a defenceman and how the future of the Sedins will impact the Canucks.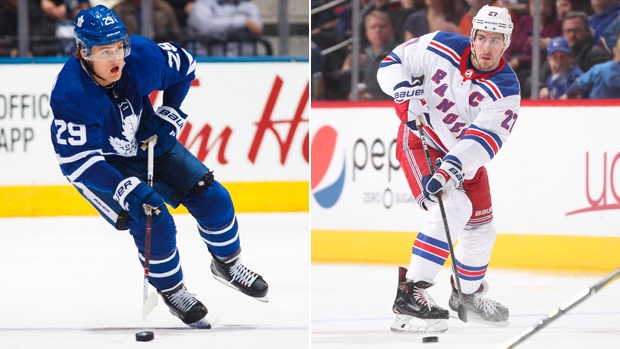 The National Hockey League's Trade Deadline is on Monday, Feb. 26, and teams will be making decisions on whether to buy or sell and decide which players can make the biggest difference and hold the greatest value. Check out the latest trade rumours and speculation from around the NHL beat.

---
Deal of the Deadline?
Larry Brooks of the New York Post wonders whether Mike Babcock's coaching style could see the Toronto Maple Leafs part ways with one of their higher-skill players to acquire a much-needed defenceman.
Brooks writes 'it would appear to make it more conceivable' that the New York Rangers could pry William Nylander from the Maple Leafs for a package including captain Ryan McDonagh.
Nylander, who is scheduled to become a restricted free agent this summer, has nine goals and 33 points in 49 games this season.
TSN Hockey Insider Bob McKenzie reported last week that the Rangers would at least be willing to listen to offers involving McDonagh and Mats Zuccarello. Both players have one season remaining on their current contract, with the 28-year-old McDonagh carrying a $4.7 million cap hit.
Through 43 games this season, McDonagh has 22 assists while averaging 23:54 of ice time per game.

---

Oil Options
On the topic of the Edmonton Oilers' trade options going into the Feb. 26 deadline on Monday, TSN Hockey Insider Darren Dreger thinks that "just about anything is possible."
"There might be some names that are a little bit surprising, but maybe not shocking when you look at what Peter Chiarelli and the Edmonton Oilers brass has to consider," he said on Tim Hortons That's Hockey. "We know that they feel that they have to improve their blueline - their defensive core, frankly, hasn't been good enough. Cam Talbot is taking his heat for being inconsistent in goal, but it's been more about their defence that's been disappointing than the overall goaltending.
"Mark Letestu is a good player, but he's not going to get a great return. Pat Maroon - a pending unrestricted free agent - a real good player, they're going to make contending teams better but they're not going to fetch that type of player. So is Edmonton going to get to a place between now and Feb. 26 where they have to consider moving Ryan Nugent-Hopkins - who's hurt now - but would they be willing to move him in a bigger deal to consider something like that. Or do they move another defenceman like Klefbom or Larsson as part of a package to improve.
"I'm not saying any of that is going to happen, I'm just saying that there's at least a little bit of an appetite to consider something bigger."
---
Pressure Point?
Asked by TSN Radio 690 on Tuesday if the Montreal Canadiens have thrown in the towel to become 'sellers,' Dreger said the Habs brass aren't obviously going to tell that to the fan base, but the market has to open up as well.

"Before you officially become a seller you've got to have a buyer," Dreger explained. "And that's not to suggest the Montreal Canadiens don't have wanted assets - of course they do - but I don't get the sense that there are general managers yet that are kicking down the door to see if 'Exhibit A' player is available.
"Historically Marc Bergevin has been a pretty methodical and patient GM and you know, the pressure point isn't there yet. And sometimes the buyers can't be defined until they get to a certain point of the regular season...it's getting to that later point of the season, I still think there is some time obviously, with the deadline looming, for that pressure point to elevate."

---

No Request?
Bob McKenzie was asked Monday whether he believed Canadiens captain Max Pacioretty wants out of Montreal in the midst of the team's disappointing season.
McKenzie said there's been no indication to him that Pacioretty wants to be moved, but noted Marc Bergevin could still choose to do so if the price is right.
"That's a good question. Only Max knows that for sure," McKenzie told TSN Radio 690 Montreal. "I've always thought that it wouldn't surprise me if through all of this he's like, 'Get me the hell out of here,' but from what I hear, everything I hear is the opposite. 'I like it in Montreal. I'm building a house here. This is not something I want.' But Max will be the only guy that can truly answer that and obviously whatever he says publicly, does he feel as strong privately. I don't know.
"And at the end of the day, it'd be different if his contract was expiring and they had to go to him and say, 'Okay, well now you've got a chance to stay.' That's where the rubber always hits the road when your contract is coming up, is does someone want to stay or do they want to go with free agency in eyesight. In Max's case that's not quite true because he's got another year.
"To my knowledge, there's been no sense from him in terms of going to the club or anything going, 'Get me the hell out of here,' at all.
"There's got to be some change coming in Montreal and whether it's Max or not remains to be seen. But as I'm saying, I wouldn't be surprised if that's a big part of the change, but only – and underline 'only' – if they can make a real good deal because as I say, you can't be discounting guys who can score goals like Max Pacioretty scores goals."
Pacioretty, 29, has seven goals in his past seven games after a 13-game drought. He called the trade rumours around his name "frustrating" on Monday, insisting he wanted to help right the ship in Montreal, not jump from it.

---

Twin Watch
The Vancouver Canucks are hoping to know Daniel and Henrik Sedin's plan for next season ahead of the trade deadline.
Both forwards are scheduled to become unrestricted free agents and while the team appears open to bringing them back, retirement would leave the Canucks with two spots in the lineup to fill for next season.
"We're going into the trade deadline, and for planning purposes we want to see if there was any way that they were leaning," Canucks general manager Jim Benning told The Vancouver Sun. "We're not going to hold it (decision) to them if something changes between now and the end of the year.
"What they do affects our thinking to a certain point at the deadline and for the summer."
The Sun's Ben Kuzma believes the Canucks can maximize the return for pending free agent Thomas Vanek if the Sedins are returning, but may not want to part ways with the veteran if they're not.
Henrik sits third on the Canucks with 32 points (two goals) through 47 games this season, Daniel is just behind him with 11 goals and 30 points.
Benning said expects to hear from the agent of the forwards, J.P. Barry, this week once he speaks to Sedins on their future.

---

Tending to the Market
Jared Clinton of The Hockey News listed five goaltenders on expiring contracts who could be moved ahead of the trade deadline.
Clinton believes Arizona Coyotes netminder Antti Raanta, Colorado Avalanche backstop Jonathan Bernier, Cam Ward of the Carolina Hurricanes, Robin Lehner of the Buffalo Sabre and Detroit Red Wings could be available for contenders in need of help in the crease.
The Coyotes acquired Raanta as part of a major deal which also brought in centre Derek Stepan last summer. Clinton thinks the New York Islanders could benefit from adding Raanta while the Coyotes should be open to selling as many players as possible after another dismal season.
Bernier posted nine straight wins and backstopped the Avalanche into a playoff spot since Semyon Varlamov went down with an injury. Though the Avalanche aren't in need of being sellers, Clinton says the team should continue to build for the future and can afford to move Bernier once Varlamov returns.
Ward and Mrazek currently both own backup roles on their current teams, while the Sabres sitting last in the Eastern Conference puts them in the same position as the Coyotes with their starting goaltender.

---