Countdown to TradeCentre: Could Tavares land a $15M AAV?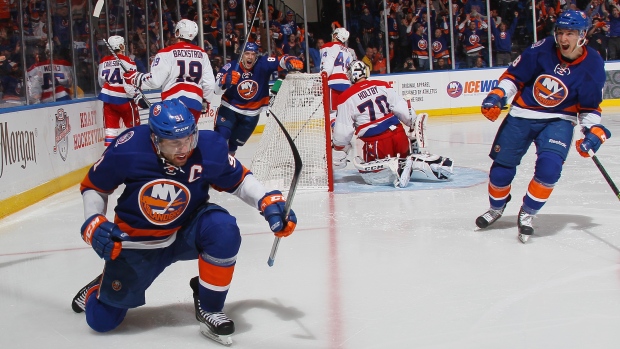 The National Hockey League's Trade Deadline is on Monday, Feb. 26 and teams will be making decisions on whether to buy or sell and decide which players can make the biggest difference and hold the greatest value. Check out the latest trade rumours and speculation from around the NHL beat.
---

In The Race
TSN Hockey Insider Darren Dreger believes pending free agent John Tavares will not hit the open market in July 1, but noted he could break the bank if he does.
Dreger said Thursday the Montreal Canadiens should be among the teams chasing Tavares if he hits free agency and the team has the cap space to make a massive offer.
"You have no choice. It's a pipe dream, I agree with you," Dreger told TSN's James Duthie on Thursday. "I'm still in the camp that believes that John Tavares and the New York Islanders are going to find that middle ground and he'll stay and finish his career quite possibly with the New York Islanders. But in Tavares you have to be all-in if you're the Montreal Canadiens. You're so desperate up the middle of the ice.
"I had an NHL executive tell me earlier this week that he believes that someone, if Tavares goes to market, is going to offer a seven-year term and $15 million per. Seven times 15.
"Well if you're the Montreal Canadiens with $9 million in cap space right now and that's going to grow in the off-season. If he hits the market, you need to be one of those teams ready to pony up that kind of dough."
Tavares, 27, has 25 goals and 55 points in 47 games with the Islanders this season and is on pace for a career-high 44 goals and 96 points.

---
Getting Calls, Not Making Them
The Ottawa Senators have been among the teams who are reportedly sellers ahead of the deadline, but general manager Pierre Dorion denied those rumours on Thursday.
Dorion said he's been receiving calls from teams who are looking to load up for the deadline, but he has yet to make his players available.
"Contrary to what has been said out there, I haven't shopped anyone," he said. "People are in the position we were in last year, where we were looking to add, and a lot of people are phoning. I still believe in this team, but, at a certain point, if we see we're not in the playoffs, we're going to look at every option possible.
"We have good players on this team, and that's why a lot of people are phoning."
Bruce Garrioch of The Ottawa Sun reports Mike Hoffman, Zack Smith and Jean-Gabriel Pageau have drawn the most interest, while the team has also received calls on defenceman Cody Ceci.
Dorion admitted the Senators face an uphill battle to make the playoffs, but there is no giving up. "We have a plan in place and we have multiple plans in place depending on where this hockey team goes and the direction we need to go to," Dorion said. "We know we're in a tough position right now.
"For us to make the playoffs, there's a huge challenge in front of us. This team has done it before and this team can do it again. If you look at the last four years, the average to make the playoffs is (95) points. We need 57 points. We're not happy where we sit, but I really like what Mark Stone said: 'Now is not the time to quit.'"
The Senators have 39 games remaining in their season and 18 before the Feb. 26 trade deadline.

---

On the Way Out
Earlier this week, TSN Hockey Insider Darren Dreger reported the Buffalo Sabres had raised their asking price up to four assets in return for winger Evander Kane.
Dreger was asked Thursday if the Sabres would opt to hold to Kane if their price tag is not met before the deadline.
"No, no, no. They'll move him," Dreger told TSN Radio Edmonton 1260. "You're not going to receive if you don't ask. So I think it's dependent on the team that Jason Botterill is dealing with. If he looks at a roster and sees that this club is deep enough to give more than the two, three assets that is realistic, why wouldn't you ask for it. And so there are teams who have told me that he wants a first, a roster player, a prospect, and potentially a conditional draft pick if that teams signs Evander Kane. There are other teams who say from them he's asked for a prospect, a first-round pick, and that conditional pick if he signs.
"So the ask is a moving target, but I suspect that Botterill will start to dial down a little bit more as we creep closer to the first of February. And he's open for business now, who's kidding who. I mean, if Jim Rutherford and the Pittsburgh Penguins step up because they feel that they need the influence of Evander Kane now and are willing to pay whatever the price is of the Buffalo Sabres, then there's no question that Botterill would make that deal.
"It's a bit of a moving target, but he should be at the top of the board because he's a coveted player. But when I reported on Tuesday that for some teams it was as many as four pieces, two or three clubs reached back to me and said, 'Forget it. We're not doing that.' So we'll see if it happens."
Kane is listed at No. 1 on the TSN Trade Bait board as he plays out the final season of his current contract. The 26-year-old told The Buffalo News he has not been approached by the Sabres to open contract talks on an extension.
"Does it surprise me? Well, I've said many times nothing really surprises me," Kane said. "This is all part of the business. Both sides. We're in different situations and I understand it all. One thing I've always said is that I've really really enjoyed my time here and will continue to do so for as long as I'm here. My focus is simply game to game, keeping the focus narrow."
Kane has just one goal and three points in his past 10 games. On the season, he has 16 goals and 36 points in 45 games.
---

Standing Stars?
Dallas Stars general manager Jim Nill enjoyed an active off-season, bringing in Alexander Radulov, Martin Hanzal and Marc Methot.
At the trade deadline, however, Nill told Matt Larkin of The Hockey News he has no plans to a big fish.
Larkin reports Nill said he's content with the team's current depth both in the NHL and AHL, though he didn't rule out completing a "hockey trade."
The Stars occupy the top wild-card spot in the Western Conference and sit three points behind the St. Louis Blues for third in the Central Division.

---