Countdown to TradeCentre: Different directions in New York
Follow the latest trade rumours and speculation leading up to the Feb. 25 trade deadline with TSN.ca's Countdown to TradeCentre. Wednesday's roundup includes the New York Rangers appearing to be ready to sell, while the Islanders are going the opposite direction.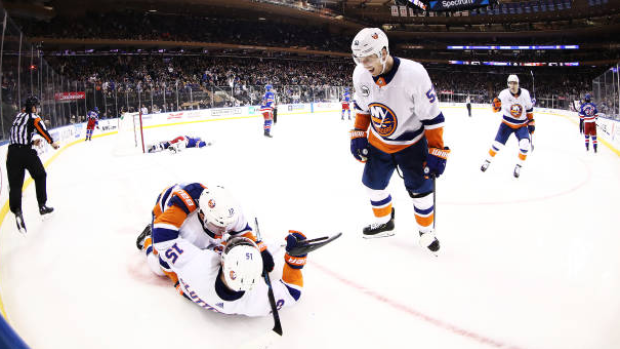 The National Hockey League's Trade Deadline is 3 p.m. ET on Monday, Feb. 25, and teams will be making decisions on whether to buy or sell and decide which players can make the biggest difference and hold the greatest value. Check out the latest trade rumours and speculation from around the NHL beat.
---

Ready to Sell?
Larry Brooks of The New York Post writes that with less than two weeks before the trade deadline, the Rangers have yet to open contract negotiations with either Kevin Hayes or Mats Zuccarello.
Brooks believes the team is now "on course" to trade both players and thinks both pending free agents could be pulled from the team's lineup in coming games to ensure they avoid injury.
Zuccarello, 31, told the Post that he believes he has plenty left in the tank in his career and did not rule out the idea of re-signing in New York in July should he be traded this month.
He has spent his entire career with the Rangers since debuting with the team in 2010. He has 19 points over the team's past 12 games, boosting his season total to nine goals and 34 points in 42 games. Hayes, 26, has 13 goals and 38 points in 47 games this season.
Brooks writes the Winnipeg Jets are believed to be among the teams interested in Hayes, though TSN Hockey Insider Darren Dreger said Tuesday their priority is adding a top-six winger.

---

Isle Raise?
The New York Islanders continue to sit atop the Metropolitan Division, sparking some to wonder just how far they'll go in loading up at the trade deadline.
TSN Hockey Insider Darren Dreger said Tuesday he doesn't expect the team to part with top prospects such as Noah Dobson or Oliver Wahlstrom, but said the Islanders are still expected to be a buyer at the deadline.
"I don't know that they'll go that big," Dreger told TSN Radio 690 Montreal of trading their prospects. "But I do feel like Lamoriello is definitely interested in doing something, and maybe adding a little bit more scoring punch. He doesn't have a whole lot of areas of concern. We'll find out whether that's just the long-term reality of the New York Islanders, where they're at as an organization, or if they're just having a real good bounceback type of affair coming out of John Tavares leaving the organization and everyone wondering how far back this team would fall. I mean, they clearly haven't, and Robin Lehner has been a big part of their turnaround and success for the Islanders.
"There's whispers around old uncle Lou, but nothing concrete in terms of what he might be chasing. I had somebody just kind of whisper in my ear yesterday - and let's not call it a source or anything firm, just wild speculation is what it is - wondering whether Lamoriello might have interest in Ilya Kovalchuk with the Los Angeles Kings.
"Crazier things have happened, and given the opportunity to play a more offensive role with the Islanders, maybe there's a fit there. There's certainly history between Lamoriello and Kovalchuk.
"But obviously there wouldn't be any sort of long-term need in Kovalchuk at that point."
Kovalchuk, 35, returned to the NHL last summer, signing a three-year deal with the Los Angeles Kings. He has 11 goals and 26 points in 46 games this season with a minus-17 rating. TSN Hockey Insider Pierre LeBrun said last week Kovalchuk would be open to waiving his no-trade clause for a contending team.
With a $6.25 million cap hit, Kovalchuk would become the Islanders' highest-paid player.

---

Buyer and Seller?
With both Artemi Panarin and Sergei Bobrovsky appearing to be unlikely to re-sign with the club this summer, the Columbus Blue Jackets could opt to trade one or both of the pending free agents before reloading for a playoff run.
TSN Hockey Insider Pierre LeBrun said Tuesday the Blue Jackets have interest in acquiring Matt Duchene from the Ottawa Senators, should the price be less than what they receive back for Panarin.
"Several teams have phoned on Panarin and the Blue Jackets continue to evaluate the offers that are on the table and the scenarios that could unfold," LeBrun said. "Here is the important thing to remember, they are going to be a buyer and a seller if all goes well for them and it's a delicate situation. What they're weighing is, their best offer on Panarin at the end of the day, has to outweigh what they're will to pay to replace him in their lineup, because they want to win this year as well.
"I can tell you a name, they have interest in Matt Duchene if and when the Ottawa Senators make him available. So, what they get for Panarin in a separate deal has to outweigh what they would pay for Duchene in terms of the outlying asset that would remain alive after those two deals. Otherwise, if it's a wash, why trade Panarin? Why not make him your own rental? That's what the Blue Jackets are grappling with right now."
Duchene, also a pending unrestricted free agent, has 25 goals and 53 points in 47 games this season. Panarin has 22 goals and 64 points through 53 games this season.
---

Help Needed
The Boston Bruins had been rumoured to be in the market for top-six forward help - including Artemi Panarin - before David Pastrnak sustained an off-ice thumb injury over the weekend.
Now, TSN Hockey Insider Bob McKenzie believes the urgency level has been raised for the Bruins, who will be without Pastrnak at least through the deadline.
"I would think it does, now general manager Don Sweeney of the Boston Bruins said on Tuesday that it doesn't change anything, but what else are you going to say? You don't want to tell people or advertise that we're really desperate, we just lost a first-line scoring winger on a team that was already looking for a second-line scoring winger or a third-line centre," McKenzie explained on Insider Trading.
"Here's the thing with Pastrnak's injury, the Bruins say they're going to re-evaluate it in two weeks, you know that is? That's NHL team speak for he's going to be out longer than two weeks and in my books that team speak gets translated as two-to-four weeks, maybe even four-six weeks, we don't know, but certainly more than two weeks."
Pastrnak leads the Bruins with 31 goals and has 66 points in 56 games this season. Boston sits one point back of the Toronto Maple Leafs for second in the Atlantic Division and three points ahead of the Montreal Canadiens for the top wild card spot.
Fluto Shinzawa of The Athletic wrote last week that acquiring Panarin could cost the Bruins three pieces; centre Ryan Donato or defenceman Urho Vaakanainen, forward Trent Frederic and the team's first-round pick.
---

No Takers
The Edmonton Oilers need to clear $1.97 million in cap space in order to activate Andrej Sekera from injured reserve. TSN Hockey Insider Bob McKenzie said Tuesday the team has been exploring the trade market on two roster players, but have found no takers thus far.
"As for the Edmonton Oilers, Andrej Sekera is nearly wrapping up his conditioning stint in Bakersfield," McKenzie said on Insider Trading. "This is a player who we thought might come up after Wednesday night's game in Bakersfield, but now it's looking more and more like it could go through the weekend.
"Here's the interesting thing, they've been trying to trade Alex Petrovic and Brandon Manning, the blueliners they acquired a while ago, there hasn't been any go on that obviously. They need to move those guys out, or put them on waivers, if they are going to create the cap space for Sekera coming up next week."
The Oilers acquired both defencemen at the end of December, trading Chris Wideman and a conditional third-round pick for Petrovic and Drake Caggiula and Jason Garrison to the Chicago Blackhawks for Manning and Robin Norell.