Countdown to TradeCentre: Sens have green light for playoffs
The NHL's March 1 Trade Deadline is fast approaching and teams are making decisions on whether to buy, sell, and decide which players can make the biggest difference and hold the greatest value. Check out today's trade rumours and speculation from around the NHL beat.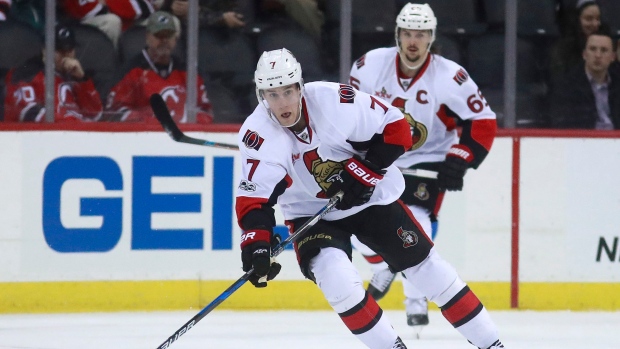 The NHL's March 1 Trade Deadline is fast approaching and teams are making decisions on whether to buy, sell, and decide which players can make the biggest difference and hold the greatest value. Check out today's trade rumours and speculation from around the NHL beat.
--
Given the Green Light
With injuries piling up for the Ottawa Senators, general manager Pierre Dorion says he's been cleared to add to his roster to make the playoffs.
Dorion told Bruce Garrioch of the Ottawa Sun Wednesday that owner Eugene Melnyk has given the green light.
Dorion told Garrioch if he makes a move, it will be to address the forward group, which is currently without Mark Stone, Mike Hoffman and Bobby Ryan.
The Senators general manager admitted he has received calls on centre Curtis Lazar, but he would prefer to keep the 2013 first-round pick.
Lazar has been scratched in five of the team's past eight games and owns just one assist in 32 games this season. The 22-year-old scored six goals and added 14 assists in 76 games last season.
Dorion said negotiations with pending free agents Tom Pyatt and Mike Condon will continue after the trade deadline. Chris Neil and Tommy Wingels are the only other Senators slated to hit unrestricted free agency on July 1.
--
On the Block
Montreal Canadiens general manager Marc Bergevin has let the league know depth defenceman Greg Pateryn is on the trade block.
According to TSN Senior Hockey Reporter Frank Seravalli, Bergevin sent a note letting general managers around the league know the 26-year-old is available.
In a potential showcase, Pateryn returned to the lineup Tuesday night after spending the previous two games as a healthy scratch. He's been a scratch in six of the Canadiens past nine games since returning from a fractured ankle on Jan. 31.
Pateryn, a fifth-round pick in 2008, failed to register a point but tied for the team lead with five blocks against the Rangers Tuesday.
Pateryn owns one goal and five assists in 23 games this season.
--
Knowing the Situation
If the Philadelphia Flyers decide to sell, it will most likely be their pending free agents first out the door.
Defenceman Michael Del Zotto, playing in the final season of a two-year deal, knows he could be one of the players on the move in the next seven days.
"It happens every year," Del Zotto told CSN Philadelphia on Tuesday. "It's not like it's the first time. I've been traded before. It is what it is. It's a business. You realize that pretty early in your career. I understand where I'm at as far as my contract, being a UFA this summer.
"Same thing with taking each game one day at a time. You take each day one day at a time. Go home, make dinner, get ready for tomorrow and whatever happens, happens."
The 26-year-old owns four goals and six assists in 32 games with the Flyers this season. He joined the Flyers in a free agent in 2014, after being traded earlier that year from the New York Rangers to the Nashville Predators.
Tim Pannacio writes that if you had to rank the likelihood of Flyers to get traded before the deadline, Del Zotto would top the list with fellow defenceman Mark Streit second and one of the team's two goaltenders (Steve Mason and Michal Neuvirth, both pending free agents) behind him.
"It's a business and these things are out of your control," Del Zotto said.
The Flyers (28-24-7) sit six points back of the Florida Panthers for the final wild-card spot in the Eastern Conference. They will host the first-place Washington Capitals on Wednesday night.
--
Back in Time to Leave?
Kyle Quincey returned to the New Jersey Devils' lineup on Tuesday night for the first time since Feb. 4.
The 31-year-old veteran, who's been dealing with an upper-body injury, was asked Tuesday how he felt about potentially returning only in time to play his final games with the Devils.
"I've been through it before," Quincey told NorthJersey.com of hearing his name in rumours. "Every single guy is playing for something so it's really no different."
Quincey signed a one-year deal with the Devils last summer and owns four goals and eight assists in 52 games this season.
With an expiring contract and his team six points out of a playoff spot, the reasons for speculation are obvious.
Quincey admitted Tuesday that the rumours have had an impact on his life, but he's keeping his mind on the game.
"It's not just me that's on eggshells," Quincey said. "It's the wife and the kids and the dog. You've got to uproot your life. But I'm definitely not thinking about it. The only focus is getting some wins because we're definitely not out of it."
Quincey had two hits and two blocks in Tuesday's loss to the Senators.
--
Back in the Lineup
Michael Cammalleri returned to the Devils lineup on Tuesday night after serving as a healthy scratch in back-to-back games over the weekend.
As noted in Tuesday's Countdown to TradeCentre, Cammalleri is not expected to have many suitors at the deadline, even if the Devils are looking to move him.
--
All quiet on Eberle
TSN Hockey Insider Darren Dreger updates the trade rumours involving Edmonton Oilers forward Jordan Eberle, which have cooled off.
--
Trade Bait
With Michael Stone moved off the Trade Bait board, TSN Senior Hockey Reporter Frank Seravalli took a closer look at some names moving up and down the list with a couple of new faces in the mix.
Kevin Shattenkirk, Matt Duchene, Martin Hanzal, Patrick Eaves and Gabriel Landeskog own the top five spots on the list.
See the full board here.
--