Countdown to TradeCentre: Chiarelli needs to win if RNH is traded
Check out some updated trade rumours and speculation from around the NHL beat, including the latest on the Maple Leafs pursuit of a defenceman, Peter Chiarelli's trade history and the Kings' deadline plans.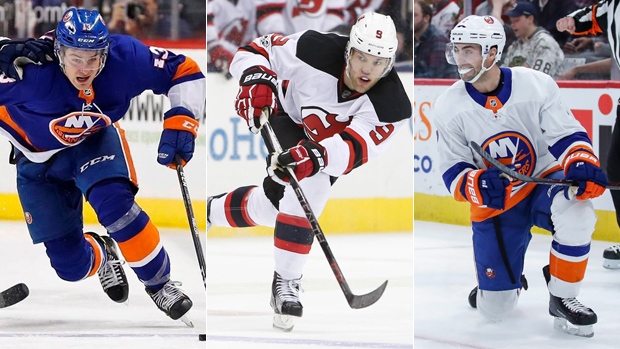 The National Hockey League's Trade Deadline is on Monday, Feb. 26, and teams will be making decisions on whether to buy or sell and decide which players can make the biggest difference and hold the greatest value. Check out the latest trade rumours and speculation from around the NHL beat.
---
Needing A Win
TSN Hockey Insider Darren Dreger said earlier this week "just about anything is possible" for the Edmonton Oilers ahead of the trade deadline. He echoed that sentiment on Thursday and said as the team continues to struggle, centre Ryan Nugent-Hopkins moves closer to the trade block.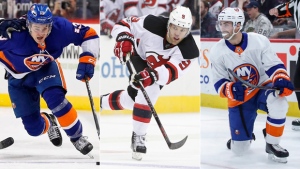 "I think there's an appetite for just about anything," Dreger told TSN Radio Edmonton 1260. "And aside from the obvious, how can (Oilers general manager Peter) Chiarelli not consider just about anything? He has to. So he has to be willing to listen. But the problem for any struggling manager is that you don't have rivals who are lining up to help you. They're all trying to pick your pockets. So I'm sure they're asking about key guys on the blueline. Nurse isn't going anywhere, but what about Larsson? What about Klefbom?
"And then you look at the forwards. The Ryan Nugent-Hopkins rumours haven't made a lot of sense to date and he's been a good player when healthy for the Edmonton Oilers this season, but at some point through sheer desperation does he need to be considered as trade bait between now and February 26? I mean, I think those conversations at least have to happen."
Dreger added, however, that Chiarelli must be careful if he's to make a deal involving Nugent-Hopkins. "It also kind of inches toward dangerous territory for Chiarelli," Dreger explained. "You can't lose that trade. If you're moving a piece like that - and I'm not suggesting that he's going to get traded - I think it's a longshot at best, just given his value and importance to the Oilers - but if you're moving out a piece like that then you'd better make sure that whatever is coming back in return in terms of a package is can't lose.
"You can't miss on this one because there have been others that have been pretty sketchy."
Nugent-Hopkins was given a five-to-six week timeline with cracked ribs last Friday, putting his estimated return date right around the trade deadline. He has 16 goals and 31 points in 46 games this season.

---

Making the Call
TSN Hockey Insider Darren Dreger said Friday he believes the Toronto Maple Leafs are looking to add a defenceman before the trade deadline and the team has likely made at least one call.
"I'd be shocked if Lou Lamoriello hasn't called the Columbus Blue Jackets about Jack Johnson," Dreger told TSN Radio 1050 Toronto. "We know that there's some upheaval there. Johnson doesn't feel like he's a good fit with the Blue Jackets any longer and he's asked for a trade - he's publicly talked about that.
"Now, is he a good fit for the Toronto Maple Leafs? You don't really know until you see that player in the lineup. I don't know for certain that there's been dialogue between Lamoriello and Jarmo Kekalainen but as I said, based on speculation, I'd be surprised if Lou didn't at least call.
"But if that doesn't pan out, then you look at who might be the next available defenceman and so on and so forth. And that's where it gets tricky because depth guys - and I mean depth - like seven/eight defencemen, they're relatively easy to grab a hold of via trade or even waivers. But that's not what Toronto needs. Toronto has that developing with the American Hockey League, we just talked about (Connor) Carrick and (Travis Dermott).
"What Toronto needs, is a solid No. 5 and maybe that player surfaces between now and the trade deadline, but there's no guarantee of that."
Johnson has two goals and seven points in 49 games with the Blue Jackets this season while averaging 19:33 of ice time per game. The 31-year-old, whose financial struggles are well documented, is a pending free agent and spoke last week on the trade request, saying he was "trying to do what's best" for his family.

---

No Rush
Los Angeles Kings general manager Rob Blake said Thursday he's feeling no added pressure to make a move in the midst of a 1-6 stretch for his club.
"I don't think it's any different conversations than you have at any other time of the year," Blake told The Los Angeles Times. "Obviously, with the deadline a month away, more conversations may take place. I don't think it's winning or losing that's going to create that (activity)."
Curtis Zupke of the Times believes the Kings could use a top 4 defenceman and/or scoring help ahead of the deadline. He notes, however, the team is roughly a month away from the return of Jeff Carter. The 33-year-old, who scored 32 goals last season, has been out since Oct. 18 due to a leg laceration.
The Kings' recent slump has pushed the team out of a playoff spot entering the All-Star break, though Blake doesn't plan on becoming a seller, either. "I'm not going to do anything to hurt the team," Blake said.

---

Can't Touch This
In a recent mailbag, Helene St. James of The Detroit Free Press was asked who on the Detroit Red Wings roster should be considered untouchable ahead of the trade deadline.
St. James believes forwards Dylan Larkin, Anthony Mantha and Andreas Athanasiou are key pieces for the Wings that they cannot afford to part with.
As for the rest of roster? St. James said she would listen to offers for any player, but noted only Mike Green and potentially goaltenders Jimmy Howard and Petr Mrazek will draw significant interest.

---