Countdown to TradeCentre: Maroon's price?
Check out some updated trade rumours and speculation from around the NHL beat, including the latest on the pending free agent Patrick Maroon's value in Edmonton, what the Sharks will do with Joe Thornton out and Penguins' plans in net.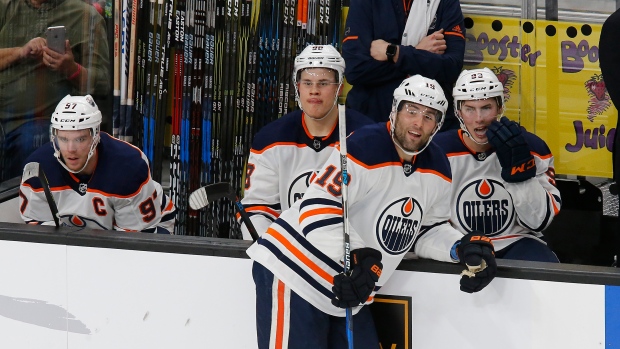 The National Hockey League's Trade Deadline is on Monday, Feb. 26, and teams will be making decisions on whether to buy or sell and decide which players can make the biggest difference and hold the greatest value. Check out the latest trade rumours and speculation from around the NHL beat.
---

The Price of Oil
Jim Matheson of The Edmonton Journal believes Oilers general manager Peter Chiarelli will be seeking a prospect or an NHL roster player in return for left winger Patrick Maroon.
Maroon, a pending free agent, has 13 goals and 26 points in 48 games this season . He was acquired by the Oilers at the trade deadline in 2016 from Anaheim and Matheson wonders whether the Ducks might want him back for their playoff push.
Maroon carries just a $1.5 million cap hit, since the Ducks retained $500,000 in the trade. Matheson suggests the Boston Bruins could also be interested in Maroon, though he notes the Bruins are seeking a top-six right winger.
Matheson speculates Maroon's next contract will hold a value in the range of $3.75 miliion to $4.5 million per season.
The 29-year-old, for one, is tired of seeing his name here. "Obviously, it stinks seeing that (his name so prominent in trade speculation). You don't want to see it on TSN every day," Maroon told the Journal.
---

Jumbo Hole
San Jose Sharks forward Joe Thornton was diagnosed with an MCL injury on Wednesday and is slated to miss several weeks.
GM Doug Wilson said he doesn't expect it to impact their plans before Feb. 26, though he did leave the door open for a move. "We'll process it. Probably not," Wilson said told the Mercury News when asked if Thornton's injury would impact his decision making.
"But don't hold me to that. You never know what becomes available as you go forward." .
The San Jose Mercury News reported earlier this month that general manager Doug Wilson had set his sights on a fourth-line centre. Head coach Peter DeBoer said Wednesday he may choose move Joe Pavelski from right wing to centre on the team's top line to keep Tomas Hertl and Logan Couture together on the second line.
---

Depth In Goal?
Earlier this season, the Pittsburgh Penguins were believed to be searching for a veteran to backup Matt Murray after waiving struggling goaltender Antti Niemi. Now, the team feels they some depth with Tristan Jarry and Casey DeSmith and general manager Jim Rutherford isn't interested in parting with that.
"I don't have any interest in moving any of those guys," Rutherford told the Pittsburgh Post-Gazette. "We've gone through a transition period here where the No. 1 goalie for years - and one of the franchise's most beloved players - has moved on.
"We've transitioned into a team that probably has the best group of young goalies in the league. I don't have any interest in talking [to other teams] about these three guys."
DeSmith has a 2-2 record in five games this season, with a .935 save percentage and a 1.86 goals against average. Jarry has a 9-4-2 record with a .919 save percentage and a 2.44 goals against average.