Countdown to TradeCentre: Rangers open ears ahead of deadline?
Check out some updated trade rumours and speculation from around the NHL beat, including the latest on Max Pacioretty's value and the New York Rangers approaching the deadline with open ears.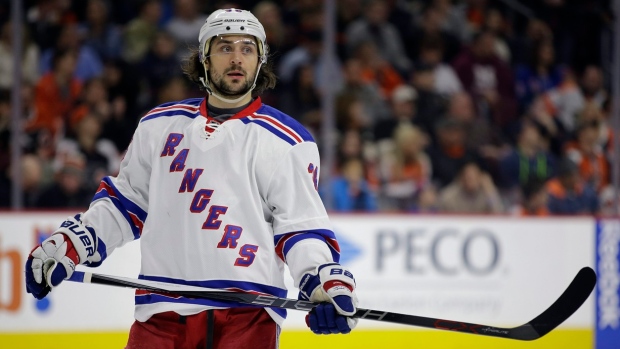 The National Hockey League's Trade Deadline is on Monday, Feb. 26 and teams will be making decisions on whether to buy or sell and decide which players can make the biggest difference and hold the greatest value. Check out the latest trade rumours and speculation from around the NHL beat.
---

"A Support Player"
Talking to TSN Radio 690 Montreal on Thursday morning, TSN Hockey Insider Darren Dreger says that while winger Max Pacioretty has been on a bit of a roll with a four-game goal-scoring streak (it ended after Wednesday's game in Boston), it doesn't necessarily quell concerns about his trade value because of his play.
"Now we can see he's capable of scoring goals again, so there's a bonus in all that," he explained. "When you look at his history and see four seasons of 30 or more goals, that's what you're buying. You're buying on the expectation and hope he returns to form and now there's some recent evidence that it appears he's headed in that direction. But I look at Max Pacioretty - fairly or unfairly - as a support player. And I think any contending team that's keenly interested in trading for him is looking for him in the same light.
"And that's not a slight on Max Pacioretty, it's just 'where would he fit in' that makes the most sense. And if he - every single night - doesn't have to be the best player on the team, but he can slide onto the wing on that first or second line and support better players than what he is, that's a pretty good spot for Max Pacioretty and the team that's acquired him. But this isn't going to be an easy move and obviously it's not going to be an easy fix for the Montreal Canadiens."
---

​Reloading Rangers
TSN Hockey Insider Bob McKenzie said Wednesday while the New York Rangers are in a playoff spot, they will listen to offers on veteran players like captain Ryan McDonagh and forward Mats Zuccarello ahead of the trade deadline.
"The Rangers are not committed to trading Ryan McDonagh," McKenzie cautioned while speaking on NBCSN. "He's going to be 29 years old next season. He's under contract for one more year at $4.7 million.
"But if you look at what the New York Rangers did last year - the trading of Derek Stepan, the buying out of Dan Girardi - they are reloading. They don't want to call it a rebuild because New York never wants to call it a rebuild. But I would say that they are doing their due diligence just in the event that they may be a position if the team falls right out of it, if they get an unbelievable offer on a guy like McDonagh.
"I think they'll do that with all of their players. They'll do it with Mats Zuccarello, who's got a year left on his deal. They'll do it with the pending unrestricted free agents as well, Michael Grabner and Rick Nash.
"That doesn't mean they're committed to trading those players, but it means that they want to gauge now what the market is for those guys and what they might get back."
Zuccarello, 30, is the team's leading scorer this season with eight goals and 32 points through 44 games. McDonagh, who was named captain in 2014 after Ryan Callahan was traded at the deadline, is averaging 23:54 of ice time per contest and has 20 assists through 40 games this season.

---
Need for Experience
Ken Wiebe of The Winnipeg Sun believes the Jets will be buyers ahead of the deadline and adds the team should focus on adding playoff experience.
Wiebe points out that despite making the postseason twice, the franchise has never won a playoff game, suffering two first-round sweeps.
Jets general manager Kevin Cheveldayoff hasn't been active in the rental in the past and Wiebe does not expect that to change this year. But he believes the Jets have the assets to acquire either a scoring winger or a centre with term.
He points to Ottawa Senators centre Derick Brassard, a proven playoff performer, as an intriguing option. However, Bruce Garrioch of The Ottawa Sun reported earlier this week that the Senators are not interested in parting ways with the 30-year-old.
If the Jets elect to add on defence, Wiebe believes Cheveldayoff will target a player who could replace Tobias Enstrom if he elects to hit free agency on July 1.

---
Where to Add?
The Chicago Blackhawks do not have a timeline for the return of goaltender Corey Crawford and Mark Lazerus of The Chicago Sun Times believes the Blackhawks could look to acquire a rental goaltender ahead of the trade deadline, noting they could free up $6 million in space by placing Crawford on long-term injured reserve.
He lists Detroit Red Wings goaltender Petr Mrazek and Robin Lehner of the Buffalo Sabres as two potential options, while noting Jaroslav Halak of the Islanders or former Blackhawks goalie Antti Raanta, now with the Arizona Coyotes, could also become available by deadline day.
Lazerus believes that upgrading the defence could be another option, since it would benefit their backup goaltenders and help fill a long-term need. He notes the team could use a top-four defenceman, but there's a long list of teams in that same category.
Working against the Blackhawks, Lazerus writes, is the lack of assests they're willing to part with. He points at pending free agent Michael Kempny as a roster player who could be moved, adding the team has just two picks in the first four rounds of June's draft.
Lazerus believes the most likely option is the team will simply stand pat and continue to use the tandem of Anton Forsberg and Jeff Glass instead of mortgaging the future on a playoff run Crawford might not even be a part of.

---

Down the Middle
Paul Gackle of The San Jose Mercury News reports the San Jose Sharks are "actively shopping" for a fourth-line centre to improve their lineup for a playoff run.
Gackle notes the Sharks have used no less than four players to try to fill the role this season, but have yet to find a perfect fit. He believes general manager Doug Wilson is hoping recently waived defenceman Paul Martin plays well enough at the AHL level to garner trade interest.
Wilson, Gackle writes, does not want to part with backup goaltender Aaron Dell or any of the team's young forwards. Therefore, Martin may be the only trade chip Wilson is willing to use in his efforts.
Martin, 36, has a $4.85 million cap hit through next season. He is currently counting $3.8 million against the team's salary cap while in the minors, according to CapFriendly.