Countdown to TradeCentre: Time for Oilers' Plan B?
Edmonton Oilers general manager Peter Chiarelli told TSN's Ryan Rishaug on Monday that his team is running out of time to convince him not to be a seller at the trade deadline.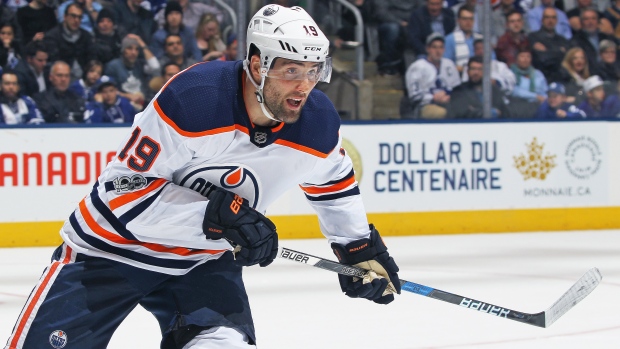 The National Hockey League's Trade Deadline is on Monday, Feb. 26 and teams will be making decisions on whether to buy or sell and decide which players can make the biggest difference and hold the greatest value. Check out the latest trade rumours and speculation from around the NHL beat.
---
Ready for Takeoff?
TSN Hockey Insider Pierre LeBrun noted Monday that the Winnipeg Jets have a wealth of riches with their depth of NHL-ready talent in the AHL, but general manager Kevin Cheveldayoff could still look to boost his team with the addition of a centre.
"Not a lot of teams in today's NHL get to call up a Jack Roslovic and a Brendan Lemieux from their minors and you know that they're NHL ready, right," LeBrun told TSN Radio Winnipeg 1290. "That's just the reality. The system doesn't allow you to hoard that much talent for the most part. So enjoy this while it's here right now because eventually the CBA makes every team decide the guys they can keep, right. So that's an amazing position for the Jets to be in and it speaks to Cheveldayoff's patience in building.
"Having said that, despite the internal options that are clear - including Mathieu Perreault spending some time on the fourth line this year and now thrust into a higher role because of the injuries - I still think from what I'm hearing that Cheveldayoff is talking to teams. Again, talking at this point. I'm not saying there's anything imminent. But I think he's doing his homework because you know what? It may look like you've got more depth than you need right now, but that changes in a hurry.
"On top of that, I think there's an acknowledgement from that organization in your market deep down that the window is opening. That after all of these years of patient building that if they have an opportunity, I believe, to go out and get another centre, for example, I think they'll do it. And I think they're ready to spend some futures to get it done, which is something I think you would agree they probably weren't ready to do in the last few years. But I think now they know that not every year sets up this way. And hopefully for the Jets the next four or five years sets up like this.
"But I do think Chevedayoff will act if the price is right and I think he would trade for a centre."
Since Scheifele's injury, captain Blake Wheeler has taken over as the team's top line centre, with Bryan Little continuing to anchor the second line. Roslovic and Matt Hendricks served as the bottom-six centres in Sunday's win over the San Jose Sharks.
Scheifele is expected to return to in four-to-six weeks.
---
Time for Plan B?
Edmonton Oilers general manager Peter Chiarelli told TSN's Ryan Rishaug on Monday that his team is running out of time to convince him not to be a seller at the trade deadline.
The Oilers have six games remaining before their NHL-mandated five-day break. Chiarelli he will meet with the team's brass during that break to determine how he will approach the trade deadline.
"I'm going to wait a little bit. We've got our pro meetings coming up next week, so we've got a few games left here before that and then we're going to have to make a decision. We'll see where we are going into the break," Chiarelli said. "…If we're not significantly back to where we should be in that time, and I know it's a short period of time, but there is an element of margins here. I've seen teams rally. It's rare from where we are for a team to rally into a [playoff] spot, but we'll have to make that decision in a week's time when we're on the break."
The Oilers (18-22-3) are third last in the Western Conference and have lost six of their past seven games. The team has three games remaining on their current road trip, starting tonight with the Nashville Predators, before a three-game homestand.
TSN Hockey Insider Bob McKenzie said Monday morning he believes Chiarelli isn't looking to make a big move, but will likely part with the team's pending free agents at the deadline.
"Sounds like Chiarelli has got a Plan B plan, if you will. Plan A was make the playoffs and contend for the Stanley Cup. 'Okay, well, we're not going to make the playoffs, we're not going to contend for the Cup," McKenzie told TSN Radio Edmonton 1260. "Well then, we're going to sell off our rentals and we're going to look at our younger players and we're going to start retooling over the course of this season.' The heavier lifting – how do you prevent this from happening next year – probably is more likely to happen off-season than in-season."
McKenzie listed Patrick Maroon, Mark Letestu and Mike Cammalleri as players Chiarelli will likely look to trade. Defenceman Yohann Auvitu is the team's only other pending free agent.
---
Not in the Market?
While some have pointed to a need for the Toronto Maple Leafs to add a rental defenceman before the trade deadline, McKenzie said Monday the team isn't feeling that same pressure.
The Maple Leafs are without defenceman Nikita Zaitsev, leaving Jake Gardiner to pair up with Connor Carrick on Saturday and Travis Dermott on Monday in the team's second pairing.
McKenzie adds the Leafs are not looking to add an expiring contract on their blue line, and adding a player who's signed long-term could prove difficult in an in-season trade.
"I said it before and I'll say it again. There is a part of me that believes that the Leafs are relatively content, in the absence of something coming up that absolutely makes sense and is the perfect fit," McKenzie told TSN Radio 1050 Toronto. "I would be really surprised if the Leafs picked up a defenseman on an expiring contract - I guess they could - for future considerations. I think they're probably in an ideal world looking at something longer term, and as I said those are difficult to come up with. Maybe, what you see is what you get."
Morgan Rielly and Ron Hainsey have formed the team's top pairing this season, while Roman Polak and Andreas Borgman formed the third pairing Monday night with Carrick scratched.
Zaitsev, who was placed on injured reserve on Dec. 17 with a lower-body injury, is without a timetable for his return.
---
Breaking Down the Market
Bruce Garrioch of the Ottawa Sun listed the following tidbits are stories to follow approaching the trade deadline in his weekend column.
Ottawa Senators - Mike Hoffman, Zack Smith and Jean-Gabriel Pageau are drawing interest from around the league. Centre Derick Brassard will not be moved by the team. Defenceman Johnny Oduya is likely to be traded as a rental.
Vancouver Canucks - Erik Gudbranson is drawing a lot of talk as he shapes up to be a rental at the deadline. The team is currently listening to offers on fellow defenceman Ben Hutton.
Calgary Flames - The team is believed to be looking around for forward help. A roster spot could open up if the Flames release Jaromir Jagr so he can play for the Czech Republic at the Olympics.
San Jose Sharks - General manager Doug Wilson is also believed to be in the market to add a forward.