Countdown to TradeCentre: Weber a diminishing asset?
Check out some updated trade rumours and speculation from around the NHL beat, including Shea Weber's value with the Montreal Canadiens, the Canucks' plans with Erik Gudbranson and whether Oliver Ekman-Larsson is available.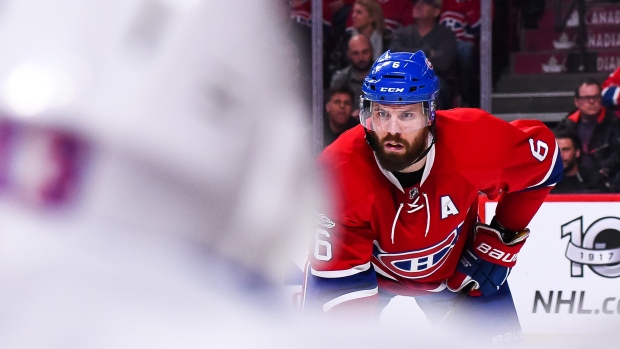 The National Hockey League's Trade Deadline is on Monday, Feb. 26, and teams will be making decisions on whether to buy or sell and decide which players can make the biggest difference and hold the greatest value. Check out the latest trade rumours and speculation from around the NHL beat.
---

A Diminishing Asset?
TSN Hockey Insider Darren Dreger was asked Tuesday if Montreal Canadiens defenceman Shea Weber still carries the same value he did when the team acquired him for P.K. Subban.
Dreger noted that Weber, who last played on Dec. 16 due to a lower-body injury, is not on the trade block, but added his $7.86 million cap hit would make him very difficult to move.
"Nobody's suggesting he's going to be traded," Dreger told TSN Radio 690 Montreal. "In terms of his value, I think unfortunately, you've got to dissect it and you have to break in two pieces. One, is he as highly regarded from a character standpoint? One hundred per cent. There isn't a team in the National Hockey League that wouldn't want Shea Weber because of his experience, what he brings to your dressing room, just everything about him oozes professional and oozes the ultimate hockey player.
"But then, you've got to look at the business side of things. Given what remains on his contract, then you try to make sense of where his game is headed on the ice, it gets tough, it gets real tough. When you get into the latter stages of any player's career like this, they're cap killers. I still think he has a lot to contribute but when you look at the business package vs. what he brings in intangibles, it's still a difficult sell unless he's willing to go to a team that wants all that experience, isn't worried about the cap hit and they need to shift the culture around their organization. But, I don't see it happening. At least not in-season, but when we're talking about everyone else on the Montreal Canadiens, it's certainly fair to at least consider that long possibility."
Weber, 32, is signed through the 2025-26 season.

---

Staying Put?
Vancouver Canucks pending free agent Erik Gudbranson is listed at No. 14 on the TSN Trade Bait board and has been drawing speculation where he could be traded for more than a month.
TSN Hockey Insider Bob McKenzie, however, reports the Canucks are not in a rush to move Gudbranson, and will at least engage in contract talks with the defenceman.
"There are a lot of people in Vancouver who assume that it is a foregone conclusion that pending unrestricted free agent Erik Gudbranson will be dealt as a rental at the deadline, but the Vancouver Canucks are not necessarily amongst those people," McKenzie said on Tuesday's edition of Insider Trading. "Not just yet anyways. The first priority at this point is to try to negotiate an extension with Gudbranson. And while there haven't been any specific contract talks, there is expected to be some conversation over the next week or two with his representatives aimed to try to get a multi-year extension done.
"Only if they can't get that extension done does he become a likely move at the deadline as a rental and they're getting lots of calls on him at this time."
The 26-year-old has one goal and three points in 32 games with the Canucks this season. He carries a $3.5 million cap hit on the one-year deal he signed last June.

---

Out Of The Water?
The San Jose Sharks have linked to some of the top rentals on the market, but Paul Gackle of The Mercury News believes Sharks general manager Doug Wilson won't be interested in trading promising young talent for a short-term gain.
Gackle notes Wilson and the Sharks have been out of the rental market for roughly six years, opting instead to draft and develop rather than load up for one run at a time. He adds that the Sharks have been slowly building the foundation for the team to remain competitive without Patrick Marleau and Joe Thornton - they've replaced one of the two so far and are currently without the injured Thornton.
Gackle notes that the future of the Sharks looks bright with Timo Meier, Kevin Labanc, Joakim Ryan, Dylan DeMelo and Tim Heed all showing promise at the NHL level.
The Sharks are slated to enter free agency this summer with $23 million in cap space and Gackle writes that the Sharks would be best suited to sit tight at the deadline and opt to pursue John Tavares if he hits the open market. He notes it's no guarantee the Sharks will land him or that he'll even hit the market, but it makes more sense than parting with prospects for a run this season.

---

Can't Touch This
The last-place Arizona Coyotes are set to become sellers once again at the trade deadline, but it appears their plans for Oliver Ekman-Larsson have not changed.
TSN Hockey Insider Pierre LeBrun wrote in The Athletic on Tuesday that the Coyotes still view Ekman-Larsson as untouchable ahead of the deadline.
LeBrun believes the Coyotes are hoping to get a better idea of Ekman-Larsson's plans for his future with the team by the draft in June.
Ekman-Larsson, 26, is scheduled to hit free agency in July of 2019. He has eight goals and 23 points with a minus-36 rating in 50 games this season.

---