Countdown to TradeCentre: Who could be on the move in the North?
Follow the latest trade rumours and speculation leading up to the April 12 trade deadline with TSN.ca's Countdown to TradeCentre. In Friday's roundup, looking at players that could be dealt from Canadian teams, and the deadline outlooks for the Dallas Stars and Columbus Blue Jackets.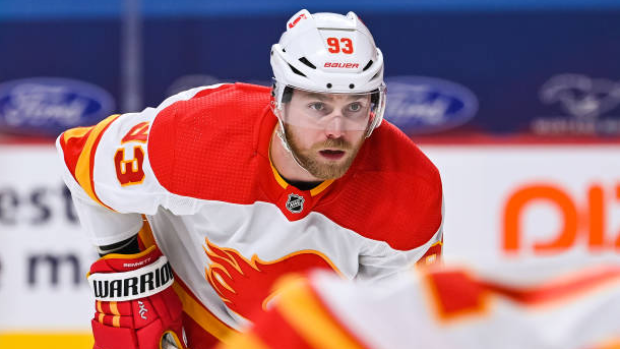 The National Hockey League's Trade Deadline is on Monday, April 12 and teams will be making decisions on whether to buy or sell and decide which players can make the biggest difference and hold the greatest value. Check out the latest trade rumours and speculation from around the NHL beat.
---

On the Move?
With less than a month remaining before the trade deadline, The Athletic asked their beat writers for each of the 31 teams to name the asset most likely to get dealt in their market.
In the North Division, Calgary Flames forward Sam Bennett, Edmonton Oilers defenceman Caleb Jones, Ottawa Senators recent addition Ryan Dzingel, Toronto Maple Leafs forward Alexander Kerfoot, Vancouver Canucks winger Tanner Pearson and Winnipeg Jets defenceman Sami Niku were listed as the players most likely to be dealt, while the Montreal Canadiens had their 2021 third-round pick listed as the asset most likely to be moved.
Bennett has been involved in trade rumours throughout the season and said last week he was looking forward to starting fresh under new head coach Darryl Sutter. Bennett has seen less than 11 minutes of ice time per game in his last two appearances, after topping 13 minutes in each of Sutter's first two games. The 24-year-old, who carries a $2.55 million cap hit and will be a restricted free agent this summer, has three goals and three assists in 24 games this season.
Jones, 23, has one assist in 17 games this season. He is signed through next season at a cap hit of $850,000 and will be a restricted free agent in 2022.
The Senators acquired Dzingel from the Carolina Hurricanes in February for forwards Cedric Paquette and Alex Galchenyuk. The 29-year-old has four goals in eight games with the team since completing his 14-day quarantine, bringing his season total to six goals and eight points in 19 games. He is scheduled to be an unrestricted free agent this summer and carries a $3.375 million cap hit.
Kerfoot is in his second season with the Maple Leafs and has four goals and 13 points in 30 games. The 26-year-old is signed for another two seasons at a cap hit of $3.5 million.
Pearson is a pending unrestricted free agent, carrying a cap hit of $3.75 million. The 28-year-old has six goals and 11 points in 33 games this season after posting 21 goals and a career-high 45 points in 69 games with the Canucks last season.
Niku, a seventh-round pick of the Jets in 2015, is without a point in six games this season. He posted five assists in 17 games with the Jets last season, adding three goals and 14 points in 18 games with the AHL's Manitoba Moose. He is scheduled to be a restricted free agent in 2022 and carries a cap hit of $775,000.
Canadiens general manager Marc Bergevin said earlier this week he would have to move a roster player in order to make a deadline move, adding there aren't any contracts he's looking to move out.

---

Not Sellers Yet
The Dallas Stars sit seventh in the Central Division after reaching the Stanley Cup Final last season, but with reinforcements on the way, the team is hoping to avoid being sellers at the deadline.
"It's pretty clear in Jim Nill's mind what the focus is and that is squarely on making the playoffs," TSN Senior Hockey Reporter Frank Seravalli said Thursday on Insider Trading. "They've got a lot of runway with the games they have in hand but it's just about surviving until they can get Ben Bishop and Tyler Seguin back. They're within the three-to-five week range from returning, and at that point, the Stars will have no intention of selling off players at all.
"If they have a couple of bad weeks and they fall out of the playoff race, then they could certainly take calls on guys like Jamie Oleksiak and Andrew Cogliano but in Nill's mind, if the Stars are close enough, they could even be in the mix to add players if the price is right at the trade deadline."
The Stars currently own a 9-10-7 record and sit eight points back of the Chicago Blackhawks for fourth in the Central with five games in hand.
Oleksiak, 28, is a pending unrestricted free agent and carries a cap hit of $2.14 million. The defenceman has three goals and six points in 26 games this season.
Cogliano, 33, has three goals and seven seven points in 25 games this season. The veteran forward is also set to hit the open market this summer and carries a cap hit of $3.25 million.
---

Hoping to Hold On
The Columbus Blue Jackets are also on the outside looking in on the playoff picture in the Central, but sit just two points back of the Blackhawks for fourth with the two teams even in games played.
TSN Hockey Insider Pierre LeBrun said Thursday that teams have called about captain Nick Foligno, but the Blue Jackets are hoping they won't have any reason to trade the 33-year-old.
"The Columbus Blue Jackets have a pretty similar script as the Stars. The Blue Jackets are right there with the Stars in the Central Division standings and are trying to reel in the Chicago Blackhawks. And that's where the Blue Jackets' focus is right now," LeBrun said on Insider Trading. "They're have been teams, I'm told, that have kicked the tires on Nick Foligno, who would be a real prime target as a pending UFA and is a physical player and the leader of the Blue Jackets.
"He's just the kind of guy you would want to add to your top six come playoff time. But for now the message, I'm told, is the Blue Jackets want to make a run here. They want to try and get on a run over the course of the next couple of weeks. They have four games coming up with the Carolina Hurricanes, which could be pretty pivotal on this end. Foligno has a 10-team no trade list, so he's part of this discussion but Columbus hopes it's not a discussion about him staying on board and they make the playoffs.
"The New York Islanders and Toronto Maple Leafs are teams to watch in regards to Foligno."
Foligno, who carries a $5.5 million cap hit, has five goals and 12 points 31 games this season. He has been with the Blue Jackets since 2012 and was named captain in 2015.