Countdown to TradeCentre: A big ask for Kane
Check out some updated trade rumours and speculation from around the NHL beat, which includes the latest on who's expected to a buyer in the trade market, who's open for business as a seller, and what the Leafs may or may not do with their unrestricted free agents.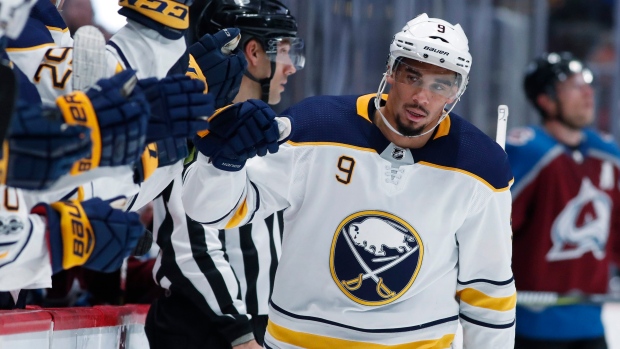 The National Hockey League's Trade Deadline is on Monday, Feb. 26 and teams will be making decisions on whether to buy or sell and decide which players can make the biggest difference and hold the greatest value. Check out the latest trade rumours and speculation from around the NHL beat.
How will Leafs handle UFAs?
Toronto's James van Riemsdyk, Leo Komarov and Tyler Bozak are all scheduled to hit the market as unrestricted free agents on July 1, but TSN Hockey Insider Bob McKenzie does not see the team considering parting ways with any of them by the trade deadline unless there's an offer that really blows them away.
"I think the Toronto Maple Leafs view themselves as a very solid playoff team, a team that - maybe - if everything were to fall into place, could do well in the playoffs," he explained Monday on Tim Hortons That's Hockey. "I just don't see themselves parting with any of these guys unless the offer you get absolutely knocks your socks off.
"If somebody comes up to you and says, 'we're going to give you a first-round pick and an A+ prospect for James van Riemsdyk,' or 'we're going to give you a really good pick and a prospect for Tyler Bozak,' or 'we're going to give you a first-round pick for Leo Komaraov,' I guess you would judge each situation on its own merit. When I see the Toronto Maple Leafs' lineup and see James van Riemsdyk scoring at the pace that he's scoring - even though he's so far down the depth chart in minutes played - and when I see Tyler Bozak as an important centre on the team - obviously behind Auston Matthews and Nazem Kadri, but nevertheless a significant role - if he leaves, there's a hole at the middle of the ice. And when I see the minutes that Leo Komarov gets for Mike Babcock - 24 one night - and how much Babcock absolutely loves him, then you're taking a guy out of your lineup and getting a future consideration that's not going to be with your team for another year or two or three. How does that make sense for a team that wants to make noise in the playoffs?
"As I always say, never say never. But I would love to see the offer that convinces the Leafs to give up one of JVR, Bozak or Komarov."
---
FOUR assets for Kane?
As he was talking about the asking price for big scorers like van Riemsdyk to Montreal's TSN Radio 690 on Tuesday, TSN Hockey Insider Darren Dreger revised what he reported last Friday regarding Buffalo's asking price for winger Evander Kane.
"If Buffalo gets a first (round pick), a prospect, a roster player and a conditional pick - which I was corrected on, frankly after I wrote that on Friday, they want a roster player in addition to the other three assets - for Evander Kane, a pending unrestricted free agent. If they get all that, or there's a belief they get all that, imagine what the Leafs might get for JVR, Bozak, Komarov or all three..." he said. "...but the 'own rental' philosophy is probably more likely given the Toronto Maple Leafs' position in the standings."
---
Buyers and Sellers
Bruce Garrioch of The Ottawa Sun writes that the market is beginning to form leading up to the trade deadline, with many teams having keyed in on their areas of need.
According to Garrioch, at least 10 teams are in the market for help at forward ahead of the deadline, though only the Arizona Coyotes, Buffalo Sabres and Ottawa Senators have accepted their status as sellers and opened themselves up for business.
The San Jose Sharks, Florida Panthers, Winnipeg Jets, Pittsburgh Penguins, New Jersey Devils, Vancouver Canucks, Edmonton Oilers and Anaheim Ducks are all listed by Garrioch as teams that could look to add a forward at the deadline.
Garrioch believes the New Jersey Devils could make a major splash at the deadline as they look to continue their playoff push almost a year after winning the first overall pick. He believes the Devils could be a destination for Sabres winger Evander Kane or Senators forward Mike Hoffman.
---
The New Norm?
As noted in Monday's Countdown to TradeCentre, TSN Hockey Insider Bob McKenzie compared and contrasted the contract years of Steven Stamkos and pending free-agent John Tavares.
McKenzie told TSN Radio Montreal 690, that a trend may be happening in the NHL, where at least some of the NHL's top players decide to test their value on the open market. He added that such players tie the hands of their respective teams since they're too valuable to lose, even in a trade, if there's a hope he can be re-signed. McKenzie notes teams would benefit from a player rejecting an offer, as opposed to Tavares who put off all negotiations for the time being.
"I think we're going to see more and more of that," McKenzie said of players such as Tavares playing out their contracts. "And I don't know if we'll see that with Drew Doughty or Erik Karlsson or Oliver Ekman-Larsson or any of the other guys who are going into the last year of their deals.
"And even then there's a different dynamic because this summer - if the Ottawa Senators make Erik Karlsson a mega-offer this summer and he just turns his nose up at it, this scenario may not play out because they'll know if he rejects it that he may not be signing here. And if he's not going to sign here, we can't let this guy walk and lose him for nothing. So that scenario sort of circumvents the Tavares/Stamkos situation where the player is so good and you're so confident or you like to think you're so confident you're going to sign him back that the trade is not even an option.
"I don't see a scenario whereby John Tavares becomes a trade chip between now and the deadline. I just don't see it. I think the Islanders will just take the time necessary to try and get this done, and if he walks he walks.
"But I think players more so now are probably going to look at all of their options and contemplate things a lot more than maybe they have in the past."
---
Open Ears
With the playoffs well out of sight, the Ottawa Senators are gearing up to become sellers at the trade deadline.
Garrioch reported Sunday that Senators general manager Pierre Dorion spent the team's bye week in Florida with the scouting staff assessing which players could be moved before Feb. 26 and their expected returns.
Garrioch notes that the Senators, who sit 11 points out of the final wild-card spot with three games in hand, aren't expected to rush into a sale and will likely re-assess closer to the deadline. He does not expect the Senators to embark on a full rebuild, but believes the team will attempt to recover draft picks - the team is without first and second-round picks this June - and build up their prospect pool.
Rumours involving the team have circled around forward Mike Hoffman and Zack Smith, who are listed No. 4 and No. 9, respectively, on the TSN Trade Bait board. However, Garrioch believes the team is at least willing to listen on anyone other than Erik Karlsson on defence and Mark Stone at forward. He adds the team is not believed to be interested in trading centre Derick Brassard.
Garrioch's top five trade candidates for the Senators are as follows: Hoffman, Smith, Johnny Oduya, Pageau, Alex Burrows.
---
Claim Coming?
Joe Haggerty of NBC Sports Boston believes the Bruins should submit a claim to pick up San Jose Sharks defenceman Paul Martin off waivers on Tuesday.
Haggerty reports the Bruins have been interested in adding left shooting defenceman to play 20 minutes a game and a pair with Charlie McAvoy. Zdeno Chara would then pair with Brandon Carlo, a duo that worked well last season.
Though Martin has only appeared in three games this season due to injuries and carries a $4.185 million cap hit through next season, Haggerty believes he's worth the risk.
"Why not pick up Martin for nothing aside from his contract when he's been a Top 4 defenceman his entire career rather than trade for a guy like that's never averaged 20 minutes per game during his entire NHL career?" Haggerty wrote.
Haggerty adds the Bruins looked into Pittsburgh Penguins defenceman Ian Cole earlier this season, but found the asking price too high.
Martin's agent, Ben Hankinson, had been working with the Sharks before the defenceman was waived to try to find a trade partner for the club. Hankinson said Martin hoped to move to a playoff contender and the Bruins currently sit comfortably in a playoff spot.
In 81 games last season, Martin scored four goals and added 22 assists while logging 19:14 per game.