Countdown to TradeCentre: Pens ready to buy once again
Check out some updated trade rumours and speculation from around the NHL beat including the Detroit Red Wings being ready to sell, the Penguins desire to acquire and the latest from the Big Apple.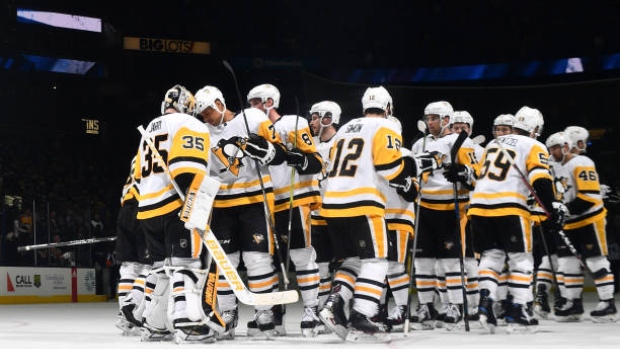 The National Hockey League's Trade Deadline is on Monday, and teams will be making decisions on whether to buy or sell and decide which players can make the biggest difference and hold the greatest value. Check out the latest trade rumours and speculation from around the NHL beat.
---

Loading up Again
Pittsburgh Penguins general manager Jim Rutherford is looking to add to his roster as the franchise chases a third straight Stanley Cup championship.
Rutherford told the Pittsburgh Post-Gazette on Monday he plans to be a buyer as the Penguins continue to surge up the standings.
"Yeah, I do [plan to add]," Rutherford said. "The stronger we can make our team and have depth at all positions, it helps us in the long run."
Rutherford has been rumoured to be in the market for a depth centre and he confirmed to Post-Gazette it's a position he is looking at.
"It depends on what comes along," Rutherford said. "Certainly depth at that position would be good. Carter Rowney played as one of our centres throughout the whole finals last year. He's a capable guy. He's a gutsy player. That's why he's been in and out of the lineup; he's blocking shots.
"If somebody comes along where we can add some insurance there, we'll try and do it."
Jason Mackey of the Post-Gazette believes Michael Grabner of the New York Rangers "would be a terrific fit" for the Penguins, but Rutherford seemed less sure about adding a scoring winger to his already potent offence.
"Possibly," Rutherford said of adding a winger. "If our top nine is going, we don't need a lot offence from our top 12. That's a possibility. I think it's more now about who's available, are they actually available to Pittsburgh, and how do they fit in? That's what it's going to boil down to over the next seven days."

---

Open for Business
The Detroit Red Wings sentding Petr Mrazek to the Philadelphia Flyers for two conditional draft picks, but general manager Ken Holland has no plans to stop there.
Holland said Tuesday he needs to make trades to improve his team's roster for the future and labelled Detroit as "open for business."
"I want us to be a team that can compete for the Stanley Cup," Holland told the Detroit Free Press. "We are not quite where we need to be. In order to be there, we need to acquire draft picks, and we need to hit on those draft picks, or young players through trades. It's about trying to acquire pieces that I think are going to impact this team three, four years down the road in order to build a team that's a playoff team that's got a young foundation. That's the goal.
"I'm open for business. I also believe it's important to have team that's competitive."
After moving Mrazek, the Red Wings have six players remaining on the TSN Hockey Trade Bait board. Defenceman Mike Green leads the list at No. 3, followed by centre Luke Glendening (No. 21), winger Gustav Nyquist (No. 27), forward Tomas Tatar (No. 35), and defencemen Xavier Ouellet (No. 43) and Danny DeKeyser (No. 44).
TSN Hockey Insider Darren Dreger reported Tuesday the Nashville Predators are believed to be interested in Tatar, while TSN Hockey Insider Bob McKenzie said last month the Red Wings were trying to move Ouellet.
All eyes are on Green though, as the 32-year-old is expected to draw as much as a first-round round pick back in a deal. Green holds a full no-trade clause, but told the Free Press on Tuesday his "mind is always open," when it comes to a trade.
Ansar Khan of MLive reported earlier this week Green has agreed to waive his no-trade clause for the Tampa Bay Lightning.

---

Check the Antti
Though Arizona Coyotes goaltender Antti Raanta is playing on an expiring contract, TSN Hockey Insider Pierre LeBrun reports he is not on the block approaching the trade deadline.
LeBrun reports the Coyotes plan to hold on to Raanta and open extension talks after the deadline.
Raanta, acquired as part of a package from the New York Rangers in the offseason, has a 12-14-6 record this season with a 2.45 goals against average and a .924 save percentage.
The 28-year-old has a career .919 save percentage and 2.36 goals against average over 129 career NHL games with the Chicago Blackhawks, Rangers and Coyotes.

---

Latest from New York
The New York Rangers made their first trade since announcing their intentions to reshape the franchise on Tuesday, shipping Nick Holden to the Boston Bruins.
TSN Hockey Insiders Pierre LeBrun and Bob McKenzie weighed on the latest from the Big Apple during Tuesday's edition of Insider Trading, including how whether Rick Nash is a lock to be moved by Monday afternoon.
"[Interest in Nash is] picking up as you would expect less than a week away from the trade deadline," LeBrun said. "Five to six teams I'm told have begun to tell the Rangers here are some of the pieces that we could part with. Obviously, they're not there or this deal would have happened by now but I'm told to varying degrees Nashville, Columbus, Dallas, Winnipeg and Boston are among those teams that we believe have shown some interest.
"Now the Jets, of course, "of interest" because we don't believe they're on Rick Nash's list, the list of 10 teams (he would consider being traded to). But as Darren Dreger reported Monday, maybe he would be open to that kind of move that is still to be determined. In terms of Rick Nash, he will get moved before Monday and certainly once he moves that'll open things up on other fronts."
"Well, Pierre, there is a very defined market for Rick Nash," McKenzie added. "You mentioned those five or six teams, there's probably more than double that are interested in his teammate Michael Grabner and for obvious reasons. Grabner's salary is at $1.6 million on his expiring contract. The acquisition price for Grabner is going to be far less then it would be for Rick Nash but he's got 24 goals and is a proven offensive performer, especially over the last couple of years.
"A second-round pick and something is believed to be the asking price right now for Michael Grabner from the New York Rangers and lots of calls on him."

---