Countdown to TradeCentre: 'Ridiculous' prices with a week left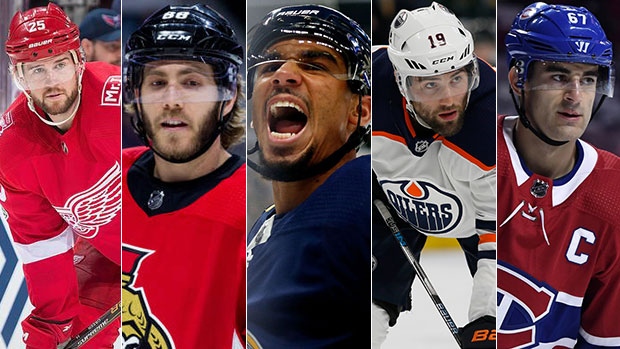 The National Hockey League's Trade Deadline is on Monday, Feb. 26, and teams will be making decisions on whether to buy or sell and decide which players can make the biggest difference and hold the greatest value. Check out the latest trade rumours and speculation from around the NHL beat.
---

Prices Still High?
With a week to go before the deadline, Anaheim Ducks general manager Bob Murray is in no rush to make a move and could stand pat through the deadline.
"First of all, there is no rule in this league – unless I am wrong – that says you have to go out and do something at the deadline," Murray told the Orange County Register over the weekend. "There's no rule.
"I'm not a rental fan. I've never been a rental fan. The last couple of things we've done, I've ended up signing the guys because we've liked them. But are there things out there? Apparently. I know what's out there. I know the price tags teams are asking for right now. And I'm not interested."
The Ducks moved into third place in the Pacific Division on Saturday with their 3-2 win over the Minnesota Wild, though they have just a one-point cushion to remain in a playoff spot.
Murray traded a conditional second-round draft pick - which was elevated to a first-round pick in the playoffs - to the Dallas Stars last season for pending free agent Patrick Eaves, but Murray said the prices this year appear too high to risk bringing in a rental.
"These price tags, it's ridiculous," Murray said. "And the price tags just seem to keep going up every year. Whatever. Maybe it will get there, maybe it won't. Time will tell. There's still enough days left."
He added the trade for Eaves, who is on long-term reserve battling Guillain-Barré syndrome, left the team in a position where they're better off sitting still this year.
"If we felt that we have the chance to run at it, you can do it," he said. "Again, you give up a first last year. You give up another. You can't just do that every year. Eventually the cupboard goes bare and that happened to us years ago.
"We ran the cupboard bare and I don't intend to run the cupboard bare."

---

Moving South?
Ansar Khan of MLive.com reports Tampa Bay has emerged as the most likely destination for Mike Green of Detroit Red Wings, since the defenceman has agreed to waive his no-trade clause to join the Lightning.
Khan reports the Lightning and Red Wings remain in trade talks for the pending free-agent and that the Red Wings would like to nab Tampa's first-round pick in a deal. If the Lightning are unwilling to part with their top pick, Khan believes Detroit will pursue Tampa's second-round pick and a player who can join their roster next season.
While the Red Wings are ready to part with Green at the deadline, Khan reports the team has not ruled out trying to bring him back as a free agent on July 1.

---

Eyeing a Reunion?
Khan reports Toronto Maple Leafs head coach Mike Babcock is desperately seeking a "shut-down" fourth-line centre and has his eyes on Luke Glendening of the Red Wings.
As Khan notes, Babcock coached Glendening for two seasons in Detroit. He reports the two sides have spoken, but the Red Wings' price remains high as they hope to receive a "decent pick" and a prospect. According to Khan, rookie Kasperi Kapanen, who is currently playing on the Leafs' fourth line, is a possibility.
Glendening carries a cap hit of $1.8 million for three more seasons.
Dominic Moore currently owns the Leafs fourth-line centre spot, he's edged out Eric Fehr and Frederik Gauthier this season for the role.

---

Staying Quiet?
The Arizona Coyotes have been expected to be among the sellers on deadline day, but general manager John Chayka said he doesn't see many changes coming for the team.
"I think if people are expecting us to be major players at the trade deadline they may be disappointed," Chayka told Arizona Sports 98.7 FM.
The Coyotes have just one player listed on the TSN Trade Bait board in Max Domi at No. 11 after the latest update. Chayka, however, also threw cold water on Domi being moved at the deadline.
"Max is a good young player," Chayka said. "We're building our team around good young players."
The Coyotes (17-32-10) currently sit last in the NHL, one point behind the Buffalo Sabres.