Coyotes name Ekman-Larsson captain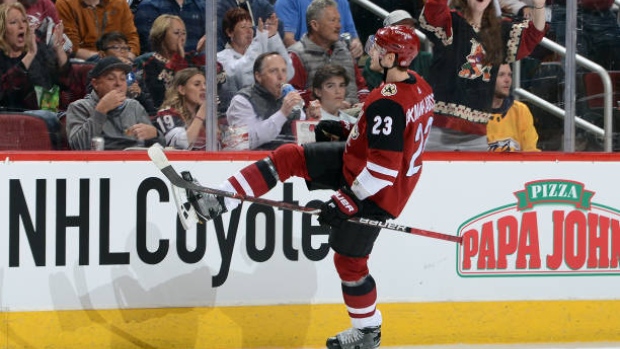 Oliver Ekman-Larsson has been named the fourth captain in Arizona Coyotes history.
Ekman-Larsson scored 14 goals and recorded 42 points in 82 games for the Coyotes last season and led the team by playing an average of 23:41 per game.
He signed an eight-year contract extension with the club on July 1.
"Oliver is a tremendous player and person," said general manager John Chayka. "On the ice, he leads by example and is one of the game's premier defensemen. Off the ice, he is greatly admired and respected by his teammates, coaches and training staff and is also one of our most active players in the community. He is loyal, the consummate professional and a fierce competitor and I'm confident that he'll be an excellent captain for the Coyotes for many years to come."
The 26-year old was drafted in the first round (No. 6 overall) of the 2009 NHL Entry Draft by the Coyotes. Ekman-Larsson has played eight seasons in the National Hockey League, recording 290 points in 576 career games.
"I'm extremely honored to be named captain of the Arizona Coyotes," said Ekman Larsson. "I'm grateful for this opportunity and want to thank John and Toc [head coach Rick Tocchet] for believing in me. It's an honor and a privilege to be a captain in the NHL and I'm looking forward to the challenge ahead. We have a lot of great leaders in our room and together, we will work hard to achieve our goal of becoming a perennial playoff team."
The Coyotes have been without a captain since Shane Doan left the team after the 2016-17 season.
"Oliver really stepped up last season and proved to me that he's an excellent leader," said Tocchet. "He's an elite defenseman and I love the way that he battles and competes each game. He's got great character and his teammates respect him. He'll be a great captain for us and I'm very happy for O. He's earned this."
Keith Tkachuk served as the team's captain from 1996-2001, Teppo Numminen held the role from 2001-03 and Doan wore the "C" from 2003-17.