Craig's List - December Ranking: McDavid and Eichel on even terms
Craig Button, TSN Director of Scouting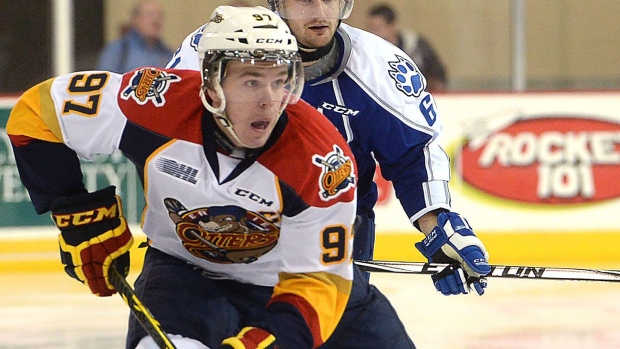 TSN Director of Scouting Craig Button produces monthly rankings (October-June) of the top players eligible for the NHL Draft. Craig's rankings represent his own individual assessment of where players are slotted in the NHL draft.
(Prev. indicates previous ranking on Craig's List - November, 2014)
The team selecting first overall in the 2015 NHL Draft should give equal consideration to Connor McDavid and Jack Eichel.
To this point I have had McDavid number one and Eichel number two. No longer is that the case as I have them in a dead heat as the best player available for the 2015 NHL draft. Two generational talents and the debate will rage on as to who should be the first selection.
My opinion is that they both bring elements to the game that are unique to them. McDavid's ability to play at high speed and execute. Eichel's exceptional reach and ability to move laterally through traffic. It's not that Eichel can't execute at high speed or that McDavid doesn't move laterally through traffic, only that it's hallmarks of the each other's games.
They both impact the game through their strengths and find ways to raise their level when required. The World Junior tournament will bring intense scrutiny but they have been under it for years and have not shown any sign of being shrinking violets. I know there can be only one player selected first overall but one day I lean towards selecting McDavid and another day it is Eichel. The day for deciding is far off but there is nothing separating these two players at the moment.
Noah Hanifin of Boston College is a very talented player but he no longer stands alone as the next best player after McDavid and Eichel. I have always felt that Zach Werenski of the Michigan Wolverines is very close to Noah in ability and potential. Both are 17-year-old defensemen playing NCAA hockey and both are faring well. Along with Oilver Kylington of AIK in the Swedish Allsvenkan and Ivan Provorov of the Brandon Wheat Kings, they comprise a quartet of defensemen who all show potential to be top two defensemen in the NHL.
All may have the opportunity to play in the TJC so scrutiny may very well extend beyond McDavid and Eichel.
Dylan Strome, Mitchell Marner, Nick Merkley and Kyle Connor round out the top 10 and they possess high end offensive talent that NHL teams covet. Teams picking after number two will have the opportunity to add players who can have a significant impact on their teams' fortunes. It may not be any easier determining who a team may prefer but it certainly looks like the quality of player is extremely high.
1. Connor McDavid (Centre) - Prev: 1
| Team (League) | Country | Birthdate | Shot | HT. | WT. |
| --- | --- | --- | --- | --- | --- |
| Erie (OHL) | CAN | 13/01/97 | L | 6'1 | 195 |
1. Jack Eichel (Centre) - Prev: 2
Team (League)
Country
Birthdate
Shot
HT.
WT.

Boston University

(H.E.)

USA

28/10/96

R

6'2

195
3. Noah Hanifin (Defence) - Prev: 3
| Team (League) | Country | Birthdate | Shot | HT. | WT. |
| --- | --- | --- | --- | --- | --- |
| Boston College (H.E.) | USA | 25/01/97 | L | 6'2 | 201 |
4. Dylan Strome (Centre) - Prev. 4
| Team (League) | Country | Birthdate | Shot | HT. | WT. |
| --- | --- | --- | --- | --- | --- |
| Erie (OHL) | CAN | 07/03/97 | L | 6'3 | 187 |
5. Mitchell Marner (Right Wing) - Prev: 5
| Team (League) | Country | Birthdate | Shot | HT. | WT. |
| --- | --- | --- | --- | --- | --- |
| London (OHL) | CAN | 05/05/97 | R | 5'11 | 154 |
6. Oliver Kylington (Defence) - Prev: 6
| Team (League) | Country | Birthdate | Shot | HT. | WT. |
| --- | --- | --- | --- | --- | --- |
| Farjestad (SHL) | SWE | 19/05/97 | L | 6'0 | 180 |
7. Zach Werenski (Defence) - Prev: 8
| Team (League) | Country | Birthdate | Shot | HT. | WT. |
| --- | --- | --- | --- | --- | --- |
| Michigan (Big 10) | USA | 19/07/97 | L | 6'1 | 201 |
8. Ivan Provorov (Defence) - Prev: 9
| Team (League) | Country | Birthdate | Shot | HT. | WT. |
| --- | --- | --- | --- | --- | --- |
| Brandon (WHL) | RUS | 13/01/97 | L | 6'0 | 193 |
9. Nick Merkley (Centre) - Prev: 11
| Team (League) | Country | Birthdate | Shot | HT. | WT. |
| --- | --- | --- | --- | --- | --- |
| Kelowna (WHL) | CAN | 23/05/97 | R | 5'11 | 188 |
10. Kyle Connor (Centre) - Prev: 10
| Team (League) | Country | Birthdate | Shot | HT. | WT. |
| --- | --- | --- | --- | --- | --- |
| Youngstown (USHL) | USA | 09/12/96 | L | 6'1 | 170 |
11. Jansen Harkins (Centre) - Prev: 12
| Team (League) | Country | Birthdate | Shot | HT. | WT. |
| --- | --- | --- | --- | --- | --- |
| Prince George (WHL) | CAN | 23/05/97 | L | 6'1 | 181 |
12. Jeremy Roy (Defence) - Prev: 22
| Team (League) | Country | Birthdate | Shot | HT. | WT. |
| --- | --- | --- | --- | --- | --- |
| Sherbrooke (QMJHL) | CAN | 14/05/97 | R | 6'0 | 189 |
13. Daniel Sprong (Right Wing) - Prev: 7
| Team (League) | Country | Birthdate | Shot | HT. | WT. |
| --- | --- | --- | --- | --- | --- |
| Charlottetown (QMJHL) | NED | 17/03/97 | R | 6'1 | 189 |
14. Evgeni Svechnikov (Right Wing) - Prev: 17
| Team (League) | Country | Birthdate | Shot | HT. | WT. |
| --- | --- | --- | --- | --- | --- |
| Cape Breton (QMJHL) | RUS | 31/10/96 | L | 6'1 | 180 |
15. Brock Boeser (Right Wing) - Prev: 19
| Team (League) | Country | Birthdate | Shot | HT. | WT. |
| --- | --- | --- | --- | --- | --- |
| Waterloo (USHL) | USA | 25/02/97 | R | 6'1 | 187 |
16. Mathew Barzal (Centre) - Prev: 14
| Team (League) | Country | Birthdate | Shot | HT. | WT. |
| --- | --- | --- | --- | --- | --- |
| Seattle (WHL) | CAN | 26/05/97 | R | 6'0 | 178 |
17. Pavel Zacha (Centre) - Prev: 13
| Team (League) | Country | Birthdate | Shot | HT. | WT. |
| --- | --- | --- | --- | --- | --- |
| Sarnia (OHL) | CZE | 06/04/97 | L | 6'3 | 210 |
18. Lawson Crouse (Left Wing) - Prev: 15
| Team (League) | Country | Birthdate | Shot | HT. | WT. |
| --- | --- | --- | --- | --- | --- |
| Kingston (OHL) | CAN | 23/06/97 | L | 6'4 | 211 |
19. Colin White (Centre): Prev: 20
| Team (League) | Country | Birthdate | Shot | HT. | WT. |
| --- | --- | --- | --- | --- | --- |
| USA NTDP (USHL) | USA | 30/01/97 | R | 6'0 | 183 |
20. Travis Konecny (Centre): Prev: 16
| Team (League) | Country | Birthdate | Shot | HT. | WT. |
| --- | --- | --- | --- | --- | --- |
| Ottawa (OHL) | CAN | 11/03/97 | R | 5'10 | 173 |
21. Thomas Novak (Centre) - Prev: 21
| Team (League) | Country | Birthdate | Shot | HT. | WT. |
| --- | --- | --- | --- | --- | --- |
| Waterloo (USHL) | USA | 28/04/97 | L | 6'0 | 174 |
22. Miko Rantanen (Right Wing) - Prev: 23
| Team (League) | Country | Birthdate | Shot | HT. | WT. |
| --- | --- | --- | --- | --- | --- |
| TPS (SM Liiga-FIN) | FIN | 29/10/96 | L | 6'4 | 211 |
23. Nicolas Meloche (Defence) - Prev: 25
| Team (League) | Country | Birthdate | Shot | HT. | WT. |
| --- | --- | --- | --- | --- | --- |
| Baie Comeau (QMJHL) | CAN | 18/07/97 | R | 6'3 | 199 |
24. Thomas Chabot (Defence) - Prev: 26
| Team (League) | Country | Birthdate | Shot | HT. | WT. |
| --- | --- | --- | --- | --- | --- |
| Saint John (QMJHL) | CAN | 30/01/97 | L | 6'1 | 181 |
25. Jakub Zboril (Defence) - Prev: 27
| Team (League) | Country | Birthdate | Shot | HT. | WT. |
| --- | --- | --- | --- | --- | --- |
| Saint John (QMJHL) | CZE | 21/02/97 | L | 6'1 | 184 |
26. Anthony Beauvillier (Left Wing) - Prev: 28
| Team (League) | Country | Birthdate | Shot | HT. | WT. |
| --- | --- | --- | --- | --- | --- |
| Shawinigan (QMJHL) | CAN | 08/06/97 | L | 5'10 | 171 |
27. Jeremy Bracco (Right Wing) - Prev: 33
| Team (League) | Country | Birthdate | Shot | HT. | WT. |
| --- | --- | --- | --- | --- | --- |
| USA NTDP (USHL) | USA | 17/03/97 | R | 5'9 | 173 |
28: Filip Chlapik (Centre) - Prev: 29
| Team (League) | Country | Birthdate | Shot | HT. | WT. |
| --- | --- | --- | --- | --- | --- |
| Charlottetown (QMJHL) | CZE | 03/06/97 | L | 6'0 | 194 |
29: Brendan Guhle (Defence) - Prev: NA
| Team (League) | Country | Birthdate | Shot | HT. | WT. |
| --- | --- | --- | --- | --- | --- |
| Prince Albert (WHL) | CAN | 29/07/97 | L | 6'2 | 184 |
30. Jake Debrusk (Left Wing) - Prev: 52
| Team (League) | Country | Birthdate | Shot | HT. | WT. |
| --- | --- | --- | --- | --- | --- |
| Swift Current (WHL) | CAN | 17/10/96 | L | 6'0 | 171 |
31. Jordan Greenway (Left Wing) - Prev: 18
| Team (League) | Country | Birthdate | Shot | HT. | WT. |
| --- | --- | --- | --- | --- | --- |
| USA NTDP (USHL) | USA | 16/02/97 | L | 6'5 | 222 |
32. Adam Musil (Centre/Right Wing) - Prev: 24
| Team (League) | Country | Birthdate | Shot | HT. | WT. |
| --- | --- | --- | --- | --- | --- |
| Red Deer (WHL) | CAN | 26/03/97 | R | 6'3 | 206 |
33. Sabastian Aho (Right Wing) - Prev: 36
| Team (League) | Country | Birthdate | Shot | HT. | WT. |
| --- | --- | --- | --- | --- | --- |
| Karpat Jr. (Finland Jr.) | FIN | 26/07/97 | L | 5'11 | 172 |
34. Guillaume Brisebois (Defence) - Prev: 35
| Team (League) | Country | Birthdate | Shot | HT. | WT. |
| --- | --- | --- | --- | --- | --- |
| Acadie Bathurst (QMJHL) | CAN | 21/07/97 | L | 6'2 | 170 |
35. Timo Meier (Right Wing) - Prev: 80
| Team (League) | Country | Birthdate | Shot | HT. | WT. |
| --- | --- | --- | --- | --- | --- |
| Halifax (QMJHL) | SUI | 08/10/96 | L | 6'1 | 208 |
36. Nicolas Roy (Centre) - Prev: 30
| Team (League) | Country | Birthdate | Shot | HT. | WT. |
| --- | --- | --- | --- | --- | --- |
| Chicoutimi (QMJHL) | CAN | 05/02/97 | R | 6'4 | 202 |
37. Nikita Korostelev (Right Wing) - Prev: 39
| Team (League) | Country | Birthdate | Shot | HT. | WT. |
| --- | --- | --- | --- | --- | --- |
| Sarnia (OHL) | RUS | 08/02/97 | R | 6'1 | 195 |
38: Mitchell Vande Sompel (Defence) - Prev: 59
| Team (League) | Country | Birthdate | Shot | HT. | WT. |
| --- | --- | --- | --- | --- | --- |
| Oshawa (OHL) | CAN | 11/02/97 | L | 5'10 | 182 |
39: Gustav Bouramman (Defence) - Prev: N/A
| Team (League) | Country | Birthdate | Shot | HT. | WT. |
| --- | --- | --- | --- | --- | --- |
| Sault Ste. Marie (OHL) | SWE | 24/01/97 | R | 5'11 | 184 |
40. Rasmus Andersson (Defence) - Prev: N/A
| Team (League) | Country | Birthdate | Shot | HT. | WT. |
| --- | --- | --- | --- | --- | --- |
| Barrie (OHL) | SWE | 27/10/96 | R | 6'0 | 210 |
41. Vince Dunn (Defence) - Prev: 34
| Team (League) | Country | Birthdate | Shot | HT. | WT. |
| --- | --- | --- | --- | --- | --- |
| Niagara (OHL) | CAN | 29/10/96 | L | 6'0 | 182 |
42. Brandon Carlo (Defence) - Prev: 32
| Team (League) | Country | Birthdate | Shot | HT. | WT. |
| --- | --- | --- | --- | --- | --- |
| Tri-City (WHL) | USA | 26/11/96 | R | 6'5 | 198 |
43. David Kase (Centre) - Prev: 45
| Team (League) | Country | Birthdate | Shot | HT. | WT. |
| --- | --- | --- | --- | --- | --- |
| Chomutov (Czech Jr.) | CZE | 28/01/97 | L | 5'11 | 169 |
44. Yakov Trenin (Centre) - Prev: 38
| Team (League) | Country | Birthdate | Shot | HT. | WT. |
| --- | --- | --- | --- | --- | --- |
| Gatineau (QMJHL) | RUS | 13/01/97 | L | 6'2 | 192 |
45. Ryan Pilon (Defence) - Prev: 46
| Team (League) | Country | Birthdate | Shot | HT. | WT. |
| --- | --- | --- | --- | --- | --- |
| Brandon (WHL) | CAN | 10/10/96 | L | 6'2 | 212 |
46. Noah Juulsen (Defence) - Prev: 40
| Team (League) | Country | Birthdate | Shot | HT. | WT. |
| --- | --- | --- | --- | --- | --- |
| Everett (WHL) | CAN | 02/04/97 | R | 6'1 | 175 |
47. Jacob Larsson (Defence) - Prev: 43
| Team (League) | Country | Birthdate | Shot | HT. | WT. |
| --- | --- | --- | --- | --- | --- |
| Frolunda (Sweden - J20) | SWE | 29/04/97 | L | 6'2 | 191 |
48. Andrew Mangiapane (Right Wing) - Prev: N/A
| Team (League) | Country | Birthdate | Shot | HT. | WT. |
| --- | --- | --- | --- | --- | --- |
| Barrie (OHL) | CAN | 04/04/96 | L | 5'10 | 170 |
49. Erik Foley (Left Wing) - Prev: 60
| Team (League) | Country | Birthdate | Shot | HT. | WT. |
| --- | --- | --- | --- | --- | --- |
| Cedar Rapids (USHL) | USA | 30/06/97 | L | 6'0 | 185 |
50. Alexandre Alain (Centre) - Prev: N/A
| Team (League) | Country | Birthdate | Shot | HT. | WT. |
| --- | --- | --- | --- | --- | --- |
| Gatineau (QMJHL) | CAN | 03/03/97 | R | 6'0 | 173 |
51. Christian Fischer (Right Wing) - Prev: 57
| Team (League) | Country | Birthdate | Shot | HT. | WT. |
| --- | --- | --- | --- | --- | --- |
| USA NTDP (USHL) | USA | 15/04/97 | R | 6'1 | 212 |
52. Paul Bittner (Left Wing) - Prev: 41
| Team (League) | Country | Birthdate | Shot | HT. | WT. |
| --- | --- | --- | --- | --- | --- |
| Portland (WHL) | USA | 04/11/96 | L | 6'4 | 206 |
53. Ryan Gropp (Left Wing) - Prev: 58
| Team (League) | Country | Birthdate | Shot | HT. | WT. |
| --- | --- | --- | --- | --- | --- |
| Seattle (WHL) | CAN | 16/09/96 | L | 6'2 | 184 |
54. Felix Sandstrom (Goalie) - Prev: 55
| Team (League) | Country | Birthdate | Shot | HT. | WT. |
| --- | --- | --- | --- | --- | --- |
| Brynas Jr. (Sweden J-20) | SWE | 12/01/97 | L | 6'2 | 191 |
55. Daniel Vlader (Goalie) - Prev: 56
| Team (League) | Country | Birthdate | Shot | HT. | WT. |
| --- | --- | --- | --- | --- | --- |
| Kladno (Czech Jr.) | CZE | 20/08/97 | L | 6'5 | 185 |
56. Matthew Spencer (Defence) - Prev: 31
| Team (League) | Country | Birthdate | Shot | HT. | WT. |
| --- | --- | --- | --- | --- | --- |
| Peterborough (OHL) | CAN | 24/03/97 | R | 6'2 | 200 |
57. Blake Speers (Centre) - Prev: 37
| Team (League) | Country | Birthdate | Shot | HT. | WT. |
| --- | --- | --- | --- | --- | --- |
| Sault Ste. Marie (OHL) | CAN | 02/01/97 | R | 5'11 | 177 |
58. Adam Marsh (Left Wing) - Prev: 75
| Team (League) | Country | Birthdate | Shot | HT. | WT. |
| --- | --- | --- | --- | --- | --- |
| Saint John Sea Dogs (QMJHL) | USA | 22/08/97 | L | 6'0 | 160 |
59. Ethan Bear (Defence) - Prev: 48
| Team (League) | Country | Birthdate | Shot | HT. | WT. |
| --- | --- | --- | --- | --- | --- |
| Seattle (WHL) | CAN | 26/06/97 | R | 6'0 | 202 |
60. Michael Spacek (Right Wing) - Prev: 54
| Team (League) | Country | Birthdate | Shot | HT. | WT. |
| --- | --- | --- | --- | --- | --- |
| Pardubice Jr. (Czech Jr.) | CZE | 09/04/97 | R | 5'11 | 187 |
61. Callum Booth (Goalie) - Prev: 72
| Team (League) | Country | Birthdate | Shot | HT. | WT. |
| --- | --- | --- | --- | --- | --- |
| Quebec (QMJHL) | CAN | 21/05/97 | L | 6'3 | 199 |
62. Jonas Siegenthaler (Defence) - Prev: 71
Team (League)
Country
Birthdate
Shot
HT.
WT.

GCK Zurich

(Swiss 2)

SUI

06/05/97

L

6'3

220
63. Caleb Jones (Defence) - Prev: 62
| Team (League) | Country | Birthdate | Shot | HT. | WT. |
| --- | --- | --- | --- | --- | --- |
| USA NTDP (USHL) | USA | 06/06/97 | L | 6'0 | 194 |
64. Reid Gardiner (Centre) - Prev: N/A
| Team (League) | Country | Birthdate | Shot | HT. | WT. |
| --- | --- | --- | --- | --- | --- |
| Prince Albert (WHL) | CAN | 19/01/96 | R | 5'11 | 185 |
65. Julius Nattinen (Centre) - Prev: 44
| Team (League) | Country | Birthdate | Shot | HT. | WT. |
| --- | --- | --- | --- | --- | --- |
| JYP (Finland Jr.) | FIN | 14/01/97 | L | 6'2 | 191 |
66. Nathan Noel (Centre) - Prev: 42
| Team (League) | Country | Birthdate | Shot | HT. | WT. |
| --- | --- | --- | --- | --- | --- |
| Saint John (QMJHL) | CAN | 21/06/97 | R | 5'11 | 170 |
67. AJ Greer (Left Wing) - Prev: 49
| Team (League) | Country | Birthdate | Shot | HT. | WT. |
| --- | --- | --- | --- | --- | --- |
| Boston University (H.E.) | CAN | 14/12/96 | L | 6'3 | 204 |
68. Graham Knott (Left Wing) - Prev: 47
| Team (League) | Country | Birthdate | Shot | HT. | WT. |
| --- | --- | --- | --- | --- | --- |
| Niagara (OHL) | CAN | 13/01/97 | L | 6'4 | 192 |
69. Mackenzie Blackwood (Goalie) - Prev: 61
| Team (League) | Country | Birthdate | Shot | HT. | WT. |
| --- | --- | --- | --- | --- | --- |
| Barrie (OHL) | CAN | 09/12/96 | L | 6'4 | 215 |
70. Filip Ahl (Right Wing) - Prev: 53
| Team (League) | Country | Birthdate | Shot | HT. | WT. |
| --- | --- | --- | --- | --- | --- |
| HV71 (Sweden J20) | SWE | 12/06/97 | L | 6'3 | 211 |
71. Glenn Gawdin (Centre) - Prev: N/A
| Team (League) | Country | Birthdate | Shot | HT. | WT. |
| --- | --- | --- | --- | --- | --- |
| Swift Current (WHL) | CAN | 25/03/97 | R | 6'1 | 188 |
72. Jared Bethune (Centre) - Prev: 51
| Team (League) | Country | Birthdate | Shot | HT. | WT. |
| --- | --- | --- | --- | --- | --- |
| Prince George (WHL) | CAN | 20/01/97 | L | 6'0 | 174 |
73. Deven Sideroff (Right Wing) - Prev: 77
| Team (League) | Country | Birthdate | Shot | HT. | WT. |
| --- | --- | --- | --- | --- | --- |
| Kamloops (WHL) | CAN | 14/04/97 | R | 5'11 | 171 |
74. Alexander Dergachyov (Right Wing) - Prev: 91
| Team (League) | Country | Birthdate | Shot | HT. | WT. |
| --- | --- | --- | --- | --- | --- |
| SKA St. Petersburg (Russia - MHL) | RUS | 27/09/96 | L | 6'4 | 200 |
75. Jakob Forsbacka-Karlsson (Centre/Right Wing) - Prev: 86
| Team (League) | Country | Birthdate | Shot | HT. | WT. |
| --- | --- | --- | --- | --- | --- |
| Omaha (USHL) | SWE | 31/10/96 | R | 6'1 | 192 |
76. Brent Gates (Centre) - Prev: 67
| Team (League) | Country | Birthdate | Shot | HT. | WT. |
| --- | --- | --- | --- | --- | --- |
| Green Bay (USHL) | USA | 12/08/97 | L | 6'2 | 196 |
77. Lukas Jasek (Right Wing) - Prev: 64
| Team (League) | Country | Birthdate | Shot | HT. | WT. |
| --- | --- | --- | --- | --- | --- |
| Trinec Jr. (Czech Jr.) | CZE | 28/08/97 | R | 5'11 | 165 |
78. Travis Dermott (Defence) - Prev: 63
| Team (League) | Country | Birthdate | Shot | HT. | WT. |
| --- | --- | --- | --- | --- | --- |
| Erie (OHL) | CAN | 22/12/96 | L | 5'11 | 197 |
79. Erik Cernak (Defence) - Prev: 68
| Team (League) | Country | Birthdate | Shot | HT. | WT. |
| --- | --- | --- | --- | --- | --- |
| Kosice (Slovak) | SVK | 28/05/97 | R | 6'3 | 192 |
80. Brendan Warren (Left Wing) - Prev: 73
| Team (League) | Country | Birthdate | Shot | HT. | WT. |
| --- | --- | --- | --- | --- | --- |
| USA NTDP (USHL) | USA | 07/05/97 | L | 6'0 | 191 |
81. Spencer Smallman (Right Wing) - Prev: 78
| Team (League) | Country | Birthdate | Shot | HT. | WT. |
| --- | --- | --- | --- | --- | --- |
| Saint John (QMJHL) | CAN | 09/09/96 | R | 6'1 | 184 |
82. Dennis Yan (Left Wing) - Prev: 83
| Team (League) | Country | Birthdate | Shot | HT. | WT. |
| --- | --- | --- | --- | --- | --- |
| Shawinigan (QMJHL) | USA | 14/04/97 | L | 6'1 | 180 |
83. Vladimir Tkachev (Right Wing) - Prev: 65
| Team (League) | Country | Birthdate | Shot | HT. | WT. |
| --- | --- | --- | --- | --- | --- |
| Moncton (QMJHL) | RUS | 05/10/95 | R | 5'10 | 144 |
84. Denis Malgin (Centre) - Prev: N/A
| Team (League) | Country | Birthdate | Shot | HT. | WT. |
| --- | --- | --- | --- | --- | --- |
| Zurich (Suisse) | SUI | 18/01/97 | R | 5'8 | 163 |
85. Roman Dymacek (Left Wing) - Prev: 100
| Team (League) | Country | Birthdate | Shot | HT. | WT. |
| --- | --- | --- | --- | --- | --- |
| Brno (Czech Jr.) | CZE | 06/01/97 | L | 6'1 | 175 |
86. Kevin Davis (Defence) - Prev: 74
| Team (League) | Country | Birthdate | Shot | HT. | WT. |
| --- | --- | --- | --- | --- | --- |
| Everett (WHL) | CAN | 14/03/97 | R | 6'0 | 183 |
87. Gabriel Carlsson (Defence) - Prev: 70
| Team (League) | Country | Birthdate | Shot | HT. | WT. |
| --- | --- | --- | --- | --- | --- |
| Linkoping (Sweden J20) | SWE | 02/01/97 | L | 6'4 | 183 |
88. Zachary Senyshyn (Right Wing) - Prev: N/A
| Team (League) | Country | Birthdate | Shot | HT. | WT. |
| --- | --- | --- | --- | --- | --- |
| Sault Ste. Marie (OHL) | CAN | 30/03/97 | R | 6'1 | 192 |
89. Aleksi Saarela (Centre) - Prev: 69
| Team (League) | Country | Birthdate | Shot | HT. | WT. |
| --- | --- | --- | --- | --- | --- |
| Assat Pori (Finland Jr.) | FIN | 07/01/97 | L | 5'11 | 198 |
90. Samuel Dove-McFalls (Centre/Left Wing) - Prev: N/A
| Team (League) | Country | Birthdate | Shot | HT. | WT. |
| --- | --- | --- | --- | --- | --- |
| Saint John (QMJHL) | CAN | 10/04/97 | L | 6'2 | 207 |
91. Brien Diffley (Defence) - Prev: N/A
| Team (League) | Country | Birthdate | Shot | HT. | WT. |
| --- | --- | --- | --- | --- | --- |
| Boston University (H.E.) | USA | 08/07/95 | L | 6'1 | 176 |
92. Grant Gabrielle (Defence) - Prev: 81
| Team (League) | Country | Birthdate | Shot | HT. | WT. |
| --- | --- | --- | --- | --- | --- |
| USA NTDP (USHL) | USA | 17/04/97 | R | 6'1 | 167 |
93. Mathieu Joseph (Left Wing) - Prev: N/A
| Team (League) | Country | Birthdate | Shot | HT. | WT. |
| --- | --- | --- | --- | --- | --- |
| Saint John (QMJHL) | CAN | 09/02/97 | L | 6'1 | 166 |
94. Kameron Kielly (Right Wing) - Prev: 66
| Team (League) | Country | Birthdate | Shot | HT. | WT. |
| --- | --- | --- | --- | --- | --- |
| Charlottetown (QMJHL) | CAN | 13/12/96 | R | 6'0 | 180 |
95. Tory Dello (Defence) - Prev: 87
| Team (League) | Country | Birthdate | Shot | HT. | WT. |
| --- | --- | --- | --- | --- | --- |
| Tri-City (USHL) | USA | 14/12/97 | R | 6'0 | 187 |
96. Robby Jackson (Left Wing) - Prev: 89
| Team (League) | Country | Birthdate | Shot | HT. | WT. |
| --- | --- | --- | --- | --- | --- |
| Chicago (USHL) | USA | 22/08/97 | L | 5'10 | 183 |
97. Jesse Gabrielle (Left Wing) - Prev: 95
| Team (League) | Country | Birthdate | Shot | HT. | WT. |
| --- | --- | --- | --- | --- | --- |
| Brandon (WHL) | CAN | 17/06/97 | L | 5'11 | 205 |
98. Jack Roslovic (Centre) - Prev: 98
| Team (League) | Country | Birthdate | Shot | HT. | WT. |
| --- | --- | --- | --- | --- | --- |
| USA NTDP (USHL) | USA | 29/01/97 | R | 6'1 | 182 |
99. Kyle Capobianco (Defence) - Prev: 96
| Team (League) | Country | Birthdate | Shot | HT. | WT. |
| --- | --- | --- | --- | --- | --- |
| Sudbury (OHL) | CAN | 13/08/97 | L | 6'1 | 178 |
100. Liam Herbst (Goalie) - Prev: N/A
| Team (League) | Country | Birthdate | Shot | HT. | WT. |
| --- | --- | --- | --- | --- | --- |
| Ottawa (OHL) | CAN | 14/09/96 | R | 6'4 | 194 |