Craig's List: Kakko, Boldy and Kaliyev rise up draft rankings
Jack Hughes remains the clear top prospect, but a trio of wingers is starting to turn heads with their play early this season, TSN Director of Scouting Craig Button writes.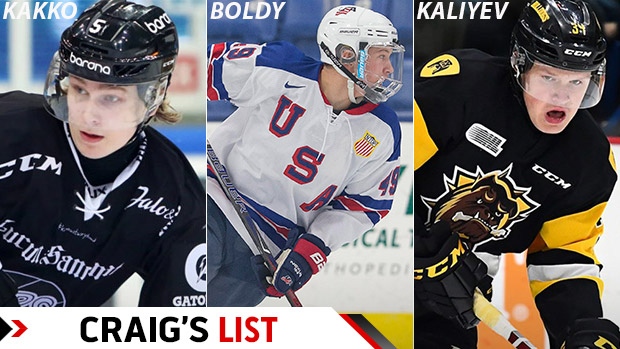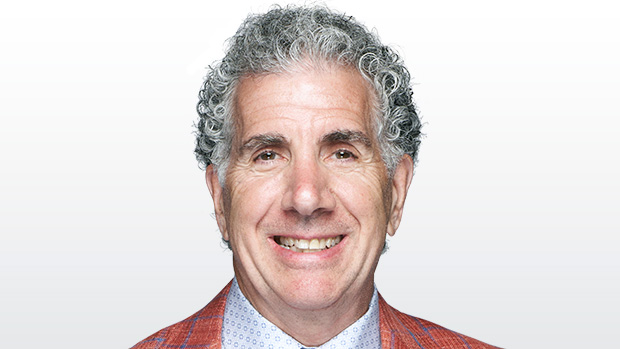 There's been no change in the #LoseForHughes strategy for rebuilding teams in the National Hockey League, but a handful of other draft prospects are starting to turn heads with their play early this season.
USA Hockey National Team Development Program centre Jack Hughes remains the clear top prospect in the October edition of Craig's List ahead of the 2019 NHL Draft, with Finnish right winger Kaapo Kakko jumping up to become the new No. 2.
Kakko, who was rated fourth on our September list, is off to an impressive start with TPS of the Finnish Liiga, scoring three goals and adding seven assists in 14 games.
The 17-year-old is versatile, smart and skilled, making him the rare winger who can do it all in every facet of the game. I haven't seen a young player look so strong from the outset of a Liiga season since Aleksander Barkov exploded on the scene with Tappara.
Whitehorse, Yukon native Dylan Cozens, who has 17 points in 12 games for the Western Hockey League's Lethbridge Hurricanes, sits at No. 3, while smooth-skating Swedish defenceman Philip Broberg is fourth.
They're joined in the top five by Saskatoon Blades centre Kirby Dach, who has worked his way to No. 5 after sitting ninth in September. Dach has 22 points (seven goals, 15 assists) in the first 12 games of his Western Hockey League season. He's a big, rangy centre in the mould of Ryan Getzlaf who is maturing into a player capable of being dominant with his skill and size.
USNTDP left wing Matthew Boldy jumped seven spots from September to land at No. 7 this month. The 6-foot-1, 187-pound Boldy is a complete winger who blends power and skill in a way that reminds me of Dallas Stars captain Jamie Benn. The Boston College commit has the tools to consistently drive play.
Another big riser this month is Hamilton Bulldogs right wing Arthur Kaliyev, who jumped 13 spots to round out our October top 10.
Kaliyev scored 31 goals as a rookie last season on a team that won an Ontario Hockey League title. He hasn't missed a beat this year, with 13 goals and 10 assists in 13 games. Kaliyev's release and understanding of how to get open helps him score in so many different ways.
It's also worth noting that two defencemen who weren't even ranked on our September list are in the top 20 this month.
Thomas Harley, a 6-foot-3, 188-pound left-shot defenceman for the OHL's Mississauga Steelheads, debuts at No. 15, while 5-foot-10, 169-pound USNTDP left-shot blueliner Marshall Warren is at No. 20.
Both players fit the profile of the modern NHL defenceman – able to dictate the pace of the game and comfortable jumping into the attack.
The Top 62
| RK | Player | Team | POS | HT | WT | GP | G | P |
| --- | --- | --- | --- | --- | --- | --- | --- | --- |
| 1 | Jack Hughes | USA NTDP (USHL) | C | 5'9 ½ | 157 | 10 | 2 | 13 |
| 2 | Kaapo Kakko | Turku (SM Liiga) | C/RW | 6'2 ¼ | 194 | 14 | 3 | 10 |
| 3 | Dylan Cozens | Lethbridge (WHL) | C | 6'3 | 181 | 12 | 7 | 17 |
| 4 | Philip Broberg | AIK (SWE-Als) | D | 6'2 ¾ | 199 | 12 | 0 | 3 |
| 5 | Kirby Dach | Saskatoon (WHL) | C/RW | 6'3 ½ | 199 | 12 | 7 | 22 |
| 6 | Vasili Podkolzin | St. Petersburg (MHL) | RW | 6'1 | 183 | 8 | 10 | 15 |
| 7 | Matthew Boldy | USA NTDP (USHL) | LW | 6'0 ¾ | 175 | 10 | 8 | 12 |
| 8 | Bowen Byram | Vancouver (WHL) | D | 6'1 | 191 | 14 | 5 | 12 |
| 9 | Raphael Lavoie | Halifax (QMJHL) | LW/RW | 6'3 ¼ | 192 | 13 | 11 | 18 |
| 10 | Arthur Kaliyev | Hamilton (OHL) | RW | 6'1 ¼ | 190 | 13 | 13 | 23 |
| 11 | Cole Caufield | USA NTDP (USHL) | RW | 5'6 | 150 | 10 | 3 | 6 |
| 12 | Trevor Zegras | USA NTDP (USHL) | C | 5'10 ¾ | 159 | 9 | 2 | 9 |
| 13 | Ryan Suzuki | Barrie (OHL) | C | 6'0 ¼ | 178 | 11 | 5 | 21 |
| 14 | Tobias Bjornfot | Djurgardens (SWE J20) | D | 6'0 | 202 | 14 | 2 | 6 |
| 15 | Thomas Harley | Mississauga (OHL) | D | 6'3 | 188 | 12 | 3 | 10 |
| 16 | Spencer Knight | USA NTDP (USHL) | G | 6'2 ½ | 193 | 7 | 2.00 | .931 |
| 17 | Peyton Krebs | Kootenay (WHL) | C | 5'11 ¼ | 180 | 11 | 4 | 13 |
| 18 | Kaedan Korczak | Kelowna (WHL) | D | 6'2 ¾ | 192 | 14 | 2 | 10 |
| 19 | Ilya Mironov | Yaroslavl (MHL) | D | 6'3 | 201 | 14 | 0 | 3 |
| 20 | Marshall Warren | USA NTDP (USHL) | D | 5'10 ½ | 169 | 6 | 1 | 3 |
| 21 | Alex Turcotte | USA NTDP (USHL) | C | 5'10 ½ | 186 | 3 | 1 | 2 |
| 22 | Alex Newhook | Victoria (BCHL) | C | 5'10 ¼ | 190 | 17 | 10 | 24 |
| 23 | Samuel Poulin | Sherbrooke (QMJHL) | C/LW | 6'1 ¼ | 206 | 12 | 8 | 11 |
| 24 | Cam York | USA NTDP (USHL) | D | 5'10 ¾ | 163 | 10 | 2 | 10 |
| 25 | Jakob Pelletier | Moncton (QMJHL) | C/LW | 5'9 | 161 | 11 | 5 | 16 |
| 26 | Victor Soderstrom | Brynas (SWE J20) | D | 5'11 | 179 | 14 | 1 | 8 |
| 27 | Nolan Foote | Kelowna (WHL) | LW | 6'3 ¼ | 183 | 13 | 7 | 12 |
| 28 | Matthew Robertson | Edmonton (WHL) | D | 6'3 | 201 | 8 | 1 | 4 |
| 29 | Elmer Soderblom | Frölunda (SWE J20) | LW | 6'6 ¼ | 219 | 12 | 2 | 3 |
| 30 | Alex Vlasic | USA NTDP (USHL) | D | 6'5 | 193 | 10 | 2 | 4 |
| 31 | Albin Grewe | Djurgardens (SWE J20) | RW | 5'10 ½ | 187 | 15 | 6 | 19 |
| 32 | Marcus Kallionkieli | Sioux City (USHL) | LW | 6'1 ½ | 192 | 7 | 8 | 9 |
| 33 | John Beecher | USA NTDP (USHL) | C/LW | 6'2 ¼ | 201 | 10 | 0 | 6 |
| 34 | Daniil Gutik | Yaroslavl (MHL) | LW | 6'3 | 179 | 14 | 1 | 6 |
| 35 | Nicholas Robertson | Peterborough (OHL) | LW | 5'8 ¾ | 159 | 4 | 0 | 0 |
| 36 | Drew Helleson | USA NTDP (USHL) | D | 6'2 ¼ | 181 | 10 | 1 | 1 |
| 37 | Mikko Kokkonen | Jukurit (SM Liiga) | D | 5'11 | 198 | 14 | 1 | 7 |
| 38 | Anttoni Honka | JYP (SM Liiga) | D | 5'9 ¼ | 169 | 13 | 1 | 4 |
| 39 | Nikita Okhotyuk | Ottawa (OHL) | D | 6'0 ¾ | 189 | 11 | 0 | 2 |
| 40 | Shane Pinto | Lincoln (USHL) | C/RW | 6'1 ½ | 188 | 8 | 6 | 10 |
| 41 | Martin Hugo Has | Tappara (SM Liiga Jr) | D | 6'4 | 187 | 10 | 3 | 5 |
| 42 | Simon Holmstrom | HV71 (SWE J20) | RW | 6'0 | 183 | 4 | 0 | 2 |
| 43 | Hunter Jones | Peterborough (OHL) | G | 6'4 | 196 | 13 | 2.50 | .930 |
| 44 | Nikita Vashchenko | Morozova (MHL) | D | 6'1 | 190 | 15 | 0 | 1 |
| 45 | Nils Hoglander | Rögle (SHL) | LW | 5'8 | 183 | 10 | 0 | 1 |
| 46 | Brett Leason | Prince Albert (WHL) | RW | 6'3 ¾ | 200 | 13 | 11 | 28 |
| 47 | Ryder Donovan | Duluth East (USHS) | C/RW | 6'3 ¼ | 184 | - | - | - |
| 48 | Will Francis | Cedar Rapids (USHL) | D | 6'4 ½ | 211 | 7 | 0 | 1 |
| 49 | Colten Ellis | Rimouski (QMJHL) | G | 6'0 ½ | 191 | 11 | 2.74 | .908 |
| 50 | Leevi Aaltonen | Kalpa (SM Liiga Jr) | RW | 5'8 ½ | 154 | 3 | 1 | 2 |
| 51 | Bobby Brink | Sioux City (USHL) | C/RW | 5'8 ¼ | 159 | 7 | 3 | 13 |
| 52 | John Farinacci | Dexter Academy (USHS) | C | 5'11 ¼ | 185 | - | - | - |
| 53 | Judd Caulfield | USA NTDP (USHL) | RW | 6'3 | 204 | 10 | 6 | 9 |
| 54 | Harrison Blaisdell | Chilliwack (BCHL) | C/LW | 5'10 ¼ | 180 | 18 | 11 | 20 |
| 55 | Nick Porco | Saginaw (OHL) | LW | 5'11 ¾ | 177 | 12 | 8 | 11 |
| 56 | Robert Mastrosimone | Chicago (USHL) | LW | 5'9 ½ | 158 | 8 | 4 | 8 |
| 57 | Roman Bychkov | Yaro (MHL) | D | 5'11 | 161 | 15 | 0 | 5 |
| 58 | Mack Guzda | Owen Sound (OHL) | G | 6'4 ½ | 217 | 9 | 3.75 | .866 |
| 59 | Austen Swankler | Waterloo (USHL) | C/LW | 6'0 | 181 | 8 | 0 | 4 |
| 60 | Michael Vukojevic | Kitchener (OHL) | D | 6'3 | 205 | 12 | 1 | 5 |
| 61 | Alex Campbell | Victoria (BCHL) | LW | 5'9 ¾ | 151 | 16 | 8 | 21 |
| 62 | Josh Williams | Medicine Hat (WHL) | RW | 6'1 | 188 | 13 | 0 | 5 |