Craig's List - McDavid stands alone
Connor McDavid stands alone at No. 1 in the March edition of Craig's List. While that may not come as a surprise to many, TSN Director of Scouting Craig Button explains that he's not a leap ahead of Jack Eichel - but a step ahead.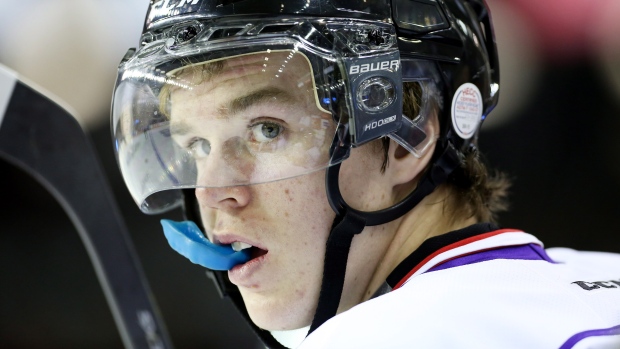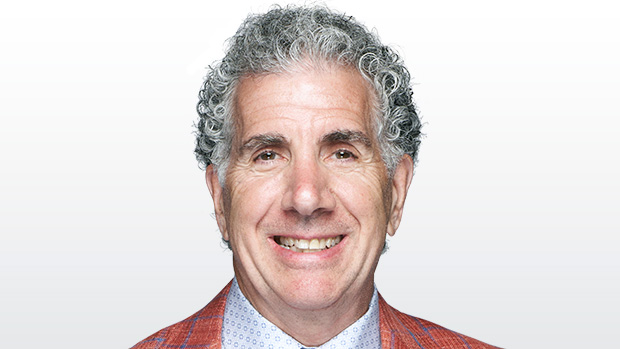 By Craig Button, TSN Director of Scouting -
Connor McDavid stands alone at No. 1.
While that may not come as a surprise to many, what may is that it is not a leap ahead of Jack Eichel but a step ahead.
Why a separation now after three months tied at the top of our draft ranking?
It has come down to this; the speed at which McDavid plays may well be unprecedented. It's not about skating speed it's about overall speed and how that speed can threaten and intimidate in multiple ways. Lots of players can skate fast but the ability to execute at high speed, process what is unfolding in front of him at high speed and then seemingly move past defenders with ease, makes him unique.
His ability to also slow down a game may be the opposite of fast but it's speed that affords him the opportunity to manipulate the pace and tempo of the game to his advantage. He's like an F1 driver in that when it's a straightaway, he opens up the engines but when a tight turn is necessary, his maneuverability is every bit as effective.
Eichel, meanwhile, has done absolutely nothing to diminish his draft value, leading the NCAA in points – and is doing this as the 4th youngest player in U.S. college hockey.
Two players from the USHL move ahead a few notches.
Kyle Connor of the Youngstown Phantoms leads the league in scoring, is a dynamic offensive player and moves from No. 9 to No. 7. Brock Boeser of the Waterloo BlackHawks has continually shown that he has a well rounded game and he has been a big mover in the ranking – going from No. 28 n September to No. 9 in March . Boeser plays a straight ahead game and can beat you with skill or power. He understands the game and responds with appropriate plays in all situations. He can play along the boards and in traffic to create advantages or get himself open for a scoring opportunity. He has an excellent release and gets his hands set to shoot and beat a goalie in multiple ways, either from 30 feet out or in tight around the net.
CRAIG'S LIST - MARCH RANKING
| RK | Player | Team | POS | HT | WT | GP | G | P |
| --- | --- | --- | --- | --- | --- | --- | --- | --- |
| 1 | Connor McDavid | Erie (OHL) | C | 6'0 | 195 | 42 | 40 | 109 |
| 2 | Jack Eichel | Boston U (NCAA) | C | 6'2 | 195 | 32 | 18 | 55 |
| 3 | Dylan Strome | Erie (OHL) | C | 6'3 | 187 | 62 | 39 | 116 |
| 4 | Mitch Marner | London (OHL) | RW | 5'11 | 160 | 59 | 44 | 123 |
| 5 | Ivan Provorov | Brandon (WHL) | D | 6'0 | 193 | 55 | 14 | 57 |
| 6 | Zach Werenski | Michigan (NCAA) | D | 6'1 | 201 | 30 | 8 | 23 |
| 7 | Kyle Connor | Youngstown (USHL) | LW/C | 6'1 | 170 | 45 | 25 | 61 |
| 8 | Noah Hanifin | Boston C (NCAA) | D | 6'2 | 201 | 33 | 4 | 21 |
| 9 | Brock Boeser | Waterloo (USHL) | RW | 6'0 | 187 | 46 | 28 | 51 |
| 10 | Timo Meier | Halifax (QMJHL) | RW | 6'1 | 208 | 56 | 42 | 86 |
| 11 | Lawson Crouse | Kingston (OHL) | LW | 6'4 | 211 | 51 | 27 | 45 |
| 12 | Mikko Rantanen | TPS (SM Liiga) | RW | 6'3 | 211 | 55 | 7 | 25 |
| 13 | Jansen Harkins | Prince George (WHL) | C | 6'0 | 181 | 64 | 20 | 78 |
| 14 | Nick Merkley | Kelowna (WHL) | C | 5'10 | 188 | 66 | 18 | 85 |
| 15 | Thomas Chabot | Saint John (QMJHL) | D | 6'1 | 181 | 61 | 10 | 35 |
| 16 | Anthony Beauvillier | Shawinigan (QMJHL) | LW | 5'10 | 171 | 63 | 42 | 90 |
| 17 | Evgeni Svechnikov | Cape Breton (QMJHL) | RW | 6'1 | 180 | 50 | 27 | 66 |
| 18 | Mathew Barzal | Seattle (WHL) | C | 5'11 | 178 | 38 | 12 | 48 |
| 19 | Thomas Novak | Waterloo (USHL) | C | 6'0 | 174 | 45 | 14 | 48 |
| 20 | Jakub Zboril | Saint John (QMJHL) | D | 6'0 | 184 | 39 | 9 | 26 |
| 21 | Jeremy Roy | Sherbrooke (QMJHL) | D | 5'11 | 189 | 46 | 5 | 43 |
| 22 | Jake Debrusk | Swift Current (WHL) | LW | 5'11 | 171 | 66 | 36 | 68 |
| 23 | Travis Konecny | Ottawa (OHL) | C | 5'9 | 173 | 60 | 29 | 68 |
| 24 | Paul Bittner | Portland (WHL) | LW | 6'4 | 206 | 58 | 32 | 63 |
| 25 | Daniel Sprong | Charlottetown (QMJHL) | RW | 6'1 | 189 | 63 | 35 | 78 |
| 26 | Nicolas Meloche | Baie Comeau (QMJHL) | D | 6'2 | 199 | 44 | 10 | 34 |
| 27 | Colin White | USA NTDP (USHL) | C | 6'0 | 183 | 39 | 14 | 37 |
| 28 | Pavel Zacha | Sarnia (OHL) | C | 6'3 | 210 | 34 | 16 | 32 |
| 29 | Oliver Kylington | Farjestad (SHL) | D | 6'0 | 180 | 18 | 2 | 5 |
| 30 | Filip Chlapik | Charlottetown (QMJHL) | C | 6'0 | 194 | 59 | 30 | 69 |
| 31 | Mitchell V. Sompel | Oshawa (OHL) | D | 5'10 | 182 | 54 | 11 | 59 |
| 32 | Rasmus Andersson | Barrie (OHL) | D | 6'0 | 210 | 62 | 12 | 62 |
| 33 | Erik Foley | Cedar Rapids (USHL) | LW | 5'11 | 185 | 46 | 21 | 43 |
| 34 | Ryan Pilon | Brandon (WHL) | D | 6'1 | 212 | 63 | 10 | 51 |
| 35 | Brandon Carlo | Tri-City (WHL) | D | 6'4 | 198 | 57 | 3 | 26 |
| 36 | Gustav Bouramman | S.S. Marie (OHL) | D | 5'11 | 184 | 62 | 5 | 38 |
| 37 | Roope Hintz | Ilves (SM Liiga) | C/LW | 6'2 | 185 | 41 | 5 | 17 |
| 38 | Andrew Mangiapane | Barrie (OHL) | RW | 5'10 | 170 | 63 | 40 | 99 |
| 39 | Travis Dermott | Erie (OHL) | D | 5'11 | 197 | 55 | 7 | 42 |
| 40 | Jack Roslovic | USA NTDP (USHL) | C | 6'0 | 182 | 51 | 16 | 57 |
| 41 | Vladislav Gavrikov | Lokomotiv (KHL) | D | 6'2 | 205 | 16 | 0 | 1 |
| 42 | Jacob Larsson | Frolunda (SHL) | D | 6'2 | 191 | 22 | 1 | 3 |
| 43 | Parker Wotherspoon | Tri-City (WHL) | D | 6'0 | 171 | 66 | 9 | 36 |
| 44 | Christian Fischer | USA NTDP (USHL) | RW | 6'1 | 212 | 51 | 23 | 45 |
| 45 | Noah Juulsen | Everett (WHL) | D | 6'1 | 175 | 62 | 7 | 49 |
| 46 | Felix Sandstrom | Brynas Jr. (SWE J20) | G | 6'2 | 191 | 7 | 2.07 | 0 |
| 47 | Jens Looke | Brynas (SHL) | RW | 6'0 | 180 | 43 | 2 | 6 |
| 48 | Conor Garland | Moncton (QMJHL) | RW | 5'8 | 163 | 63 | 31 | 117 |
| 49 | Jeremy Bracco | USA NTDP (USHL) | RW | 5'9 | 173 | 50 | 22 | 64 |
| 50 | Blake Speers | S.S. Marie (OHL) | C | 5'11 | 177 | 52 | 22 | 57 |
| 51 | Vince Dunn | Niagara (OHL) | D | 5'11 | 182 | 62 | 15 | 48 |
| 52 | Guillaume Brisebois | A. Bathurst (QMJHL) | D | 6'1 | 170 | 58 | 3 | 24 |
| 53 | Brendan Guhle | Prince Albert (WHL) | D | 6'1 | 184 | 66 | 3 | 26 |
| 54 | Jakob F-Karlsson | Omaha (USHL) | C/RW | 6'0 | 192 | 48 | 14 | 50 |
| 55 | Brendan Warren | USA NTDP (USHL) | LW | 6'0 | 191 | 46 | 16 | 30 |
| 56 | Dryden Hunt | Medicine Hat (WHL) | C/LW | 6'0 | 199 | 65 | 35 | 75 |
| 57 | Ethan Bear | Seattle (WHL) | D | 5'11 | 202 | 63 | 12 | 36 |
| 58 | Sebastian Aho | Karpat (SM Liiga) | RW | 5'11 | 172 | 26 | 4 | 9 |
| 59 | Nathan Noel | Saint John (QMJHL) | C | 5'10 | 170 | 63 | 22 | 56 |
| 60 | Mackenzie Blackwood | Barrie (OHL) | G | 6'4 | 215 | 47 | 3.21 | 1 |
| 61 | Nicolas Roy | Chicoutimi (QMJHL) | C | 6'4 | 202 | | | |
| 62 | Denis Guryanov | Togilatti 2 (MHL) | RW | 6'2 | 183 | | | |
| 63 | Callum Booth | Quebec (QMJHL) | G | 6'2 | 199 | | | |
| 64 | Tyler Soy | Victoria (WHL) | C/LW | 5'11 | 172 | | | |
| 65 | Zachary Senyshyn | S.S. Marie (OHL) | RW | 6'1 | 192 | | | |
| 66 | David Kase | Chomutov (Czech B) | C | 5'11 | 169 | | | |
| 67 | Giorgio Estephan | Lethbridge (WHL) | C | 6'0 | 188 | | | |
| 68 | Yakov Trenin | Gatineau (QMJHL) | LW/C | 6'1 | 192 | | | |
| 69 | Nikita Korostelev | Sarnia (OHL) | RW | 6'1 | 195 | | | |
| 70 | Adam Marsh | Saint John (QMJHL) | LW | 6'0 | 160 | | | |
| 71 | Jordan Greenway | USA NTDP (USHL) | LW | 6'4 | 222 | | | |
| 72 | Adam Musil | Red Deer (WHL) | C/RW | 6'2 | 206 | | | |
| 73 | Jonas Siegenthaler | GCK Zurich (Swiss 2) | D | 6'2 | 220 | | | |
| 74 | Dennis Yan | Shawinigan (QMJHL) | LW | 6'1 | 180 | | | |
| 75 | Kyle Capobianco | Sudbury (OHL) | D | 6'1 | 178 | | | |
| 76 | Samuel Montembeault | Armada (QMJHL) | G | 6'2 | 164 | | | |
| 77 | Ziyat Paygin | Ak Bars Kazan (KHL) | D | 6'5 | 209 | | | |
| 78 | Michael Spacek | Pardubice (Czech Jr.) | RW | 5'11 | 187 | | | |
| 79 | Tate Olson | Prince George (WHL) | D | 6'2 | 174 | | | |
| 80 | Ryan Gropp | Seattle (WHL) | LW | 6'2 | 184 | | | |
| 81 | Spencer Smallman | Saint John (QMJHL) | RW | 6'0 | 184 | | | |
| 82 | Aleksi Saarela | Assat Pori (Finland Jr.) | C | 5'10 | 198 | | | |
| 83 | Brent Gates | Green Bay (USHL) | C | 6'1 | 196 | | | |
| 84 | Dmitri Zhukenov | Omsk (MHL) | C | 5'11 | 169 | | | |
| 85 | Julius Nattinen | JYP (Finland Jr.) | C | 6'1 | 191 | | | |
| 86 | Pavel Karnuakhov | Calgary (WHL) | C/LW | 6'2 | 194 | | | |
| 87 | Christian Jaros | Lulea Jr. (Sweden J20) | D | 6'3 | 201 | | | |
| 88 | Dmitri Yudin | St. Peterbsburg (KHL) | D | 6'2 | 185 | | | |
| 89 | Alexander Dergachyov | St.Petersburg (MHL) | RW | 6'4 | 200 | | | |
| 90 | Gabriel Carlsson | Linkoping (Sweden J20) | D | 6'4 | 183 | | | |
| 91 | Daniel Vladar | Kladno (Czech Jr.) | G | 6'5 | 185 | | | |
| 92 | Yegor Rykov | St. Peterbsburg (MHL) | D | 6'1 | 216 | | | |
| 93 | Alexandre Goulet | Charlottetown (QMJHL) | C | 5'11 | 195 | | | |
| 94 | Erik Cernak | Kosice (Slovak Extra) | D | 6'3 | 203 | | | |
| 95 | Matthew Spencer | Peterborough (OHL) | D | 6'1 | 200 | | | |
| 96 | Adam Gaudette | Cedar Rapids (USHL) | C | 6'0 | 170 | | | |
| 97 | Brad Morrison | Prince George (WHL) | LW/C | 5'11 | 154 | | | |
| 98 | Samuel Dove-McFalls | Saint John (QMJHL) | C/LW | 6'2 | 207 | | | |
| 99 | Alexandre Carrier | Gatineau (QMJHL) | D | 5'11 | 174 | | | |
| 100 | Mathieu Joseph | Saint John (QMJHL) | LW | 6'0 | 166 | | | |