Craig's List: Svechnikov solidifies hold on second spot
Russian right wing has established himself as the best NHL prospect not named Rasmus Dahlin in TSN Director of Scouting Craig Button's final draft ranking.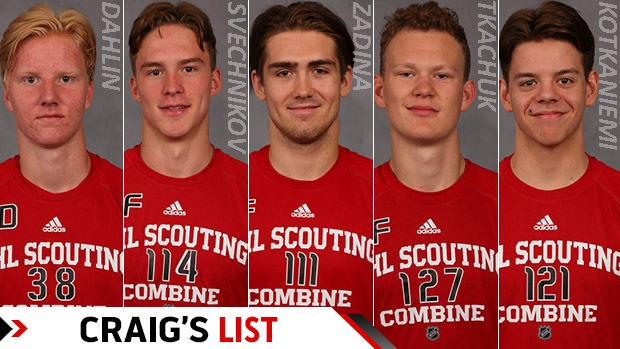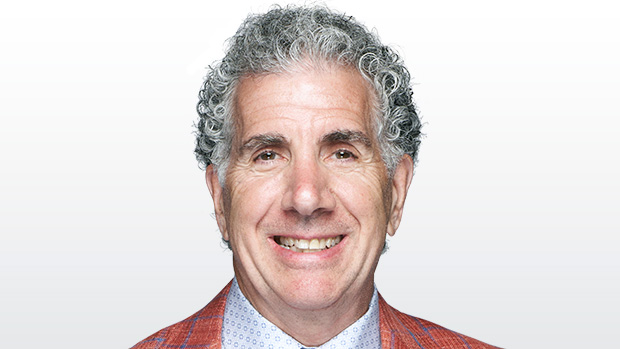 By now you know all about Swedish defenceman Rasmus Dahlin and why he's the clear top prospect ahead of the 2018 National Hockey League Draft.
With the first pick on June 22 the Buffalo Sabres have an opportunity to select a player who very well may be the best blueliner entering the draft since Denis Potvin went first overall to the New York Islanders in 1973. Dahlin is a franchise-defining, elite defenceman who should eventually become a mainstay on a top pairing.
While Dahlin is in a class all on his own, there has been a season-long race to fill out the rest of the top four between Boston University left winger Brady Tkachuk, Barrie Colts right wing Andrei Svechnikov and Halifax Mooseheads right wing Filip Zadina.
Svechnikov is the clear winner in the June edition of Craig's List, riding the strength of a 40-goal season (in just 44 games played) to second spot in our rankings. The 6-foot-2, 192-pound Russian has a game modelled after likely Hall of Famer Marian Hossa and has shown the kind of offensive skill that translates well at the pro level.
Zadina edges Tkachuk for third spot in our final rankings after leading all QMJHL rookies in goals (44) and points (82) this season. While Zadina is a natural scorer, Tkachuk has more of a physical presence and all the tools to be an effective power forward. Both guys project as top-line players at the NHL level.
The first centre on the board is Finland's Jesperi Kotkaniemi, who had 10 goals and 19 assists in 57 games playing against men with Assat Pori in the SM-Liiga. Kotkaniemi's stock has been rising since mid-season and his game is reminiscent of Los Angeles Kings star Anze Kopitar.
Small but skilled USA Hockey National Team Development Program defenceman Quinn Hughes ends the season at No. 6 in our rankings, followed by Sault Ste. Marie Greyhounds two-way centre Barrett Hayton, who will draw comparisons to Boston Bruins stalwart Patrice Bergeron.
Acadie-Bathurst Titan right-shot defenceman Noah Dobson sits at No. 8, followed by London Knights captain Evan Bouchard, who had 87 points (25 goals, 62 assists) in 67 games to lead all OHL defenceman in scoring this season.
The top 10 is rounded out by USA Hockey National Team Development Program right wing Oliver Wahlstrom, who might be the best pure goal scorer available in this draft.
Ryan Merkley is a name to watch in the first round. The Guelph Storm defenceman sits at No. 23 in our final rankings, but his elite offensive skill is undeniable. He had 55 points in 62 games during his rookie season, and then followed that up with 67 points in 63 games this year. But there are questions about his defensive play and maturity. Merkley dropped from No. 21 in the Central Scouting mid-season ranking to No. 45 on the final list.
Merkley could be this draft's ultimate wild card. He has his supporters and his detractors and will certainly be a person of interest on draft night.
Craig's List - Final Edition
| RK | Player | Team | POS | HT | WT | GP | G | P |
| --- | --- | --- | --- | --- | --- | --- | --- | --- |
| 1 | Rasmus Dahlin | Frolunda (SHL) | D | 6'2 | 181 | 41 | 7 | 20 |
| 2 | Andrei Svechnikov | Barrie (OHL) | RW | 6'1 ½ | 188 | 44 | 40 | 72 |
| 3 | Filip Zadina | Halifax (QMJHL) | RW | 6'0 | 198 | 57 | 44 | 82 |
| 4 | Brady Tkachuk | Boston U (NCAA) | LW | 6'2 | 194 | 38 | 8 | 29 |
| 5 | Jesperi Kotkaniemi | Ässät (SM Liiga) | C | 6'1 ½ | 188 | 57 | 10 | 29 |
| 6 | Quinn Hughes | Michigan (NCAA) | D | 5'9 | 167 | 34 | 4 | 28 |
| 7 | Barrett Hayton | S.S. Marie (OHL) | C | 6'1 | 186 | 63 | 21 | 60 |
| 8 | Noah Dobson | A-Bathurst (QMJHL) | D | 6'2 ½ | 178 | 67 | 17 | 69 |
| 9 | Evan Bouchard | London (OHL) | D | 6'1 ½ | 190 | 67 | 25 | 87 |
| 10 | Oliver Wahlstrom | USA NTDP (USHL) | RW | 6'0 ¾ | 195 | 51 | 39 | 78 |
| 11 | Joel Farabee | USA NTDP (USHL) | LW | 5'11 | 152 | 51 | 26 | 60 |
| 12 | Adam Boqvist | Brynäs (SWE J20) | D | 5'10 ¾ | 168 | 25 | 14 | 24 |
| 13 | Grigori Denisenko | Yaroslavl (MHL) | LW | 5'11 | 163 | 31 | 9 | 22 |
| 14 | Serron Noel | Oshawa (OHL) | RW | 6'4 | 200 | 62 | 28 | 53 |
| 15 | Rasmus Sandin | S.S. Marie (OHL) | D | 5'10 ¾ | 183 | 51 | 12 | 45 |
| 16 | Bode Wilde | USA NTDP (USHL) | D | 6'2 ½ | 197 | 50 | 10 | 35 |
| 17 | Akil Thomas | Niagara (OHL) | RW | 5'11 | 169 | 68 | 22 | 81 |
| 18 | Ty Dellandrea | Flint (OHL) | C/RW | 5'11 ¾ | 180 | 67 | 27 | 59 |
| 19 | Isac Lundestrom | Luleå (SHL) | C/LW | 5'11 ¼ | 178 | 42 | 6 | 15 |
| 20 | Nicolas Beaudin | Drummondville (QMJHL) | D | 5'10 ½ | 175 | 68 | 12 | 69 |
| 21 | Filip Hallander | Timra (SWE-Als) | C/LW | 6'0 | 178 | 40 | 9 | 20 |
| 22 | Ty Smith | Spokane (WHL) | D | 5'10 ¼ | 176 | 69 | 14 | 73 |
| 23 | Vitali Kravtsov | Chelyabinsk (MHL) | RW | 6'2 | 170 | 35 | 4 | 7 |
| 24 | Ryan Merkley | Guelph (OHL) | D | 5'11 | 170 | 63 | 13 | 67 |
| 25 | Jacob Olofsson | Timra (SWE-Als) | C | 6'2 | 185 | 43 | 10 | 21 |
| 26 | Jared McIsaac | Halifax (QMJHL) | D | 6'1 | 195 | 65 | 9 | 47 |
| 27 | Rasmus Kupari | Kärpät (SM Liiga) | C | 6'1 ¼ | 183 | 39 | 6 | 14 |
| 28 | Joe Veleno | Drummondville (QMJHL) | C | 6'1 | 195 | 64 | 22 | 79 |
| 29 | Ryan McLeod | Mississuaga (OHL) | C/LW | 6'2 | 190 | 68 | 26 | 70 |
| 30 | Dominik Bokk | Vaxjo (SWE J20) | RW | 6'1 | 180 | 35 | 14 | 41 |
| 31 | K'Andre Miller | USA NTDP (USHL) | D | 6'3 ½ | 194 | 47 | 7 | 22 |
| | | | | | | | | |
| 32 | Jonatan Berggren | Skellefteå (SWE J20) | LW | 5'10 | 181 | 38 | 25 | 51 |
| 33 | Mattias Samuelsson | USA NTDP (USHL) | D | 6'3 ¼ | 209 | 47 | 9 | 28 |
| 34 | Adam Ginning | Linköping (SHL) | D | 6'2 ¾ | 196 | 28 | 1 | 2 |
| 35 | Blake McLaughlin | Chicago (USHL) | LW | 5'11 | 156 | 46 | 20 | 45 |
| 36 | Albin Eriksson | Skellefteå (SWE J20) | LW | 6'4 ¼ | 207 | 38 | 22 | 40 |
| 37 | Jack Drury | Waterloo (USHL) | C | 5'11 | 175 | 47 | 19 | 51 |
| 38 | Jay O'Brien | Thayer (USHS) | C | 6'0 | 175 | 30 | 43 | 80 |
| 39 | Jan Jenik | B.n. Jizerou (CZE 2) | C | 6'1 | 171 | 30 | 4 | 11 |
| 40 | Liam Foudy | London (OHL) | C/LW | 6'0 | 175 | 65 | 24 | 40 |
| 41 | Ivan Morozov | M. Yugry (MHL) | C | 6'1 | 178 | 30 | 11 | 23 |
| 42 | Jake Wise | USA NTDP (USHL) | C | 5'9 ¾ | 185 | 27 | 7 | 32 |
| 43 | Olivier Rodrigue | Drummondville (QMJHL) | G | 6'0 ¼ | 155 | 53 | 2.54 | .903 |
| 44 | Calen Addison | Lethbridge (WHL) | D | 5'9 ¾ | 179 | 68 | 11 | 65 |
| 45 | Nils Lundqvist | Lulea (SHL) | D | 5'11 | 172 | 28 | 2 | 5 |
| 46 | Cameron Hillis | Guelph (OHL) | C | 5'9 ½ | 168 | 60 | 20 | 59 |
| 47 | Martin Kaut | Pardubice (CZE Extra) | RW | 6'1 ½ | 176 | 38 | 9 | 16 |
| 48 | Filip Johansson | Leksands (SWE J20) | D | 6'0 ½ | 174 | 29 | 4 | 9 |
| 49 | Jack McBain | Toronto (OJHL) | C | 6'3 ¼ | 196 | 39 | 5 | 24 |
| 50 | Jacob Bernard-Docker | Okotoks (AJHL) | D | 6'0 | 181 | 49 | 20 | 41 |
| 51 | Alexander Alexeyev | Red Deer (WHL) | D | 6'3 ½ | 184 | 45 | 7 | 37 |
| 52 | Jett Woo | Moose Jaw (WHL) | D | 5'11 ¾ | 205 | 44 | 9 | 14 |
| 53 | Benoît-Olivier Groulx | Halifax (QMJHL) | C | 6'0 ¾ | 192 | 68 | 28 | 55 |
| 54 | Jonathon Tychonick | Penticton (BCHL) | D | 5'11 ¼ | 166 | 48 | 9 | 47 |
| 55 | David Gustafsson | HV 71 (SHL) | C | 5'11 ½ | 196 | 45 | 6 | 12 |
| 56 | Alexander Khovanov | Moncton (QMJHL) | C | 5'11 | 187 | 29 | 9 | 28 |
| 57 | Allan McShane | Oshawa (OHL) | C | 5'10 ½ | 190 | 67 | 20 | 1 |
| 58 | Kody Clark | Ottawa (OHL) | RW | 6'0 ¾ | 172 | 56 | 18 | 39 |
| 59 | Niklas Nordgren | HIFK (SM Liiga) | LW/RW | 5'9 | 169 | 36 | 16 | 52 |
| 60 | Gabriel Fortier | Baie Comeau (QMJHL) | LW | 5'9 | 164 | 66 | 26 | 59 |
| 61 | Sean Durzi | Owen Sound (OHL) | D | 5'11 ½ | 195 | 40 | 15 | 50 |
| 62 | Kevin Bahl | Ottawa (OHL) | D | 6'5 ¾ | 225 | 58 | 1 | 18 |
| | | | | | | | | |
| 63 | Martin Fehervary | Oskarshamn (SWE-Als) | D | 6'1 | 190 | 42 | 1 | 7 |
| 64 | Aidan Dudas | Owen Sound (OHL) | C/RW | 5'7 ½ | 162 | 68 | 31 | 65 |
| 65 | Lukáš Dostal | Brno (Cze Jr) | G | 6'0 ¾ | 158 | 20 | 2.43 | .921 |
| 66 | Justin Almeida | Moose Jaw (WHL) | C | 5'9 ¼ | 158 | 72 | 43 | 98 |
| 67 | Luke Henman | B-Boisbriand (QMJHL) | C | 5'11 ¼ | 150 | 61 | 9 | 47 |
| 68 | Oskar Back | Färjestads (SWE J20) | C | 6'2 ¼ | 192 | 38 | 10 | 32 |
| 69 | Tyler Madden | Tri-City (WHL) | C/RW | 5'10 | 152 | 46 | 15 | 33 |
| 70 | Axel Andersson | Djurgarden (SWE J20) | D | 5'11 ¾ | 178 | 42 | 6 | 31 |
| 71 | Jon Gruden | USA NTDP (USHL) | C | 5'11 ½ | 172 | 50 | 22 | 44 |
| 72 | Stanislav Demin | Wenatchee (BCHL) | D | 6'1 ½ | 190 | 57 | 9 | 45 |
| 73 | Kirill Marchenko | M. Yugry (MHL) | RW | 6'3 | 187 | 31 | 8 | 16 |
| 74 | Curtis Hall | Youngstown (USHL) | C | 6'2 | 194 | 48 | 12 | 27 |
| 75 | Tyler Weiss | USA NTDP (USHL) | C/LW | 5'10 ¼ | 143 | 21 | 3 | 11 |
| 76 | Matej Pekar | Muskegon (USHL) | C | 6'0 | 170 | 56 | 14 | 54 |
| 77 | Ty Emberton | USA NTDP (USHL) | D | 6'0 | 200 | 61 | 4 | 27 |
| 78 | Akira Schmid | Langnau (SUI Jr) | G | 6'4 | 165 | 32 | n/a | n/a |
| 79 | Alec Regula | London (OHL) | D | 6'3 | 201 | 67 | 7 | 25 |
| 80 | Nico Gross | Oshawa (OHL) | D | 5'11 ¾ | 183 | 58 | 4 | 14 |
| 81 | Jakub Lauko | Chomutov (CZE Extra) | LW | 6'0 | 169 | 42 | 3 | 9 |
| 82 | Sampo Ranta | Sioux City (USHL) | RW | 6'0 ¾ | 192 | 47 | 18 | 29 |
| 83 | Giovanni Vallati | Kitchener (OHL) | D | 6'1 | 176 | 65 | 3 | 26 |
| 84 | Jesse Ylonen | Espoo (FIN) | RW | 5'11 ¾ | 160 | 48 | 14 | 27 |
| 85 | Jakub Skarek | Jihlava (CZE Extra) | G | 6'3 | 192 | 21 | 2.41 | .913 |
| 86 | Adam Samuelsson | USA NTDP (USHL) | D | 6'5 ¾ | 240 | 51 | 4 | 22 |
| 87 | Luka Burzan | Brandon (WHL) | C | 5'11 ¾ | 185 | 72 | 15 | 40 |
| 88 | Cole Fonstad | Prince Albert (WHL) | C | 5'10 | 159 | 72 | 21 | 73 |
| 89 | Dmitri Zavgorodny | Rimouski (QMJHL) | LW | 5'9 | 161 | 62 | 26 | 47 |
| 90 | Kristian Reichel | Red Deer (WHL) | C | 6'1 | 176 | 63 | 34 | 57 |
| 91 | Milos Roman | Vancouver (WHL) | C/LW | 5'11 ¾ | 188 | 39 | 10 | 32 |
| 92 | Paul Cotter | Lincoln (USHL) | C | 6'0 | 191 | 51 | 18 | 39 |
| 93 | Riley Sutter | Everett (WHL) | C/RW | 6'3 | 203 | 68 | 25 | 53 |
| 94 | Nicolas Guay | Drummondville (QMJHL) | C | 5'11 | 174 | 68 | 29 | 55 |
| 95 | Carter Robertson | Ottawa (OHL) | D | 6'2 | 178 | 57 | 5 | 18 |
| 96 | Declan Chisholm | Peterborough (OHL) | D | 6'0 ¼ | 183 | 47 | 3 | 20 |
| 97 | Santeri Salmala | KooKoo (Sm Liiga) | D | 6'1 ¼ | 194 | 31 | 0 | 1 |
| 98 | Olof Lindbom | Djurgarden (SWE J20) | G | 6'0 ½ | 173 | 20 | 3.10 | .897 |
| 99 | Alexis Gravel | Halifax (QMJHL) | G | 6'2 ½ | 226 | 39 | 3.38 | .890 |
| 100 | Blade Jenkins | Saginaw (OHL) | LW | 6'1 | 195 | 68 | 20 | 44 |