Crosby, Penguins greet new coach Johnston with win over Ducks
NHL MVP Sidney Crosby scored twice and added an assist as the Pittsburgh Penguins beat the Anaheim Ducks 6-4 Thursday night in the season opener for both teams. Pascal Dupuis added a goal and three assists in his return from knee surgery for the Penguins, who rolled to victory in new coach Mike Johnston's debut.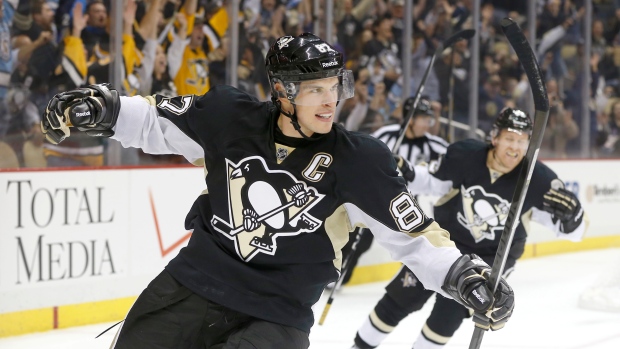 PITTSBURGH, Pa. - The Pittsburgh Penguins spent the off-season revamping the front office, replacing the coaching staff and tinkering with a roster that went five straight springs falling to lower-seeded opponents in the playoffs.
Yet some things remained constant. Well, one thing mostly: Sidney Crosby.
The two-time MVP scored twice and added an assist as the Penguins beat the Anaheim Ducks 6-4 on Thursday night to make Mike Johnston a winner in his NHL head coaching debut.
"We have a lot of new faces," Crosby said. "You're always excited to play the first one but especially with so many new faces I think we used that energy to our advantage."
Pascal Dupuis added a goal and three assists in his return from knee surgery. Patrick Hornqvist, Blake Comeau and Brandon Sutter also scored for Pittsburgh while Olli Maatta chipped in three assists in his first game of any kind after sitting out the preseason to recuperate from shoulder surgery. Marc-Andre Fleury made 25 saves.
Corey Perry had the sixth hat trick of his career for the Ducks, who collapsed after erasing an early three-goal deficit. Ryan Kesler added a goal in his debut with Anaheim. John Gibson struggled while making his first start in his hometown, stopping 33 of 39 shots.
"We want to play better," Anaheim defenceman Ben Lovejoy said. "There were far too many things that went wrong. We need to figure this out because that was embarrassing."
The 21-year-old Gibson earned the starting job following a stellar playoff in which he took over for Jonas Hiller. Coach Bruce Boudreau wanted to give Gibson the nod in the opener so the Pittsburgh native could play in front of friends and family. He also had to play in front of the Penguins, who pounced early and never trailed.
"We've got to do a better job helping out our goaltender," Anaheim centre Ryan Getzlaf said. "We kind of hung him out tonight and tried to play a run-and-gun game against a team that scores goals that well."
That part won't change under Johnston, hired to replace Dan Bylsma in June and tasked with making sure Crosby and Evgeni Malkin's primes don't go to waste.
The early returns were promising.
Hornqvist, acquired from Nashville in a draft-day trade that sent talented but turbulent forward James Neal to the Predators, needed all of 5:16 to make an impression. Playing alongside Crosby helped. Crosby won a faceoff at the right dot and slipped a pass to Hornqvist at the top of the circle. The wrist shot deflected off Gibson's arm and into the net and the Penguins seemed to exhale.
"We hadn't had that line together in preseason, only once," Johnston said. "You're always hoping that those combinations would work as you expect. I thought Patrick Hornqvist added a lot to that line tonight."
Crosby doubled the lead just over two minutes later, streaking down the left side and firing a shot that Gibson couldn't get a handle on. The goal was the seventh in the 10 home openers during Crosby's now decade-long career.
Dupuis, nine months removed from surgery to repair a torn ACL in his right knee, tapped in a perfect setup from Maatta to make it 3-0 before the season was 15 minutes old.
The Ducks, however, quickly erased all the good vibes.
Anaheim underwent significant tweaks over the summer, when the best regular season in franchise history ended with another early post-season flameout. The Ducks acquired Kesler, a two-way forward and added centre Nate Thompson, defenceman Clayton Stoner and veteran scorer Dany Heatley while Teemu Selanne retired and Hiller walked in free agency.
The moves were made with making the Ducks more suited to the rough-and-tumble post-season. There are six long months to get there. The initial steps were wobbly, but Anaheim's offence remains explosive.
The Ducks rallied to tie the game at three, with the Penguins doing their best to help Anaheim get back in it. Kesler scored his first for Anaheim with an easy power-play goal 14:22 into the first. Perry then pumped in two, including arguably the easiest goal he'll score all year when Fleury ventured far from the net and Patrick Maroon stole the goaltender's pass and sent it to Perry in front of an empty net.
Facing the first significant test in what will be a season full of them as they search for a new identity, the Penguins responded behind their captain.
Crosby finished off a 3-on-2 break by snapping a show low over Gibson's blocker with 2:26 left in the second to put Pittsburgh back in front for good.
NOTES: Johnston is the eighth coach in Pittsburgh history to begin his tenure with a victory. ... Anaheim went 3 for 6 on the power play. The Penguins were 1 for 4 with the man advantage. ... The Penguins plays in Toronto on Saturday night. ... The Ducks continue a season-opening four-game road trip Saturday in Detroit.