Big names highlight field at men's Road to the Roar Pre-Trials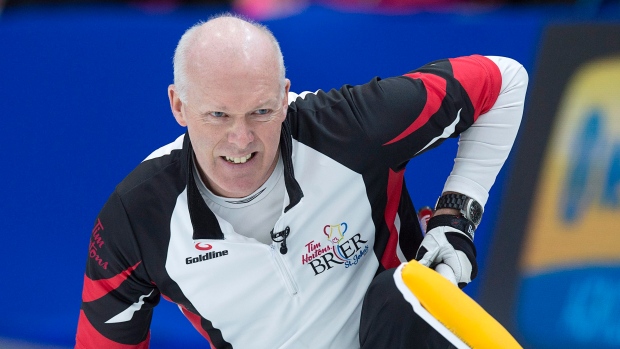 The biggest Canadian curling event on the calendar is still more than a month away, but that doesn't mean there's not plenty of competitive curling on tap before Dec. 2.
The Home Hardware Road to the Roar Pre-Trials takes place next month in Summerside, P.E.I., where the final two spots on both the men's and women's sides for the Tim Hortons Roar of the Rings Canadian Olympic Curling Trials will be determined.
The Canadian trials event, scheduled for Dec. 2-10 in Ottawa, is curling's toughest qualifying tournament, but the event in Summerside won't be a walk in the park either.
Team Brad Jacobs of Sault Ste. Marie, alongside Team John Morris of Vernon, B.C., won the pre-trials in 2013. A few months later, Team Jacobs stood atop the podium in Sochi, Russia, as 2014 Olympic champions.
Will the 2018 men's gold medalists start their journey on Canada's East Coast?
The field is highlighted by the likes of four-time Brier and world champion Glenn Howard, 2013 Roar of the Rings finalist (and 2010 Olympic gold medalist) Morris, two-time Brier champ Pat Simmons, Canadian champ Jean-Michel Ménard and reigning Saskatchewan champion Adam Casey. These are the most notable names competing, but that doesn't mean they are locks to advance to Ottawa.
Other rinks, such as Saskatoon's Team Colton Flasch and Winnipeg's Team Jason Gunnlaugson, are finding success in their first season together. Edmonton's Team Brendan Bottcher, who competed at nationals for the first time last year, could be ready to make the next step in their curling careers as well
All the action gets underway Nov. 6 at Summerside's Credit Union Place.
Take a look below to see all the teams and storylines for the men's side of the pre-trials.
Team Balsdon (Kingston, Ont.)
Skip: Greg Balsdon Third: Don Bowser Second: Jonathan Beuk Lead: Scott Chadwick
- Balsdon is a veteran on the World Curling Tour, appearing in his only Canadian championship in 2014.
- He competed at the 2013 pre-trials in Kitchener, Ont., but was unable to make it to the qualifying round.
Team Bice (Sarnia, Ont.)
Skip: Mark Bice Third: Aaron Squires Second: Tyler Morgan Lead: Steve Bice
- Bice played third for Balsdon at the 2013 pre-trials.
- Third year together as a foursome.
Team Bottcher (Edmonton, Alta.)
Skip: Brendan Bottcher Third: Darren Moulding Second: Brad Thiessen Lead: Karrick Martin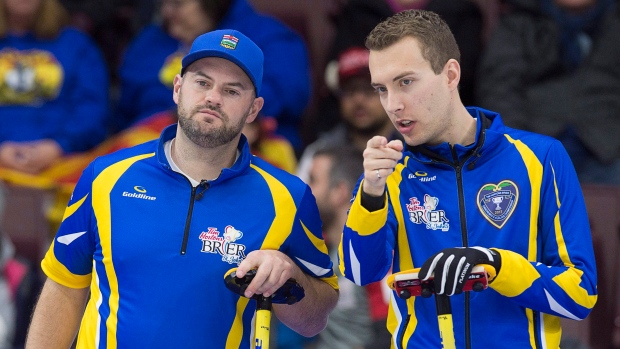 - Competed in their first Brier last season, finishing with a 3-8 record for Team Alberta.
- A young squad who have a real shot at qualifying for Ottawa.
Team Casey (Regina, Sask.)
Skip: Adam Casey Third: Brock Montgomery Second: Shaun Meachem Lead: Dustin Kidby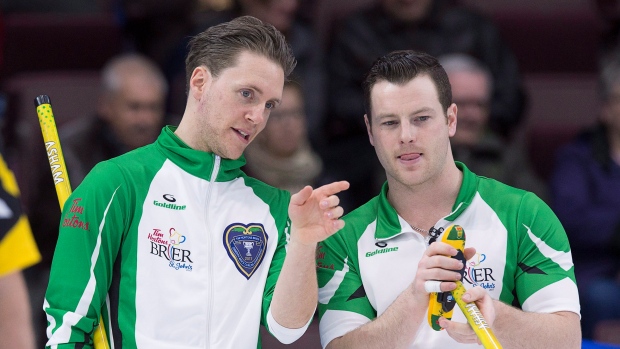 - Casey moved from the East Coast to Saskatchewan last season and upset Team Steve Laycock of Saskatoon in the provincial final.
- Posted a respectable 5-6 record in St. John's at the Tim Hortons Brier.
Team Deruelle (Brampton, Ont.)
Skip: Dayna Deruelle Third: Kevin Flewwelling Second: David Staples Lead: Sean Harrison
- This will likely be the biggest curling event Deruelle, 35, has ever competed in.
- Team Deruelle is playing their third year together.
Team Flasch (Saskatoon, Sask.)
Skip: Colton Flasch Third: Kevin Marsh Second: Dan Marsh Lead: Matt Lang
- This is the first year Flasch, 26, is skipping his own rink after playing second for Laycock for many successful seasons.
- Flasch won his first event as a skip at the College Clean Restoration Curling Classic in early October.
- Flasch, as a member of Team Laycock, made it to the playoffs at the 2013 pre-trials, but fell to Brad Gushue.
- This foursome might surprise some people in Summerside.
Team Gunnlaugson (Winnipeg, Man.)
Skip: Jason Gunnlaugson Third: Alex Forrest Second: Ian McMillan Lead: Connor Njegovan
- Skip Gunnlaugson replaced previous skip Matt Dunstone this season.
- The Winnipeg foursome already have two WCT event wins this season and hold a solid position on the Canadian Team Ranking System.
Team Howard (Etobicoke, Ont.)
Skip: Glenn Howard Third: Adam Spencer Second: David Mathers Lead: Scott Howard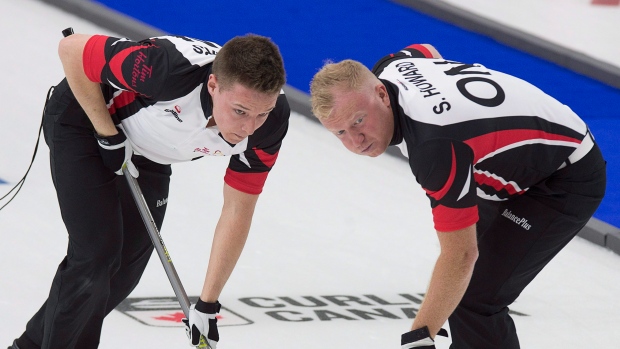 - This may be the last chance for Glenn Howard, 55, to qualify for the Olympic Games.
- At the 2013 Roar of the Rings trials, Howard missed the playoffs with a 2-5 record.
- At the 2005 Canadian trials, Howard just missed the playoff round with a 5-4 record before losing to Team Kevin Martin in the final of the 2009 Olympic trials.
- Howard should be in the mix for the last two trial spots in Prince Edward Island.
- Won the Huron ReproGraphics Oil Heritage Classic in Sarnia this season.
Team Lyburn (Winnipeg, Man.)
Skip: William Lyburn Third: Richie Daneault Second: Jared Kolomaya Lead: Braden Zawada
- Second year together for this rink.
- Victorious at the WCT's Brandon Men's Bonspiel last season.
Team Menard (Saint-Romuald, Que.)
Skip: Jean-Michel Ménard Third: Martin Crête Second: Éric Sylvain Lead: Philippe Ménard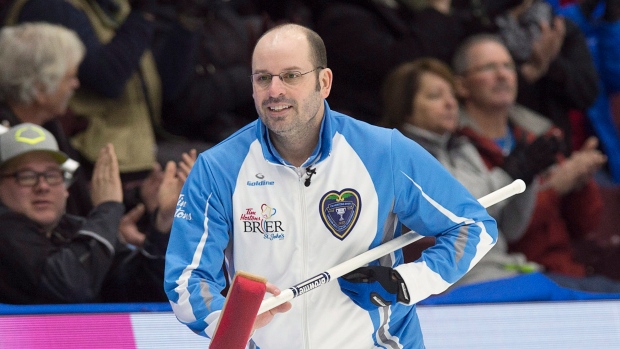 - This veteran squad won the 2006 Brier in Regina and put up a solid 7-4 showing at nationals last year, just missing the playoffs.
- They missed the playoff round at the 2013 Canadian Olympic trials.
- Ménard's crew always seems to be in contention at every big event they play in and Summerside should be no different.
Team Morris (Vernon, B.C.)
Skip: John Morris Third: Jim Cotter Second: Catlin Schneider Lead: Tyrel Griffith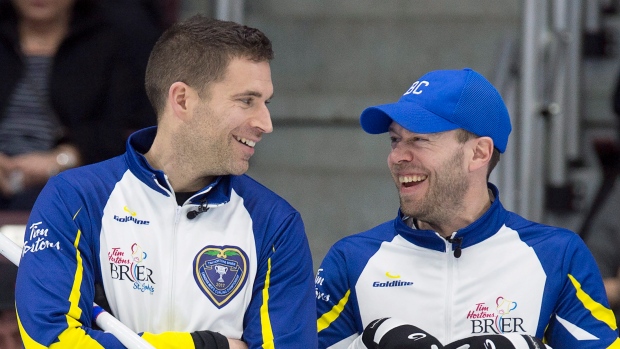 - Team Morris and Team Jacobs were the two rinks who battled through the 2013 Road to the Roar Pre-Trials in Kitchener to qualify for the Olympic trials.
- Team Morris was just one win away from earning the right to represent Canada in Russia, but fell to Team Jacobs in the final.
- Morris re-joined the team last year and will be one of the favourites to move on.
Team Murphy (Halifax, N.S.)
Skip: Jamie Murphy Third: Paul Flemming Second: Scott Saccary Lead: Phil Crowell
- Has appeared in four Briers, finishing with a 4-7 record in 2017.
- Captured one WCT event last season.
Team Simmons (Winnipeg, Man.)
Skip: Pat Simmons Third: Colton Lott Second: Kyle Doering Lead: Rob Gordon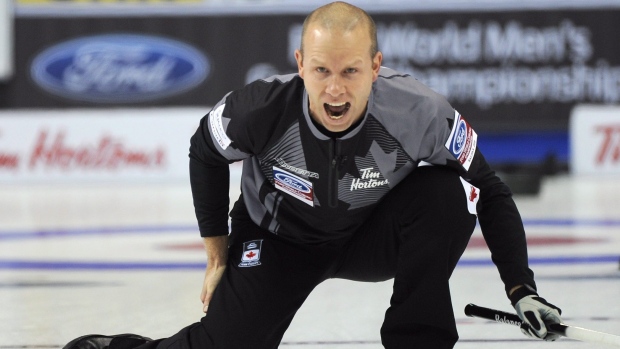 - Two-time Brier champ Pat Simmons is skipping an entirely new – and young – rink out of Winnipeg this season.
- Team has had some early success, but might find it tough to get to the level needed to finish in the top two.
Team Thomas (Edmonton, Alta.)
Skip: Charley Thomas Third: Mick Lizmore Second: Brandon Klassen Lead: D.J. Kidby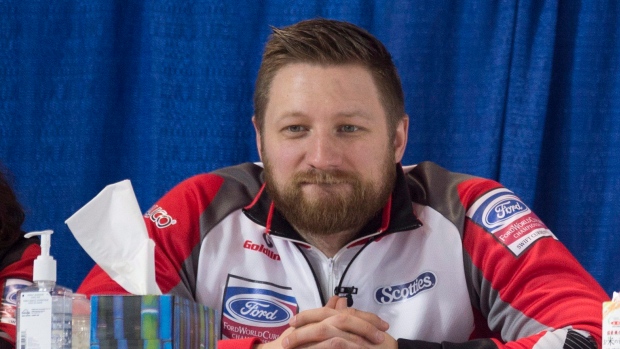 - Despite not winning an event in 2016-17, Team Thomas finished second in three WCT events.
- Could be the dark horse in Summerside.