Cy Young favourites in spotlight as Cardinals face Dodgers in Game 1 of NLDS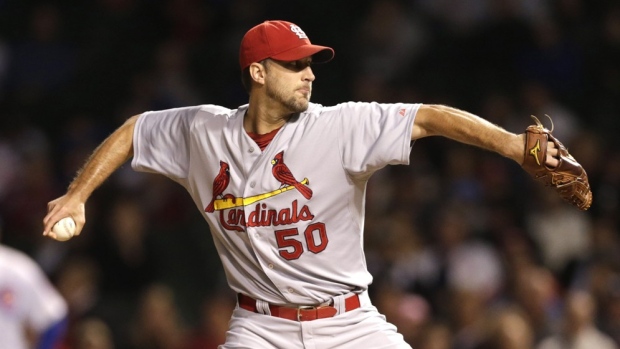 Major League Baseball should be grinning from ear-to-ear for having two of the finest pitchers the National League has to offer squaring off this postseason.
National League Cy Young Award and MVP candidate Clayton Kershaw used his left arm to power the Los Angeles Dodgers back to the playoffs with a remarkable regular season and was one of the hottest topics of discussion every time he took the mound. He won an MLB-best and career high-tying 21 games (21-3), led the majors with a 1.77 earned run average for a fourth straight year and held opposing hitters to a .196 average.
Every five days Kershaw brought his A-game and the NL West-champion Dodgers need that to continue when they clash with the St. Louis Cardinals in the National League Division Series. The Cardinals defeated the Dodgers in six games in last year's NLCS, but lost to the Boston Red Sox in six games in the World Series.
The Cardinals, winners of the Central Division, will roll out an ace of their own in Adam Wainwright. Wainwright won 20 games (20-9) for the second time in his career and was fifth with a 2.38 ERA over 227.0 innings pitched. Opponents batted .222 against Wainwright, who is making sure he handles his own business and is not focused on the matchup with Kershaw in Game One.
"I'm only facing him maybe three times in the game," Wainwright said. "I'm facing those Dodgers hitters. I can't worry about what he's going to do or what his job is on the mound. I have to go out there and get outs. That's what I have to do."
Wainwright was the NL's Pitcher of the Month for September and the Cardinals went 17-9 in that stretch en route to a fourth straight postseason appearance and a second straight division crown. Manager Mike Matheny has been fortunate to have talent around him and always seems to have his players hungry when it's crunch time. With a few hiccups in June and July, the Cardinals put it together over the final two months.
"We've been playing (like it's the) playoffs since August," Cardinals catcher Yadier Molina said on the team's website. "We know what this is about and we're ready for it."
Matt Holliday, Matt Adams and newcomer Jhonny Peralta were the offensive leaders, while Molina and several others played at the steady pace this organization is used to. The Cardinals batted .253 as a team and compiled a .320 on-base percentage.
Los Angeles has a more threatening lineup in this NLDS and was first in OBP (.333), third with a .265 batting average and sixth in runs scored (718).
Dodgers manager Don Mattingly went through peaks and valleys with his lineup, but it finally came together for a second a straight division title. The Dodgers are in the postseason mix for the sixth time since 2004 and took advantage of San Francisco's struggles to reach the top of the NL West.
The Dodgers dragged at times this summer and didn't get rolling until late July. The key was staying healthy and it's a different story this October. Outfielder Matt Kemp is on fire heading into the postseason and is happy to participate after missing out on the events last fall. Shortstop Hanley Ramirez had his usual myriad of injuries, but is ready to go in a rematch with the Cardinals.
"Well, I think you have to look at it like we're a healthier team," Mattingly said. "Last year, we made the playoffs without Matt. Andre (Ethier) was basically, we were trying to nurse him into where he could play. He had that stress fracture and he was trying to play, and then Hanley (Ramirez) gets hit the first game, and it's not the same. We went in a little beat up, and we lose Hanley, and that's three pretty big bats out of your lineup."
Well, the big bats are back and Kemp is at the top. Recently named NL Player of the Month, Kemp completed the season's final month with seven multi-hit performances and reached the 20-homer plateau for the fifth time in his career. He led the majors with nine home runs and tied teammate Adrian Gonzalez with 25 RBI, while also hitting .322 with a .347 OBP and a .700 slugging percentage.
"Awards are always nice, but for me, it's bigger than that," Kemp said. "You don't really play this game for awards. The awards are nice, and you get rewarded for things that you've done. But the main reward is health, and I think at the end, the award that everybody wants is a World Series."
The Cardinals denied the Dodgers of achieving that goal around this time last year and even beat Kershaw twice. Kershaw went 1-0 with a 1.93 ERA in two starts against the Cardinals this season for Los Angeles, which was 4-3 in the season series. LA won three of four at Dodger Stadium in late June.
St. Louis and Los Angeles have met four times in the playoffs (1985, 2004, 2009, 2013) and the Dodgers won only one series, sweeping the Cards in three games in the 2009 Division Series.
Below we take a look at three keys for each team to move on.
ST. LOUIS
1. CARDINALS MUST PRODUCE AGAINST TOUGH PITCHING
The Cardinals didn't produce astronomical numbers over a 162-game schedule and finished tied for 23rd in runs scored with 619. It didn't matter, though, because they were 32-23 in one-run games and won a franchise-best five games this season when registering four hits or fewer. St. Louis had 11 wins with five hits or fewer.
St. Louis scored two runs or fewer seven times in the last 12 games of the regular season. It was outscored, 17-4, in a four-game series at Dodger Stadium from June 26-29, then had a 10-8 advantage in scoring during a three- game series at Busch Stadium from July 18-20.
With a daunting task of facing Kershaw possibly twice and both Zack Greinke and Hyun-Jin Ryu, it's important to get runners on base early because it will be difficult to do when these pitchers settle in. Adams can distribute the power with Peralta and Holliday, while Matt Carpenter leading off has a huge chore. Bringing in Peralta was a wise decision and he enjoyed one if his best years.
The Cardinals rallied when Molina was lost for several weeks with a thumb issue and are glad to have him back working with the pitching staff. His offensive numbers may have dipped, but the Cards are right where they want to be. Maybe the postseason will wake up Molina's bat because he is quite familiar with playoff baseball and what's at stake.
2. ROTATION, BULLPEN SHOULD BE USED WISELY
Matheny doesn't have to do much with Wainwright. It's the other choices with the pitching staff he has to be logical with.
Wainwright has been resting nicely because he was scratched from Sunday's start at Arizona after Pittsburgh lost to Cincinnati earlier in the day. The Pirates' loss sealed the Central for the Cards. Wainwright has won his last five starts with a 1.38 ERA in that time and lost his only start against the Dodgers this season, charged with only a run and five hits in eight innings of a 1-0 loss on June 26 out west.
In 14 career games (11 starts) against LA, Wainwright is 4-5 with a 2.90 ERA. He has made seven career appearances, six of which have been starts, against the Dodgers and is only 1-3 with a 4.30 ERA. The playoffs are a time for the best players to shine and the Cardinals are counting on Wainwright to give them a series advantage even if Kershaw was the best in the Senior Circuit. The one better known as "Waino" is riding a 21-innings scoreless streak.
The Cardinals have Lance Lynn (15-10, 2.74 ERA), Shelby Miller (10-9, 3.74 ERA), John Lackey (3-3, 4.30 ERA) and Michael Wacha (5-6, 3.20 ERA) available to pitch this series and perhaps one or two of them will come out of the bullpen. Lackey was acquired from Boston before the non-waiver trade deadline and showed flashes of brilliance in his time with the Cards. He does have plenty of playoff experience.
Justin Masterson was another arm St. Louis acquired during the summer and the former Indian will most likely be used in relief. Matheny will try to avoid taxing his bullpen and aims to get the most out of his starters. who are good for at least six to seven innings per start. Relievers Seth Maness, Trevor Rosenthal and Pat Neshek all appeared in more than 70 games, with Rosenthal posting a career-high 45 saves. The 45 saves were fourth in the majors for Rosenthal, who gives the Cards a great chance of winning when he throws.
St. Louis posted an MLB-leading 23 shutouts this season.
3. CARDS HAVE TO GET IT TOGETHER ON THE ROAD
St. Louis went 39-42 away from Busch Stadium and have to find a way to win at least once on the west coast.
The Cardinals played 10 road series following All-Star festivities and won just three of them, taking two of three from the Chicago Cubs, three of four against the Milwaukee Brewers and two of three meetings with the Arizona Diamondbacks.
There's no doubt Chavez Ravine is a tough place to play, especially during the playoffs. Dodgers management shelled out a lot of dough for what they have on the field and the club is expected to win in front of the home crowd. But the Cardinals know that in order to move on to another NLCS they have to find the resources to win on the road.
LOS ANGELES
1. DODGERS HAVE MUSCLES TO FLEX IN LINEUP
First, there's Kemp, then Yasiel Puig and Ramirez. Don't forget about Gonzalez, too, in the Dodgers' vaunted lineup that cannot afford to go through a lull this postseason and rely just on Kershaw or any other arm.
The Dodgers hammered St. Louis pitching in a four-game series earlier this summer and enter the playoffs on a roll. They went 17-8 in September and ripped off five straight wins to close the regular season. Los Angeles scored four or more runs 20 times last month and led the majors in OBP for the first time since the club re-located from Brooklyn.
Because of Kemp, Puig, Ramirez and Gonzalez, the Dodgers were on fire in September and ranked among the best in runs scored, hits, home runs, batting average, on-base percentage and slugging percentage. Puig went through some struggles at the plate this season and Mattingly handled the situation well. Gonzalez led the club in home runs (27) and the majors in RBI (116), and is one of LA's biggest acquisitions the past few years.
"We re-energized the franchise with major trades and went hard on free agents, knowing it had a chance to rejuvenate the group and get us back to a good competitive spot," Dodgers general manager Ned Colletti said. "Knowing that player development needs to be the lifeblood of your organization, we were going to try to do two things at the same time -- win and develop."
Other key contributors are the speedy Dee Gordon, who has been cleared to play after a hip injury and led the majors in stolen bases (64), triples (12) and infield hits (62), Carl Crawford, Juan Uribe and Scott Van Slyke.
2. AFTER KERSHAW AND GREINKE, THERE ARE CHOICES TO BE MADE
Everybody knows how awesome Kershaw's season was. The Dodgers are counting on that to continue for the next few weeks from Kershaw. The lefty struck out 239 batters and has reached the 200-K mark in each of the last five years. Kershaw knows he let the Dodgers down in last year's postseason.
Greinke will follow Kershaw in Game Two and went 17-8 with a 2.71 ERA. The 17 wins were a career high for Greinke, who enters the postseason 5-0 in his last eight trips to the mound and a 10-2 mark at home. He has faced St. Louis 14 times (12 starts) in his career and is 9-4 with a 3.17 ERA. Greinke went 1-1 in two starts against the Cardinals this season.
"I've faced them a bunch and I know they're really good, but I haven't seen them the past two months," Greinke said. "I know they've been swinging the bats since the All-Star break really well. The lineup is dangerous."
You would expect Ryu would get the nod for Game Three, but he only appeared in two games last month because of a balky shoulder. He threw a simulated game on Wednesday at Dodger Stadium and is LA's best option after Kershaw and Greinke. Ryu, who also missed time with a glute strain, went 14-7 with a 3.38 ERA in his second Major League season.
Starters Dan Haren and Roberto Hernandez will most likely work out of the bullpen for the Dodgers relief staff that featured five players with more than 60 appearances. Closer Kenley Jansen posted 44 saves in a team high-tying 68 games. J.P. Howell also pitched in 68 games. Brandon League, Jamey Wright and Brian Wilson were the other 60-game contributors.
3. STAY OUT OF THE TRAINER'S ROOM
The Dodgers were hobbled like James Caan in "Misery" last postseason and now are hoping a full deck will lead them to revenge over the Cardinals. Kemp's back swinging for the fences, Gordon's hip is healthy for the top of the order and Ethier doesn't have a balky leg to nurse.
And as long as Ramirez doesn't get hit by a pitch like he did last postseason and continued contributions from Crawford and others, the Dodgers will be playing deep into October.
"I don't know about preparation, but we're better," Gonzalez said. "Kemp's in the lineup, Carl's in, we've got our whole outfield healthy, we've got Hanley healthy. We basically have our whole team healthy, and it looks like we'll be able to pitch. I think going into it healthy is a big factor."