Damage Control: Subban, Therrien, Pacioretty speak
P.K. Subban, Michel Therrien and captain Max Pacioretty spoke to reporters on Friday, addressing speculation of a rift between the star defenceman, head coach and his teammates as well as rampant trade speculation.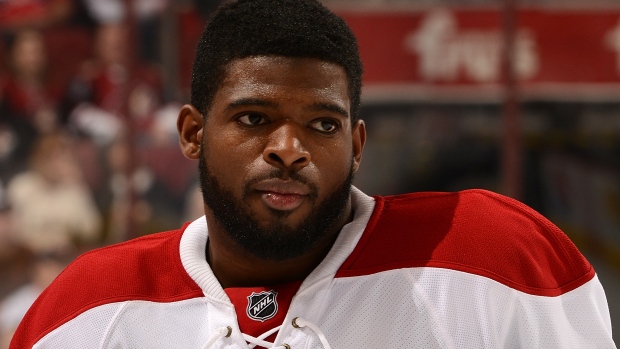 P.K. Subban wants to remain a Montreal Canadien for life.
The Habs' superstar defenceman spoke to reporters at the team's practice facility in Brossard ahead of Friday night's game against the Flyers, addressing speculation of a rift with head coach Michel Therrien and his teammates and trade speculation.
"I think I'm part of the answer, not the problem," Subban told reporters after practice, adding that he wants to remain a Canadien for the rest of his contract and for his career. "I told (former Canadiens GM) Bob Gainey when I was drafted I would do everything in my power to help the Habs win the cup.
"That's never changed."
Debate raged across Montreal and the hockey world on Thursday whether Therrien should be let go after pinning the blame for his club's latest defeat - a 3-2 loss in Colorado - on a third period mistake by Subban.
"The team worked hard. We deserved a better result," Therrien said after the game. "It's too bad an individual mistake cost us the game late in the game.
"We believe that, as a coach, he (Subban) could have made a better decision at the blue line. He put himself in a tough position. We play as a team. When we don't we could be in trouble and this is what happened."
Captain Max Pacioretty was quick to take some of that heat off his teammate on Friday. "Michel knows P.K. can take it," he explained to reporters, adding he was also responsible for the play which led to the Avs' game-winning goal.
Head coach Michel Therrien also threw cold water on any speculation of a rift with his star player, saying he has a "very good relationship" with Subban. "I would've said that about any player making that play at that time of the game," he explained on Friday. "We're very aware we have an exceptional athelete.
"We're happy to have him. It's our job to continue working with him."
General manager Marc Bergevin already said last month that Therrien will at least finish the season in Montreal, despite calls for his dismissal among fans and local media.
Subban, who leads Montreal with 44 points and has 18 points in 21 games since Jan. 1, is in the second year of an eight-year, $72 million contract with a no-trade clause that kicks in on July 1.