DeRozan, Lowry overcome slow start to lead Raptors past T-Wolves
DeMar DeRozan and Kyle Lowry overcame early shooting problems to lead the Toronto Raptors past the Minnesota Timberwolves 109-104 on Tuesday.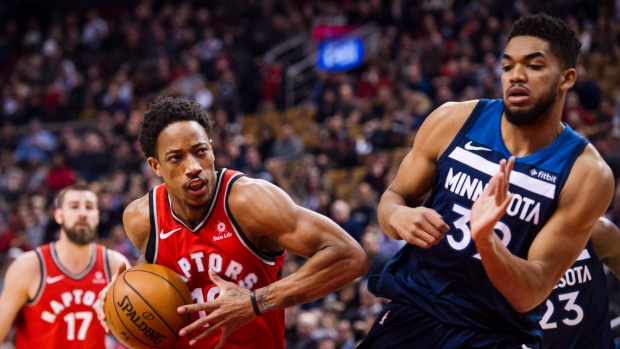 TORONTO — If Fred VanVleet was tired after the birth of his daughter Sanaa Marie, it didn't show.
Arriving at Air Canada Centre an hour before tipoff and on a few hours of sleep, VanVleet had 10 points in 21:19 of play as the Toronto Raptors rallied to a 109-104 win over the Minnesota Timberwolves on Tuesday.
VanVleet was especially big in the fourth quarter, turning Minnesota's defence inside out on an assist to DeMar DeRozan and boxing out Timberwolves centre Karl-Anthony Towns — who is nearly a foot taller than him — on one of the final possessions of the game.
"I'm only taking questions addressed to me as 'dad.' Y'all have to talk to me different now," said VanVleet. "People who have kids or who have gone through the process of having kids, they know. They know. It all just blends together as one big day."
DeRozan finished with 23 points and eight assists and Kyle Lowry scored 15 with nine assists as Toronto (34-15) rallied to a win. Centre Jonas Valanciunas had a double-double with 18 points and 11 rebounds. CJ Miles, typically the Raptors' best player off the bench, missed the game with soreness in his right knee.
Jimmy Butler led Minnesota (32-22) with 25 points, five rebounds and six assists. Canadian Andrew Wiggins scored 15 with eight rebounds as the Timberwolves lost their 14th straight game at Air Canada Centre.
It looked like Minnesota would snap that skid, leading 27-19 after the first quarter, then 57-51 at halftime.
"In the first half we were soft as tissue," said Raptors head coach Dwane Casey. "We really didn't have a physicality, wasn't into who we were guarding.
"We were kind of watching and guys were sashaying in and laying the ball up and there was no resistance at the rim."
An honest chat in Toronto's locker-room during the intermission helped them toughen up.
"We got together as a team and we just felt like we could do a little bit more," said VanVleet. "We had some good conversations about things we could sharpen up but overall about better effort, more fight, more hustle in the second half and close this team out."
Norman Powell picked Wiggins's pocket and had a breakaway jam to open the fourth and tie the game 80-80. After back-to-back field goals, Pascal Siakam's free throw gave the Raptors an 83-82 lead, their first since the opening quarter.
A pair of free throws from Delon Wright and a putback dunk by Jakob Poeltl made it 87-84, then a three-pointer by Powell added to Toronto's lead and forced another timeout. Poeltl tipped in another basket when play resumed, but a free throw by Tyus Jones made it 92-85, followed but a short jumpshot by Taj Gibson.
On the next Minnesota possession, Lowry was charged with a three-point foul on Butler. The sell-out crowd of 19,800 chanted "Ref you suck!" and boos rained down on the court as Butler made two-of-three free throws.
Valanciunas made a jumpshot and Toronto stopped Minnesota at the other end to keep building its lead. As the Raptors pushed their advantage, the game became more physical, with DeRozan getting fouled for two free throws. Towns dunked but VanVleet made a circus layup and drew a foul to get an extra point and a 99-91 lead with 4:05 left to go.
"Congratulations to him on the birth of his baby girl," said DeRozan. "I think when you're in moments like that, it doesn't really matter what kind of sleep you get. You're just kind of playing on a high after welcoming a human being into the world."
Jeff Teague drilled a three-pointer on the next play, with Serge Ibaka replying with a hook shot. DeRozan again went to the line, making two free throws to chants of "M-V-P!". Gibson made a jump shot and the Raptors couldn't score on the ensuing possession, with Towns dunking to cut the Raptors' lead to five.
Towns made an impressive no-look pass to a wide-open Wiggins, who sank a three-pointer to make it 103-101 with 1:01 left to play. VanVleet drove to the net but passed out to DeRozan who sank a nine-foot jumpshot. Wiggins missed his 26-foot shot and Ibaka grabbed the rebound, with Butler fouling DeRozan.
The Raptors all-star made both of his free throws and Valanciunas grabbed the rebound on Minnesota's next possession, sinking both of his free throws when he was immediately fouled. Butler made a three-pointer in the final play of the game but it was too late.
___
Follow @jchidleyhill on Twitter