DeRozan's bond with Toronto runs much deeper than basketball
TSN's Josh Lewenberg looks at the deep connection the former Raptors star built with Toronto ahead of his much-anticipated, bittersweet return to the city he loves with the San Antonio Spurs on Friday.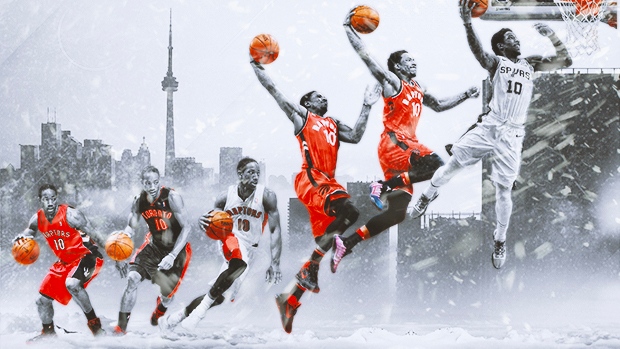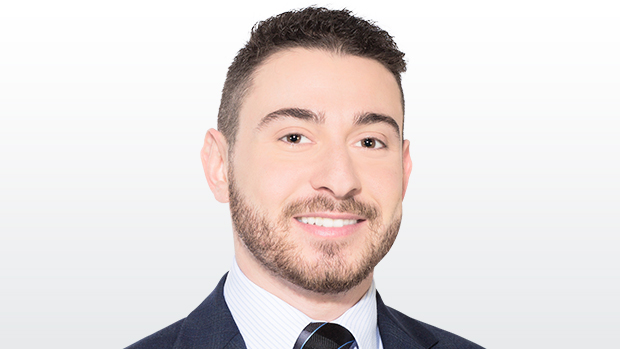 "My whole mindset has always been Toronto since I've been here. My goal when I first got here was to make this whole city and this whole country be known. It's like we always got the short end of the stick. I always took pride and passion in wanting to change that. And for me to be a part of this whole thing and see it all translate to where it is now… Looking at myself growing, looking at my family grow, for us to get to a point to where we're at now, it makes me even hungrier to keep going. That was my whole mindset of [not meeting with other teams], because I put my blood, sweat and tears in this organization and I wasn't done yet. I'm far from done. Even to this day I feel like I haven't accomplished what I want to accomplish yet. That's just the hunger in me, man... I am Toronto. Outside of where I'm from, I represent this thing harder than anybody."
- DeMar DeRozan, July 14, 2016.
It was summertime in Toronto and it sure felt like it. The summer of 2016 was the city's hottest on record and July 14 was no exception.
Fortunately, the air conditioning was on full blast inside Real Sports Bar & Grill – located across from Scotiabank Arena, formerly known as the Air Canada Centre – where the Toronto Raptors hosted a late-morning press conference.
Like the weather, the Raptors had never been hotter. Just a couple months removed from the deepest playoff run in team history – a trip to the Eastern Conference Finals – they were about to officially announce one of the NBA's worst-kept secrets: the return of their franchise player.
DeMar DeRozan had agreed to his new deal two weeks earlier, shortly after the clock struck midnight on July 1 and free agency opened. DeRozan declined to even meet with other teams. It was a quick and easy decision for the Compton, Calif., native, who called Toronto his second home.
He and the city had been through a lot together. There was a mutual affection, the type of unique connection that's become increasingly rare in professional sports – particularly in the NBA, where there's been a notable increase in player movement over the last decade. That's what made the day a special one for DeRozan and his many fans in the city.
He could have made more money signing elsewhere or gone to play for his hometown Los Angeles Lakers, but in his mind there was never any doubt where he wanted to spend the next five years, or even the duration of his career.
To understand why, you have to first understand DeRozan.
----
It wasn't exactly love at first sight, for DeRozan or for the city.
The Raptors selected the 6-foot-7 shooting guard with the ninth-overall pick in the 2009 draft. DeRozan was elated to be drafted, but what did he know about Toronto?
"Everything I knew [about the city] came from basketball," he told TSN in a phone interview earlier this month.
As an 11-year-old growing up in California, DeRozan remembers waking up early to watch Vince Carter and the Raptors play Sunday afternoon games on NBC. All those years later, as a young adult coming to play in Toronto, when he thought about the city or the country of Canada he would think of Carter and the Raptors.
He wasn't well-travelled at this point in his life and didn't even have a passport. That first year was a big adjustment for him. He was a teenager, a 19-year-old away from home for the first time and living in an unfamiliar country.
"I wasn't used to being away from home," he said. "Leaving college, where I was home, to all of sudden being in another country on the other side of the [continent] and in a different time zone, I never expected that."
Still, DeRozan remembers going into it with an open mind. Toronto drafted him and gave him a chance, so the least he could do was return the favour. He has always valued loyalty – the word is literally tattooed on his left hand.
DeRozan is a homebody by nature. He didn't get out much during his rookie season. A self-proclaimed loner at USC, he was a fish out of water in the NBA spotlight. He was shy, polite and respectful, but very quiet.
He spent most of his time in the gym, where he always felt most comfortable. He was one of the first players in the team's practice gym every morning, along with sophomore Sonny Weems and all-star Chris Bosh. Bosh was one of the first guys to make an impression on him as a young player in the league, both on and off the court.
"We would have signing sessions so that you can give donations to the community in various ways," said Kristina Flynn, manager of community and player engagement for MLSE from 2008-2012. "[DeRozan] came out after practice and looked at this table of items that he needed to sign – hundreds and hundreds and hundreds of items. The only person that had more than him was [Bosh]. So DeMar came out with just this look of shock on his face. I remember Chris looking at him immediately and saying, 'With great power comes great responsibility.' There was kind of this look that came over DeMar's face and he was like, 'All right, let's do this, let's get to it.' "
Flynn recalls sitting down with DeRozan early in his first year and asking him what he cared about and what was important to him. She talked to him about the opportunity in front of him and asked what he was hoping to get out of it.
"He made it his priority to say, 'I want to make sure that I'm known not only for what I'm doing on the court, [but also] for what I'm able to bring to the city with the platform that I have,' " Flynn said. "And that was something he was doing from the very beginning."
One of the first causes DeRozan got involved with was a small books and basketball program that was located in North Toronto. It would eventually become DeMar's Slam Dunk Book Club, an initiative aimed at promoting literacy in schools. DeRozan was excited about the idea of making an impact in the community by combining his passion for sports and education.
"Every year, we would take a couple of trips up to the program itself," Flynn said. "He would go visit. He would chat with [the kids] and he would talk about his experience in school. Sometimes these appearances are an hour and it's one and done, depending on who they're with. But with [DeRozan] I would go up to him and say, 'All right, it's time [to go], I don't want to keep you too much longer. You've got other commitments,' and he was always just like, 'I'm good, I'm going to stay for a little bit longer. I really want to spend my time.' He would always refer to them as his kids, his program. He took a lot of ownership with that and a lot of pride."
A few months after DeRozan's first NBA season came to an unsatisfying end – the Raptors narrowly missed the playoffs – Bosh left to join forces with LeBron James and Dwyane Wade in Miami. Before the signing even became official, DeRozan tweeted "Don't worry, I got us…" That post was pinned atop DeRozan's Twitter profile up until last summer.
DeRozan hadn't even turned 20 and was far from a polished NBA player, but the Raptors were becoming his team. Despite his soft-spoken nature, he never shied away from the responsibilities of being a leader. Those first few seasons were bumpy, though. The team was losing, DeRozan was looking like an inefficient and one-dimensional player and the fans were skeptical.
"I'll be upfront. Early in his career I was one of the DeMar doubters, DeMar DeDoubters if you want to call it that, and I'm sure there were others. I know there were others," said J.E. Skeets, co-host of The Starters on NBA TV, who is also a Toronto native and unabashed Raptors fan.
"You saw holes in his game and it worried you as a fan… I definitely doubted him. I counted him out at times but he would prove me wrong and he would shut me up. I'd have to eat crow because it's like, look, the guy is getting better and better. He is a gym rat, he puts in the work and he wants to be the best he can be. He just sorta seemed human in that way. He's talented, he's unbelievable, he's one of the best basketball players in the world, but he had faults, like all of us, and he worked on them and tried to become better at them."
----
DeRozan did get better each year and he also got more comfortable with his surroundings.
The turning point, in his mind, was the lockout-shortened 2011-12 season, his third year in the NBA. It was the fall and he was at home in Los Angeles waiting for labour peace and wanting to get back to work. A few months went by and he started thinking, 'I miss playing games. I miss my team,' and then 'I miss Toronto.'
"I started looking at things differently," DeRozan recalled.
It was also Dwane Casey's first season coaching the team. Casey had been hired in late June and DeRozan was the only player still in town to attend his press conference.
"I sensed right then that he was in love with Toronto," said Casey. "He talked about it a lot – how he loved the country, how he loved the city. It was home to him."
At the time, Casey and DeRozan – and their families – were neighbours. Both of them lived in Maple Leaf Square, a rapidly developing residential, office, retail and entertainment complex across from the arena. Real Sports hadn't even opened yet.
"I was there for so long that I saw so many new things built, a lot of things come about," DeRozan said. "So for me to be able to witness that and grow with Toronto and Canada in general, seeing different cultures in one country, for me that was something that was remarkable."
Just as DeRozan was warming up to the city, the city and the fans were also coming around to him. He was still quiet, but with age and experience he was finally starting to come out of his shell. Fans got to know him, not just as a player but also as a person.
DeRozan became an ambassador for Lupus Canada – a cause near and dear to his heart. His mother, Diane, has been living with the autoimmune disease since he was young. In addition to caring for her, DeRozan set out to raise awareness and help others suffering from the disease. Even though he's no longer in Toronto, DeRozan's support of Lupus Canada continues to this day.
"It's been enormous that he's helped," said Leanne Mielczarek, executive director of Lupus Canada. "Because of his persona and his following he's getting us that awareness that would be very difficult for us to get otherwise. Having someone as special as DeMar willing to speak about Lupus Canada and help us create the awareness through his social media channels has been just fantastic for us."
----
On Oct. 31, 2012, then general manager Bryan Colangelo – who had drafted DeRozan three years earlier – signed him to his first big contract extension, a four-year $38 million deal.
"I really knew [he had something special in Toronto] after he finished his rookie deal," said Ed Davis, DeRozan's Raptors teammate from 2010-2013 and the godfather of his oldest daughter, Diar.
"He was going to free agency and I was telling him, 'Man, take a meeting with this team. Take a meeting with this team. Just do it for me, man. Just please do it.' And he wouldn't do it. So that's when I knew that he was 100 per cent dedicated to this city. That's all he knew. This is where he wanted to finish his career."
The deal was widely believed to be an overpay at the time, but true to form, DeRozan would soon make his critics eat their words.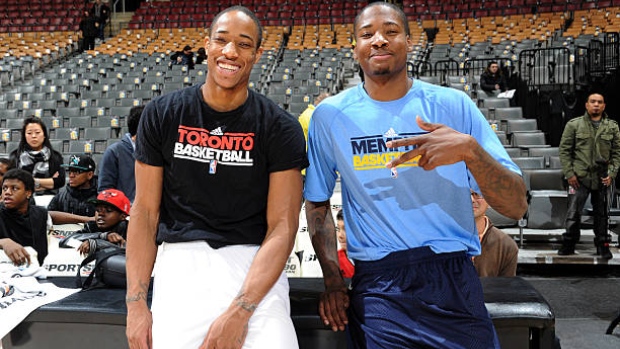 The following year was a monumental one, for both the franchise and DeRozan. After Toronto missed the playoffs in five straight seasons, including DeRozan's first four in the NBA, Colangelo was out. Masai Ujiri was in, and Rudy Gay – who was acquired for Davis a year earlier – was traded, inadvertently clearing a path for DeRozan and Kyle Lowry to take on bigger roles. The duo would end up taking the Raptors to new heights.
DeRozan blossomed into a perennial all-star. He expanded his game and came back a better player each season. Now, he wasn't just the face of any team, he was the face of a playoff team and one of the best squads in the Eastern Conference.
All the work he had put in and his continued commitment to the team and the city was finally paying off. Even during those rough early years, DeRozan never lost hope. He always remembered what it was like to be accepted by the city and how badly he wanted to be the one to lead its resurgence.
"I mean the fans were always everything," DeRozan said. "Seeing belief in fans at a young time gave me a sense of hope that if things turn around it could really be something amazing. That's what made me buy in. I knew that if we started to win a little more, people were really going to see how great the fans are and how great the culture this is. You started to see that slowly but surely, slowly but surely, and next thing you know we're winning, we're in the playoffs. I'm playing in an All-Star Game in Toronto."
DeRozan became further entrenched in the city. Eventually he would buy two houses in the Greater Toronto Area, one for him and his family (then fiancé Kiara Morrison and their two daughters, Diar and Mari) in Mississauga, Ont., and another for his parents.
"That meant he put down his roots," Casey said. "So he was bought in. Even with his pocket book, he was bought in."
"I get around the city a lot and I would see him often," said Toronto Mayor John Tory. "I would see him at the [Toronto International Film Festival], I'd see him at events in city that he didn't have to go to but he went because he felt part of the fabric of the city.
"He went the extra mile for the community, which he didn't have to do. These are really well-to-do, successful people who half the time don't want to be in the spotlight because they're kind of tired of people lining up and asking for their autograph. So they often just go off and party and stay home, and there's nothing wrong with that, but this is a guy who spent a lot of his time giving back to the community and that made him somebody that was very special to the fans."
----
In February of 2018, DeRozan tweeted song lyrics that referenced depression and soon opened up to veteran Toronto Star beat writer Doug Smith about his battle with the condition.
"It's one of them things that no matter how indestructible we look like we are, we're all human at the end of the day," he told Smith.
DeRozan was one of the first NBA players to speak openly about his struggle with mental health and in doing so empowered people both in and outside of sports, even opening the door for others to do the same. A couple weeks later, Cleveland Cavaliers forward Kevin Love wrote about his battle with anxiety in a personal essay and credited DeRozan for helping to create "a better environment for talking about mental health."
"Just by sharing what he shared," Love wrote in The Players' Tribune. "DeMar probably helped some people – and maybe a lot more people than we know – feel like they aren't crazy or weird to be struggling with depression."
The following month, a group of Toronto fans started a campaign called Project Don't Worry We Got You, a play on DeRozan's memorable tweet from early in his career. The fans put together a book filled with messages from people around the city who were moved by DeRozan's words or simply wanted to support their favourite player. They also raised money for his charity of choice, Lupus Canada.
If there was ever any doubt how much DeRozan meant to the people of Toronto, that very personal gesture was all the proof he needed. It helped the 28-year-old get through a difficult time in his life.
----
By the time DeRozan hit unrestricted free agency for the first time in the summer of 2016, he was all too familiar with what it meant to be a long-time Raptors fan and the angst that went along with it.
Damon Stoudamire, the franchise's first star, forced his way out of town. Tracy McGrady left. Carter engineered his own exit. He watched Bosh walk out the door. Locally and throughout the league, the belief was that star players didn't want to be in Toronto. DeRozan knew that and desperately wanted to change it.
"I always looked at it like I had to be the one to do it," DeRozan said. "I just tried to change that narrative. That was always my mindset and I think that was obvious from everything and every approach that I took when it came to being there, playing for that team, playing for that organization. You can't tell me [that anybody] before me or after me stood [for] that like I did."
Despite speculation that he would go home to take the torch from his idol Kobe Bryant and play for the Lakers, DeRozan re-signed with the Raptors. By declining to take meetings with other teams he sent a message to the city, its fans and the rest of the NBA – one he would articulate perfectly using three words on that morning in mid-July.
"I am Toronto."
For all the memorable moments that DeRozan produced on the court during his tenure, his many highlights, this was his most iconic moment off of it. DeRozan insists it wasn't scripted or rehearsed. After everything he and the city had been through together, he just spoke from the heart.
"I didn't have a speech or nothing prepared, it just came out natural," said DeRozan, with discernible emotion in his voice as he looked back at that press conference. "I grew there from a 19-year-old kid to what I am today. I didn't come to Toronto as a mature individual, as a father, as a headstrong person. I was frail and flawed in so many aspects of my life and to be able to build and become a strong individual, I have to credit that to my time being in Toronto because that's where it all came from. My ups, my downs, my fails, my successes all helped me grow into the person that I am. And I think that's what made that statement come out. I had to give that credit where that credit was due."
"I thought it was a beautiful moment," Casey said. "With DeMar it's one of those things that is pure. It's not lip service. He meant it. That's one young man that I loved coaching just because he played with a pure heart. So when he said he loved the city, he loved the fans, it wasn't for agitation or for recognition. It was for real."
----
On July 18, 2018 – 25 months later – DeRozan was traded to the San Antonio Spurs with centre Jakob Poeltl and a first-round pick for forward Kawhi Leonard and guard Danny Green.
From a basketball standpoint, the deal made perfect sense. The Raptors had fallen short of expectations, getting swept out of the second round of the playoffs by the Cleveland Cavaliers in back-to-backs seasons. Ujiri felt that the team, as constructed, had plateaued. He wanted to try something new and believed that trading for Leonard – a disgruntled superstar coming off a serious injury – was a risk worth taking.
Players like Leonard – a MVP-calibre talent when healthy – rarely become available. When one does and your team trades for him, it should be cause for universal celebration. But this wasn't. For many Toronto fans, this went beyond basketball.
"It was basically like losing a friend," Skeets said.
"That day was a shock for the fans," said Nav Bhatia, best known as the Raptors Superfan. "We loved this kid, who had grown up with us. He grew in front of all our eyes as a player and also as a human being. He loved Toronto and I think we, the fans, we fell in love with him because we could see the humbleness and the loyalty in his actions."
DeRozan was crushed. It took him months to come to terms with the fact that he would have to move, leaving the city and fans he had come to love to start over from scratch someplace else.
It's part of the business, now more than ever. The days of stars like Dirk Nowitzki, Kobe Bryant or Tim Duncan playing their entire career in one uniform appear to be over. There's so much player movement in today's NBA that we've almost become desensitized to it.
Does loyalty even exist in professional sports? Maybe, maybe not, but it meant something to DeRozan, which separated him from the pack and endeared him to his first NBA home. He won't spend the rest of his career in Toronto, as he had hoped, but that doesn't change what he's meant to the city and what the city means to him.
Players come and go, and will continue to come and go, but DeRozan was something different. He was genuine. He was real. He was human. He was an open book. He allowed himself to be vulnerable. He was flawed, but he owned those flaws and always worked to better himself.
"He may not be a Canadian-born person but he has a personality like a Canadian," Mayor Tory said. "He's a quiet-spoken person that just quietly goes about his business, and his business includes caring for other people besides himself. A lot of athletes and movie stars care about themselves first, and I'm not saying that's wrong necessarily, but they have a narrow focus. Whereas he had this broader focus that cared about a lot of other people and he didn't do it in a showy kind of way. I think that that's often how Canadians and Torontonians consider themselves and I think it meant that a lot of people saw that other side of him and they really liked it."
----
In nine seasons with the Raptors, DeRozan made four All-Star Games and earned All-NBA honours twice. He's the franchise's all-time leader in points (13,296), field goals (4,716), free throws (3,539), games (675) and wins (353).
The team made the playoffs as many times with DeRozan (five times) as they did prior to his tenure. Four of the franchise's five postseason series wins came with him in a Raptors uniform.
Before the DeRozan era, every star who returned to Toronto with their new team was booed, some of them unmercifully. Since then, fans have forgiven and even honoured those former Raptors – most notably Carter – and welcomed back other players and coaches with rousing ovations.
Why the change of heart? The most obvious difference is the team's success. There's a lot more to cheer about these days. What it means to be a Raptors fan has changed, and that doesn't happen without No. 10.
"He did everything he could to tie himself to the city and the country," Casey said. "I'm sure it was hard. I understand the business of basketball but he was one of the few guys, the stars there, that had a chance to leave and didn't. I think that's something that you commend him for. And to get the program to where it is now, everybody wants to take credit for it, but I would say DeMar DeRozan had as much to do with it as anybody."
With the Spurs in town Friday, DeRozan will make his much-anticipated return to Toronto. The Raptors are planning to honour him with a video tribute during a timeout, or perhaps even before the game, and there's little doubt how it'll be received.
"It's going to be massive," Skeets said. "People are going to welcome DeMar back with open arms. I would expect one of the bigger standing ovations that we've seen from Raptors fans for a returning player, without a doubt in my mind."
"It's going to be really emotional," Bhatia said. "I believe the fans, we the Toronto fans, we're very classy and we're going to give him a lot of love. I hope that we give him a standing ovation for the longest time and in the best way we have ever done for anybody, because he deserves it."
It won't just be an emotional night for the fans.
DeRozan has had this game in the back of his mind all season, but he's tried not to think about it. Over the last week or so the 29-year-old has started to wonder what it might be like, but he's pretty sure that whatever he's imagining won't do it justice.
Most players put on their best poker face in these situations and pretend like it's just another game, but DeRozan has never been like most players.
Friday will be a bittersweet day for the former Raptor, and he knows it.
"I think it'll definitely be one for the ages," DeRozan said. "It's something where you think you've experienced everything, but that will be an interesting moment."