Despite falls, Osmond wins women's title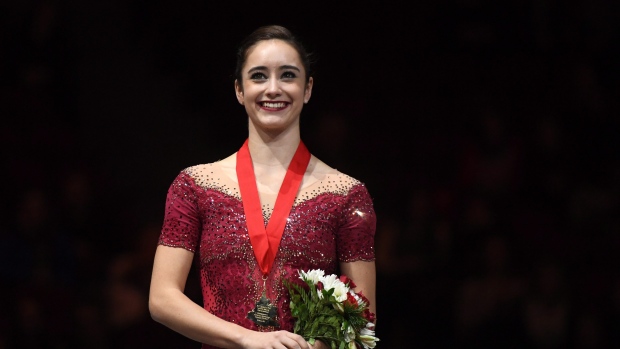 Kaetlyn Osmond, a 21-year-old from Marystown, N.L., won the women's singles gold medal despite two falls.
Gabrielle Daleman of Newmarket, Ont., was second with 211.09, while last year's champion Alaine Chartrand of Prescott, Ont., who sprained her right ankle in practice earlier in the week, scored 182.07 for third.
Osmond, meanwhile, was disappointed with her two falls, but thrilled to be back on top of the podium. She drew motivation from last year's nationals where a rocky long program put her third and left her off the team for the world championships in Boston.
"It's definitely led to something," she said. "It's definitely gotten me to train a lot harder in my off-season and be really motivated for my competitions this season. I think last nationals was the last little kick that I needed, because coming back to practice right after that I felt completely rejuvenated, completely ready to buckle down and do everything that I had to do."
Chartrand, meanwhile, had trouble holding back tears after finishing third. The 20-year-old's ankle buckled under her on a Lutz jump in Monday's practice.
"I started my week with a sprained ankle. I didn't know if I'd be able to compete at all," said Chartrand, who competed with her right ankle wrapped. "As much as I'm disappointed with my free program today, I'm proud of my fight and just being here."
Canada has just two spots available in women's and men's singles for the world