Devils select Hischier first overall at NHL Draft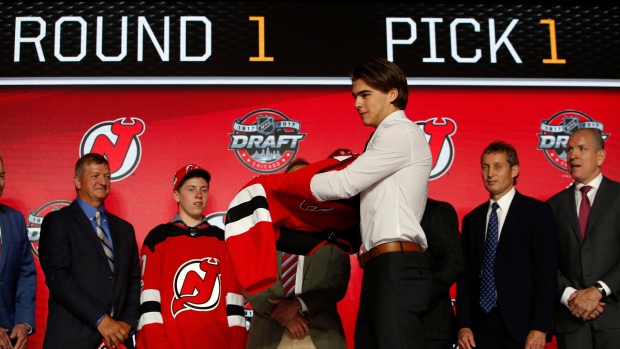 CHICAGO — Nico over Nolan.
The New Jersey Devils ended the long simmering debate on Friday night, making Nico Hischier the first No. 1 overall pick in franchise history. The so-called "Swiss McDavid" got the nod over Nolan Patrick, the Brandon Wheat Kings centre who was long projected to go first in a draft lacking the slam-dunk star of recent years.
"There are no words to describe this feeling," said Hischier, giddy after becoming the highest-drafted Swiss player in NHL history.
An electric centre with game-breaking speed, Hischier rose into top spot with an emphatic first season in the Quebec Major Junior League, piling up 38 goals and 86 points in 57 games as a rookie for the Halifax Mooseheads. The 18-year-old made maybe his biggest impression at the world junior championships this past winter with four goals and seven points in five games for Switzerland.
He should — alongside Taylor Hall — help jump-start a Devils offence that ranked third-last in the NHL last season.
Devils general manager Ray Shero said the club nailed down their choice for the top pick in the last week to 10 days. It came down to Hischier's "ability to make other players better.
"At the end for us we felt that's the best pick for our franchise and honestly, thrilled to have him," said Shero, who travelled to Switzerland ahead of the draft for a five-hour lunch with the young prospect.
Patrick didn't drop much — ending up in the second spot after being taken by the Philadelphia Flyers. He should line up as the second centre behind captain Claude Giroux.
"I think me and Nico are completely different players," said Patrick, coming off an injury-plagued draft year in Brandon.
"I think he might be a little more offensively dynamic than me and I think I might be a little more defensive than him. I think we're just completely different players. So they wanted him. It's not like I'm sitting here mad wishing I went to Jersey. They didn't want me so it doesn't matter too much to me."
Patrick might very well have been the first pick had injuries not limited him to just 33 regular season games.
Patrick, a Winnipeg native, was superb two seasons ago with 41 goals and 102 points in 72 games for Brandon before adding the Western Hockey League's playoff MVP. He still finished 10th in the WHL with 1.39 points per-game this past season and was dubbed the Canadian Hockey League's top NHL draft prospect.
His father, Steve, and uncle, James, both played in the NHL — the latter for almost 1,300 games with the New York Rangers.
Patrick is hopeful to play for the Flyers as soon as next season.
The Dallas Stars went with Finnish defenceman Miko Heiskanen in the third spot and he was followed by Calgary native Cale Makar to Colorado fourth overall. Maker, a defenceman who models his game after Ottawa Senators captain Erik Karlsson, became the highest player ever drafted from the Alberta Junior Hockey League — surpassing Joe Colborne who went 16th to Boston in 2008.
The Vancouver Canucks, meanwhile, got the playmaking centre they were looking in Swedish pivot Elias Pettersson. Listed at only 165 pounds, Pettersson thought he needed to get a lot bigger before he could make the jump to the NHL.
"I feel at five we're getting a real good player," Canucks GM Jim Benning said before the draft. "The player we take at five, we're going to have to be patient with him because he's going to need a couple years of development to get stronger and stuff, but I feel over the course of time that player we take at five has a chance to be as good as any player in the draft."
Following him, the Vegas Golden Knights made Cody Glass their first-ever draft pick at No. 6. A speedy centre who compares his game to Winnipeg Jets star Mark Scheifele, Glass posted 32 goals and 94 points in 69 games last year for the Portland Winter Hawks.
He's been to Vegas before too — for a minor hockey tournament of all things when he was only 10. His team finished second in the tourney, but Glass recalled an enjoyable experience walking down the Vegas Strip.
"I didn't really see that as a hockey place when I went there," he said, changing his mind when he saw the fan support the Knights had already attracted.
Vegas added Owen Sound centre Nick Suzuki with the 13th overall pick and defenceman Erik Brannstrom two picks later.
The Knights have been the busiest team in hockey, having made 30 selections and 10 trades at the first NHL expansion draft since 2000 earlier in the week.
It was the presence of the league's 31st team, the absence of generational stars like Connor McDavid or Auston Matthews and a flurry of trades which helped keep the draft firmly in the NHL background.
Even the host city made noise — both in the NHL and NBA.
A day after the Chicago Bulls dealt franchise cornerstone Jimmy Butler to Minnesota, the Blackhawks parted with 2016 Calder Trophy winner Artemi Panarin in a swap that returned two-time Stanley Cup winner Brandon Saad. Other Friday trades saw Derek Stepan and Antti Raanta sent to Arizona for the seventh-overall pick.
Jordan Eberle was dealt from Edmonton a day earlier.
The Calgary Flames took Finnish defender Juuso Valimaki with the 16th pick and were followed by the Toronto Maple Leafs adding a defenceman of their own in Timothy Liljegren at No. 17.
The Edmonton Oilers selected forward Kailer Yamamoto with the 22nd pick, the Winnipeg Jets grabbed forward Kristian Vesalainen at No. 24, the Montreal Canadiens took forward Ryan Poehling 25th overall and the Ottawa Senators picked forward Shane Bowers at No. 28.