Domi nets hat trick as Canada blanks Switzerland in final tune-up game
Max Domi scored a hat trick to lead Canada to a 6-0 victory over Switzerland on Tuesday in the final pre-tournament game before the start of the junior world championship. Domi scored twice in 13 seconds in the second period before completing his hat trick midway through the third. Brayden Point, Jake Virtanen and Nick Ritchie also scored for Canada, which went 2-0-1 in its three exhibition matches.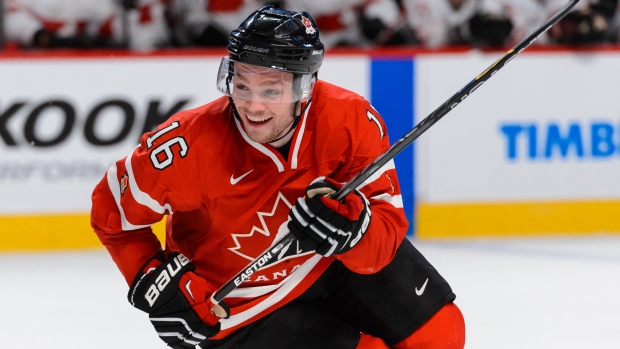 MONTREAL - Bolstered by winger Max Domi, Canada's top line was firing on all cylinders in the final pre-tournament game before the start of the junior world championship.
Along with Domi, Sam Reinhart and Anthony Duclair combined for seven points in Canada's 6-0 romp of Switzerland on Tuesday at the Bell Centre in Montreal.
Domi led the way with three goals, all of which were assisted by Duclair, while Reinhart added an assist on Domi's second.
"It's pretty easy to play with those two guys," said Domi of his linemates. "Reinhart and Duclair are two great hockey players. It's fun to be a part of that line and get the opportunity, but it comes with hard work too, and I work really hard away from the puck."
"Before camp opened, we wanted to see if those guys can have chemistry together, and obviously I think they do," said head coach Benoit Groulx. "They seem to have a lot of fun playing together. They're a good mix — two guys (Domi and Duclair) with speed and skills on the wing, and Sam in the middle who controls the game. They're a good line for us."
With Canada already up 1-0, Domi scored twice in 13 seconds in the second period.
His first of the evening came on the power play at 15:46 after two Swiss defencemen gave him far too much time with the puck. The Winnipeg native skated towards the net with ease and found an opening between Ludovic Waeber's pads.
With the Bell Centre public address announcer still belting out the details of Domi's goal, the Arizona Coyotes prospect quickly made it 3-0 for Canada as he deflected home a pass from Montreal-born Duclair.
The goal was initially attributed to Duclair, but an official scoring change gave the goal to Domi instead. Domi, however, added to the boxscore confusion by claiming he did not even get his stick on the puck.
"That was Duclair's goal," said Domi. "I didn't get a piece on it at all. It was all him."
Canada scored a fourth goal 40 seconds after that — its third in 53 seconds — to effectively put the game out of Switzerland's reach.
Domi, son of retired NHLer Tie Domi, completed his hat trick at 8:16 of the third period with a sharp wrist shot from the face-off circle.
Besides Domi, Duclair was consistently the most threatening player on the ice. The New York Ranger weaved his way through defenceman with bursts of speed and fancy stick work on more than one occasion.
"It's working on the ice," said Duclair of Canada's top line. "We've been having a lot of success. I don't exactly know how to explain it, but it's working between us."
Canada is now 2-0-1 in its three exhibition matches, having outscored its opponents 12-4. The 11-day world junior event, which takes place in Toronto and Montreal, opens on Boxing Day.
The Canadians have not won gold in five years, and have been kept off the podium in the last two tournaments.
"We're a great contender," said Duclair. "Our past is behind us, and we're looking towards the future. We have a new team, a new coaching staff, and we're gunning for gold, that's for sure."
The Canadians hope to have set the tone for the tournament with a six-goal effort and a 14-save shutout from goaltender Zach Fucale against the Swiss on Tuesday.
Getting the start in Canada's final exhibition game means Fucale will likely get the nod over goaltender Eric Comrie when Canada's tournament officially gets underway versus Slovakia on Dec. 26.
Fucale had little to do against the Swiss in the first period, as the Laval, Que. native faced only two shots in the opening 20 minutes.
"It's not easy when the rhythm is broken like that," said Fucale, whose saves weren't terribly difficult overall. "But whatever number of shots I face, I want to be sharp for the entire game. I have to be there when it matters."
At the other end of the rink, Waeber had to be on his toes throughout the contest. The 19-year-old stopped 37 of 43 shots for Switzerland, which finished 0-2-0 in its exhibition games.
Canada flexed its muscles from the very get-go— and hardly let up— outshooting Switzerland 14-2 after the first period.
Though things could have been much worse for the Swiss early on. Despite the double-digit shot count at the first intermission, Canada's best chances were shots that missed the target. Fourth-liner Frederik Gauthier missed a wide-open net in the first, and so did forwards Nic Petan and Nick Paul.
The Canadians got the breakthrough they thoroughly deserved at 13:34 of the first after Brayden Point completed a nice tic-tac-toe play. With the teams playing 4-on-4 hockey, defencemen Josh Morrissey and Madison Bowey combined with Point for a pretty finish.
The Swiss pushed back in the second, largely on the back of three consecutive penalties to Canada. Switzerland threatened, especially on a brief 5-on-3, but couldn't solve Fucale.
That's when Domi and Jake Virtanen combined for three goals in less than a minute late in the second period to put the game out of Switzerland's reach.
Nick Ritchie also scored for Canada.
Notes: After their game against Slovakia, the Canadians welcome Germany to the Bell Centre (Dec. 27), Finland (Dec. 29), and finally the United States (Dec. 31) in group-stage action. … After Canada's round-robin matches, its tournament moves to Toronto for the knockout phase. … The final will be played Jan. 5 at the Air Canada Centre.