Dominant second line driving the Golden Knights
The Florida Panthers more or less handed Vegas one of the league's deadliest lines, Travis Yost writes.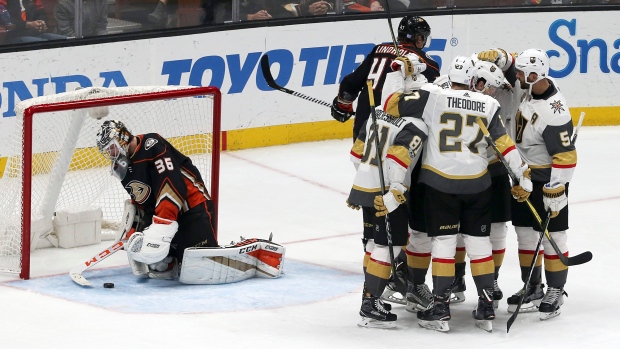 Has any roster move this summer shaped the hockey landscape quite like the Florida Panthers' series of decisions ahead of the 2017-18 expansion draft?
Rewind to six months ago. The Panthers promised their fan base a strong rebound from a disappointing 81-point season. The organization appointed the previously exiled Dale Tallon to the general manager role, and Tallon approached his first off-season with two clear objectives: rebuild the roster and trim salary where he could.
The expansion draft offered Florida the opportunity to do a little bit of both. When the Vegas Golden Knights came hunting for talent, the Panthers proposed an interesting "win-win" solution. Vegas would assume forward Reilly Smith's contract ($5 million AAV through 2021-22), and as a sweetener for taking on the contract, they would also throw in forward Jonathan Marchessault. (Florida would end up getting a fourth-round pick as a partial offset.)
The move was curious from the beginning. It wasn't as if Smith had struggled with Florida – the winger amassed 37 points over the 80-game season, which is right about what you would expect from a forward who is making middle-six money. It's possible Florida was more scared off about the longevity of the deal, but even that seems curious. Smith's contract sees him hitting the free agent market again at the age of 30.
If Smith was a questionable roster decision, the Marchessault sweetener was downright perplexing. Marchessault, acquired for little more than a song from Tampa Bay, scored 30 goals in 75 games on the league-minimum contract. Considering Florida's need for (a) talent, generally; and (b) a cost-conscious roster, Marchessault would have been the perfect fit for Tallon's team. Even if his performance wildly regressed, it would seem likely that he'd provide more carrying value than the $750,000 owed to him in the final year of his deal.
And, for what it is worth, the list of forwards in the modern era who have scored 30 or more goals in a single season (age 27 or under) is essentially comprised of Hall of Famers, Hall of Fame tweeners, or long-time NHLers who have tortured goalies for years. Another way of saying this: It's very difficult to fluke into a 30-goal season.
At first, Vegas seemed little more than a fun story. They were getting outshot, were highly reliant on all-world goaltending and timely scoring, and had a wave of home games. But by the second or third week of the season the Knights were steadily improving. This despite a clear lack of top-end talent at both the forward and defensive positions.
One thing that has been consistent for Vegas all year – and the single biggest reason, in my opinion, why they're a credible playoff threat – has been the quality of their second line. Head coach Gerard Gallant armed the aforementioned Marchessault/Smith duo with William Karlsson, a fun depth playmaker from Columbus who was still searching for the right fit at the NHL level.
The trio clicked instantly, and no defence has been able to consistently slow them down. They skate like the wind, move the puck with lightning-level quickness and spend just about every shift hammering the opposition in the offensive zone. Any defensive liabilities this line may have are rarely exposed – they own the puck on every single shift to a degree that's not frequently seen at the NHL level. As a group, they have amassed 36 goals in 31 games.
But goal-scoring numbers alone won't tell the story – not the way this unit dominates the run of play. To highlight their puck possession dominance, I broke out the performance numbers for every line this season with at least 150 minutes of 5-on-5 time together. For performance measures, I have both Corsi% and Expected Goal% via Corsica. Here, Corsi% will measure of a team's ability to win the share of shots when they are on the ice. Expected Goal% also considers shot volume, but takes into account the likelihood of any given attempt at finding the back of the net based on a series of parameters (e.g. distance/angle). In both instances, 50 per cent would be considered 'average' performance.
Let's start with Corsi%: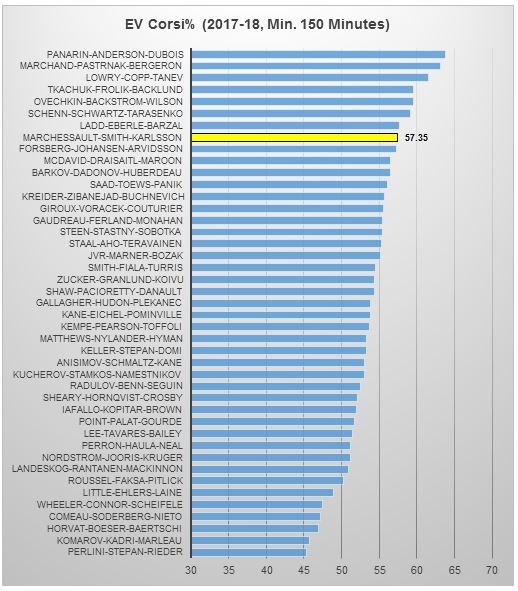 Most of the NHL's regular lines are above the 50 per cent mark, and this makes sense – coaches are very reactive by nature and when a trio isn't working, they implode it. And, of course, when a line is clicking, they'll stick to it until things sour.
You can see here that the Marchessault line is one of the league's best at dominating territory, getting over 57 per cent of the shots while on the ice. That puts them eighth best in the league, though it's worth noting that they have played substantially more minutes together than a couple of the lines ahead of them (e.g. Panarin-Dubois-Anderson in Columbus).
The other thing I'd note here is that finding an elite line is really difficult to do. It frequently requires at least one high-end talent – a guy like Patrice Bergeron, Alex Ovechkin, Nicklas Backstrom, or Connor McDavid who can anchor a unit. These are the type of guys you want to build your roster around for 10 years or so. There just aren't many elite lines where a coach fluked into a trio of depth players who play really well together.
That's what makes Florida's decision so puzzling. Marchessault and Smith were both fantastic in Florida, and their success in Vegas isn't particularly surprising. If there's anything that was unexpected, it was how seamlessly Karlsson would slot in as the third guy.
I mentioned Expected Goal% earlier, and I think it's worth tabling that too. After all, smaller players are frequently (and erroneously) labeled as perimeter types. That's not true for Vegas. Their Expected Goal% is actually better than their Corsi% by a pretty considerable degree.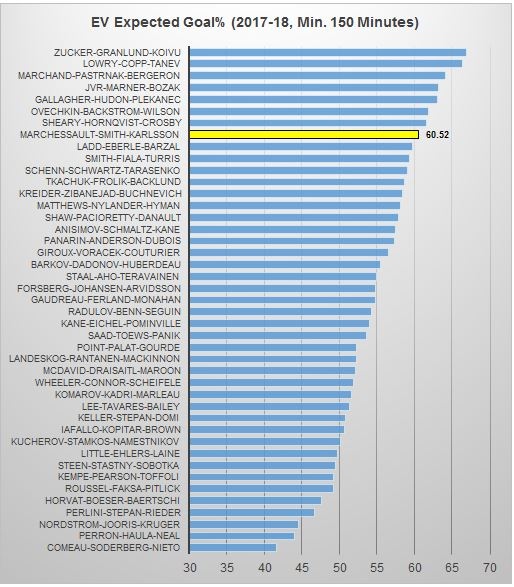 Some of the names are shuffled around, but note that the Marchessault line in Vegas – based on the volume of shots they generate and where they generate them from – should expect to see more than 60 per cent of the goals fall in their favour. These are elite numbers by any definition, usually reserved for the league's cornerstone players.
To me, this is the biggest story underpinning Vegas' success. There are a lot of reasons why the Knights are in a better spot than any expansion team before them, but the most prominent driver of their success is that they backed into owning one of the league's deadliest lines – a line that was more or less handed to them by the Florida Panthers for reasons that remain unclear.
It's entirely possible that Vegas keep all three players around beyond 2017-18. Smith, of course, is signed long-term. Karlsson's contract expires at the end of the year, but his rights are still restricted. Marchessault is the lone UFA threat, but considering the fact that he's been indisputably Vegas' best skater this season, it's hard to see how the Knights move on.
As for the Panthers? They'll surely try to move on. But no doubt there is some significant second-guessing over what looks more and more like an ill-fated decision – one that may have sank their 2017-18 campaign earlier than they realized.