Dreger: Penguins F Sprong on trade block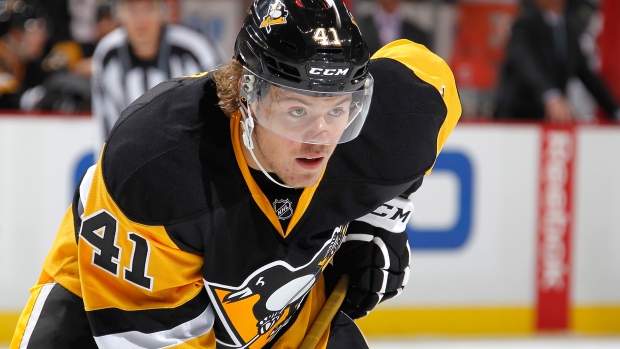 In the midst of a five-game losing skid, it appears Pittsburgh Penguins general manager Jim Rutherford may be ready to try to spark his team with a trade.
The Penguins dropped to 6-5-3 with their loss to the Washington Capitals, though TSN Hockey Insider Darren Dreger reports it could be a player who sat out Wednesday's game that gets moved in the near future.
"I am [expecting Pittsburgh to make a move]. I don't know that it's going to be drastic," Dreger told TSN Radio Montreal 690 on Thursday. "My sources yesterday [were] telling me that it might start with a smaller deal. Daniel Sprong, who's a 21-year-old second-round pick of the Pittsburgh Penguins, has been a limited player within the organization in the last couple of seasons. He's out there for trade. I don't know what the return could be."
Sprong has four assists and a minus-4 rating in 12 games with the Penguins this season while averaging less than nine minutes of ice time. He had two goals and one assist in eight games with the team last season.
Dreger speculated that the Los Angeles Kings could be a trade partner for the Penguins, since they're also a club looking for a spark.
"But what you start to do is start matching teams who are struggling, right? The Los Angeles Kings have already made a pretty drastic move with Rob Blake firing John Stevens and putting Willie Desjardins in the chair for at least the short term, could be the rest of the year.
"But there are all kinds of trade speculations that are swirling around the Los Angeles Kings. Some believing that teams in the East are calling on Tanner Pearson, who is struggling offensively – maybe Jake Muzzin, Alec Martinez, something like that.
"So could there – could there – be a connection with the Pittsburgh Penguins and the Los Angeles Kings? That's what you try and do in my world, is try and match teams who have struggled.
"What we know Jim Rutherford is exactly what you said – he's not sitting back and allowing these guys to continue to bumble you-know-what through the next handful or 10 regular-season games. He's going to do something. It might start small, but it could escalate to something bigger as well."
The Penguins currently sit ninth in the Eastern Conference with 15 points through 14 games this season. The Kings sit last in the Western Conference with a 5-8-1 record despite winning their past two games.